A response to the naysayers; Hitting the $200k mark on Upwork
By Morgan Overholt
Three very interesting things happened to me last month:
I hit the $200k milestone as a freelancer on Upwork.

My freelancing success story was published in both Business Insider and Refinery29.

A stranger on the internet (who admittedly didn't even read the Business Insider article)  wrote a scathing editorial about it.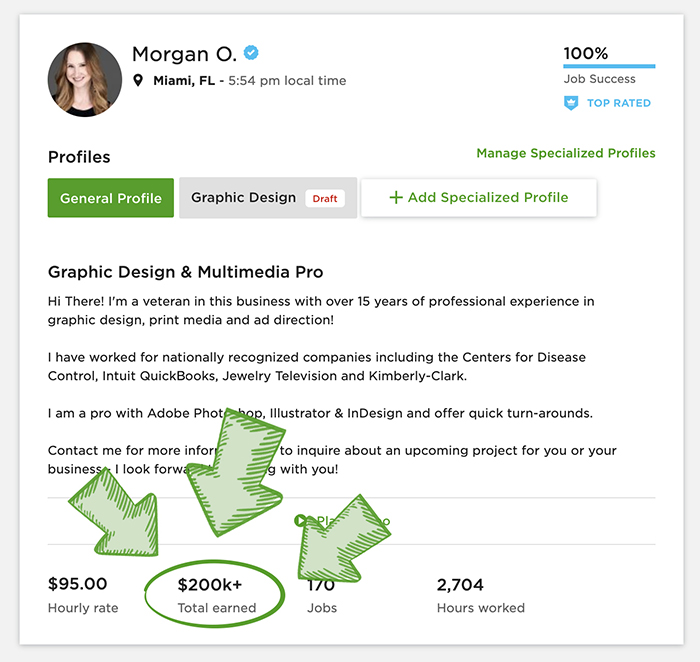 In both of the above mentioned articles, I talk about how I quit my salaried job and now make $200k a year as a full-time freelancer  — and how a large part of that income comes from Upwork.
The response to these articles has been overwhelming. I've received an incredible amount of love from other freelancers who found my story inspiring. But I've also received some hate from (largely anonymous) naysayers online.
So today, I wanted to take a moment to respond to some of those naysayers, and explain in a bit more detail exactly HOW I found success on Upwork.
—
I want to begin with a few very important clarifications before I continue as these are always sticking points for the critics. So let's just get these out of the way:
I've been a professional graphic designer for 15 years.

I've been a full-time freelancer for a little over 2 years.

My business currently

grosses

nearly $300k annually.

My

net profits

are now nearly $200k annually.

I've earned $200k on Upwork to date. ($140k in the last 12 months).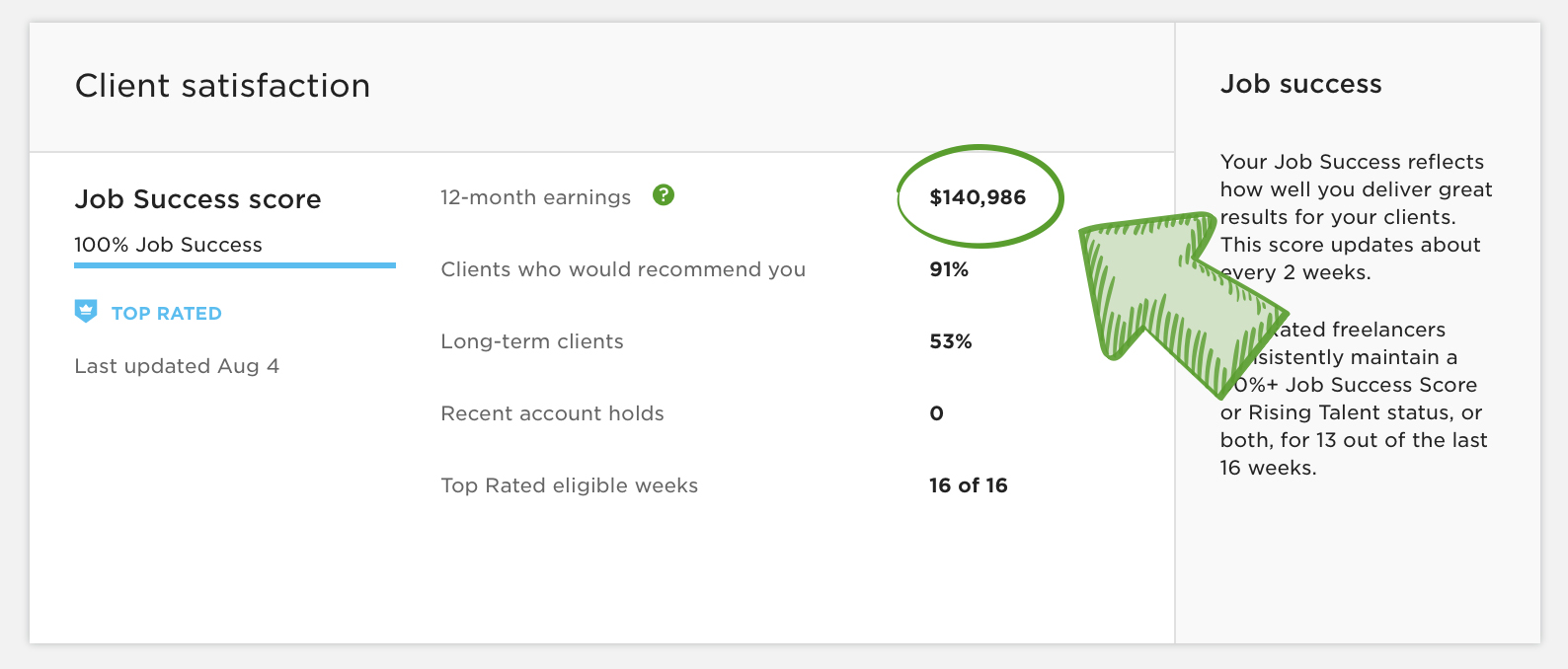 Now that's out of the way, Morgan Media LLC is proud to present… 
—
Four Naysayer Reactions – Brought to you by the World Wide Web
1. The Fake News Defense 
"I've never heard someone say they made their fortune … or even a reasonable salary, On Upwork. This smells like a fake ad… The over-the-top salary numbers just add to that feeling." – Anonymous Commenter, Refinery29
A quick Google search debunks this one immediately. The internet is chock-full of stories from other successful freelancers earning 6-figures on Upwork. So if you've never heard of such a thing, something tells me you haven't been looking very hard. I'd never heard of mustard flavored ice cream before I googled it. It's also, apparently, a thing.
I was successful on Upwork because I have 15 years of professional design experience, an amazing portfolio, nationally-recognized clientele, an ability to sell and an incredible work ethic. 
When I first joined Upwork, I applied for roughly 5-10 jobs PER DAY. And it took me nearly 2 weeks to get my first nibble (on a tiny $10 job). I started small, grew steadily, and most importantly, I simply refused to quit.
2. The "Someone is Always Willing to Do it Cheaper" Defense
"People out of the country … charge a lot less. I don't see [her $200k success] happening." – Anonymous Commenter, Refinery29
I am just as worried about losing business to some dude on the internet charging $5 somewhere else in the world as Fleming's is about McDonald's putting them out of business for offering a hamburger on the dollar menu.
Truthfully, I also occasionally use Upwork to HIRE other freelancers. 
In my experience, I CANNOT TELL YOU how many proposals I receive that are poorly written, lack quality portfolio samples and seemingly haven't even read (or perhaps don't understand) my job posting. And sure, those guys are often quite cheap. 
But for every 10 crap proposals you receive, you'll also receive a couple of quality cover letters, written by professionals who understand your needs and are confident about their ability to get the job done — and I can assure you those freelancers have no issues fetching rates of $50+/hour. 
Quality clients will always recognize quality work. 
3. But… What about those Upwork fees?!
"Morgan had to pay at least $10k in fees to Upwork! " –  Author of the rebuttal editorial. 
This one is probably the most perplexing to me, simply because I, as a small business owner, incur expenses everyday. The expenses aren't what's important. It's the return on investment. 
Yes, I've probably incurred about $20k in fees over the course of 2 years on Upwork, and a $20,000 expense on $200,000 is what I would call an excellent ROI. (That's a 90% profit margin – other industries would KILL for a 90% profit margin!)
The name of the game on Upwork is creating long-term, ongoing relationships with clients which lessens the fees you pay. My average monthly fee is now 8%.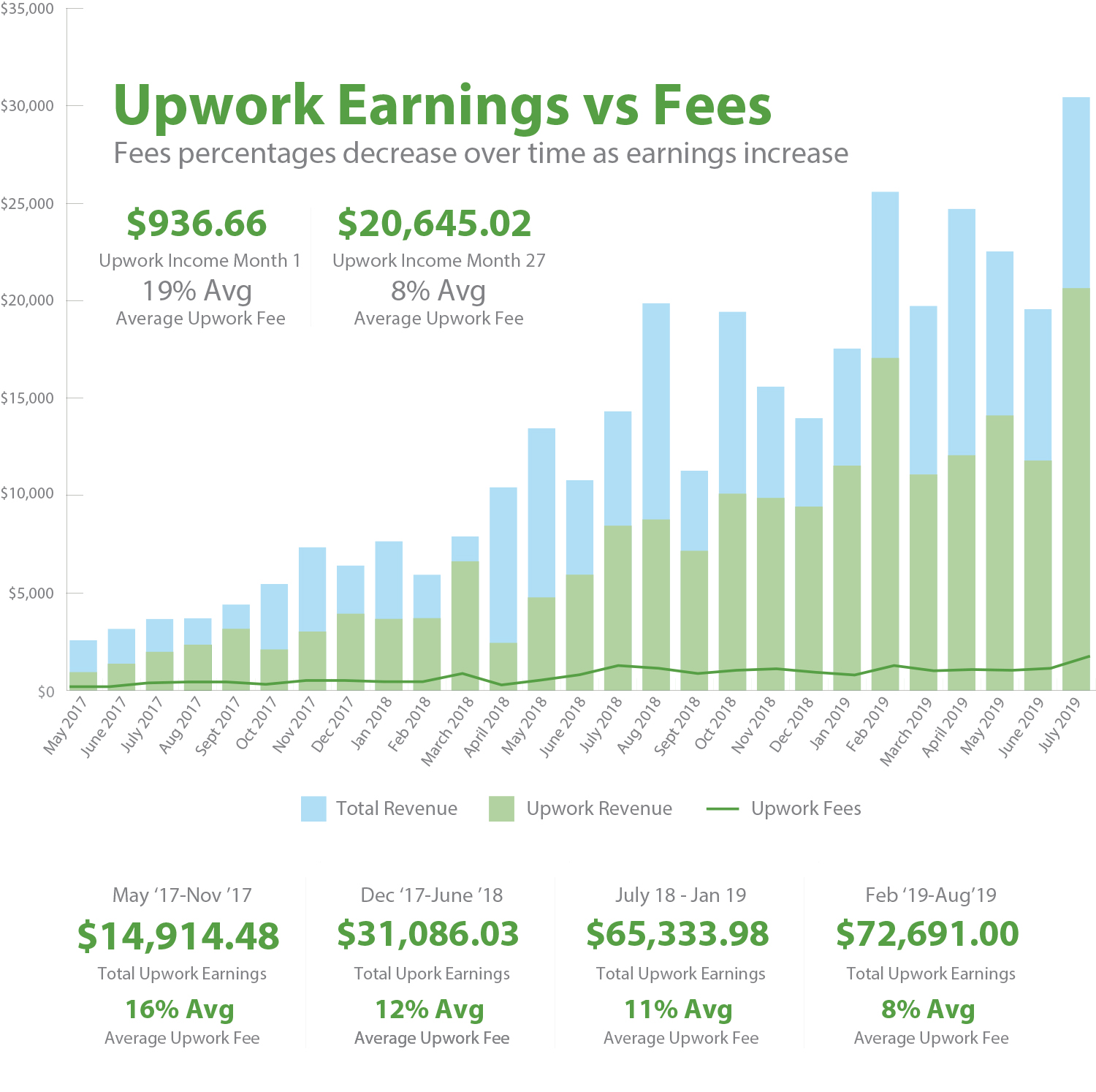 Remember, there's precedence for this fee structure. Upwork fees are on par with the average commissions of a recruitment agency and to me, well worth the value for service. 
I can assure you that I spend way more time worrying about my near 30% tax bill than my 5% Upwork fee. 
And sure, you can find clients on your own without the help of Upwork. It can be done, and if you're able to do so, go for it! But for most of us, pounding that pavement and making cold calls can be a lot of work that doesn't always pay off.
Upwork represents the largest freelance marketplace in the world. It's like fishing in a pond where you know the fish are biting. They also handle the contracts, payments and serve as that all too important intermediary should a dispute arise. They are providing a crucially valuable service. 
To quote Danny Margulies, a fellow 6-figure Upwork freelancer, and owner of Freelance 2 Win, "It's like being a hunter-gatherer, vs. picking up a bag of groceries at your local Whole Foods Market."
And last but not least, we have my personal favorite:
4. I'm giving people false hope and don't care about others.
"I just don't wanna give our fellow #freelancers a sense of false hope about #upworksuccess. Let's be real when it comes to expectations. I've never been like, I'm doing just fine and don't care about others… #karma " – Twitter User 
Ok so let's look at some real numbers to debunk this one.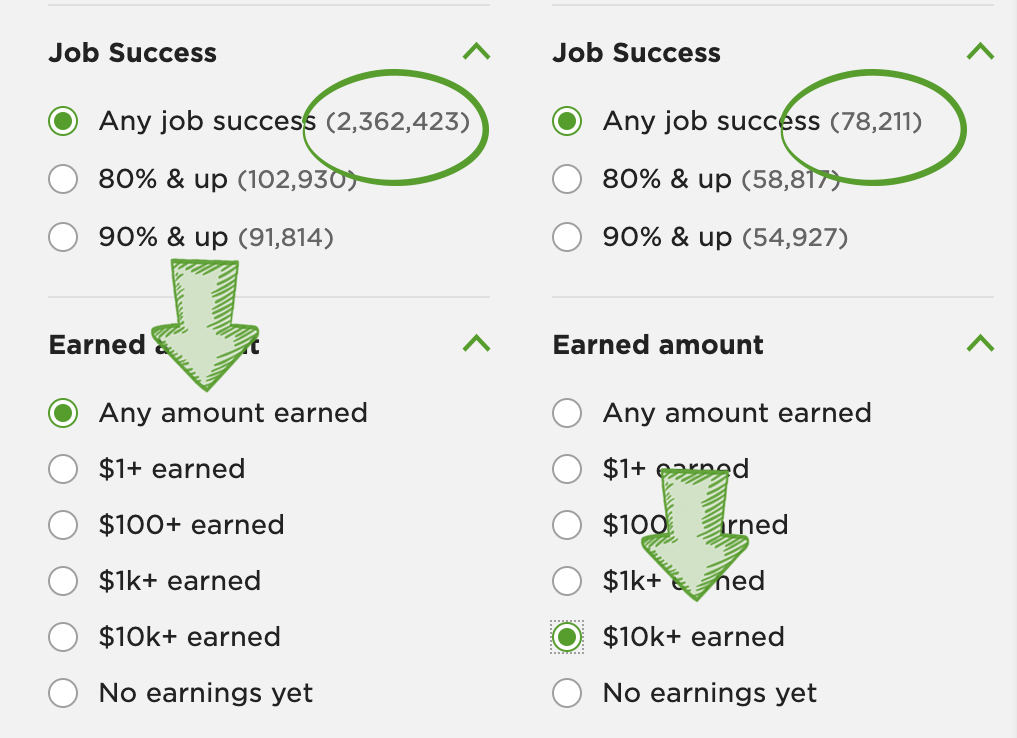 Sure, out of 2,362,423 searchable profiles currently on Upwork, 78,211 have earnings of over $10k.
But honestly, I am a "glass is half full" kind of person, so I see that number and think, wow, that's nearly 80k people who are making REAL MONEY freelancing online with this single platform.
But I get it — overall, that's a tiny percentage when compared to the total number of users (roughly 3.3%). However, I don't blame Upwork. I believe that there are 3 main culprits for this low number: 
Most people on the site aren't freelancing full time.

I don't have any actual statistics on this one, but I will tell you I've seen a HUGE difference in earnings between full time Upworkers and part time Upworkers, Before I went full time, I was also making <$10k a year on my side hustle. 

People give up too quickly.

I see this one all the time. People sign up for Upwork, apply for a handful of jobs and then declare it's a failure. Every person I've coached who excelled at their respective skill and stuck with it was able to secure long-term, steady work on the platform. Persistence is key. Success isn't an overnight thing.

Your profile/proposals/portfolio needs work.

Freelancing is a serious career. It requires skill, patience and hard work. Poorly written cover letters, typos and amateur work run rampant on the site. If you've been at it for weeks and still aren't seeing success, take a moment to self-reflect. Ask your peers for an honest critique of your work, your profile and your cover letters. Heck, hire a successful freelancer (like me!) to give you personalized advice. 
I care about other freelancers deeply. That's why I've shared my success story in the first place. If you're stuck in a job that you hate like I was two years ago but are too afraid to cut the cord, I want to let you know that success is absolutely possible. If I had listened to the naysayers years ago, I'd probably be stuck in the same dead-end job today. I'm glad I instead chose to ignore the naysayers and listen to other successful freelancers.
The question is – who will you listen to?