At a certain point, every freelancer will experience growing pains. I know I did!
I had difficulty remembering client deliverables.
I wasn't able to keep track of leads and often forgot to follow up.
I'd forget to invoice clients altogether (and no one needs that).
I realized that if I didn't have a process to manage my work, my work would run me over.
That's why I started looking into CRM systems geared toward freelancers (which can be difficult to find!).
And in this article, I will share my findings and rank the platforms that I believe represent the best CRMs for freelancers.
What is a CRM?
A CRM stands for Customer Relationship Management. Its primary purpose is to help track and manage customer relationships. It has evolved to encompass a whole host of functionalities, like email marketing tools, billing capabilities, reports, dashboards, analytics, and more.
Why Would a Freelancer Need a CRM?
A CRM? Do you mean that complicated hunk of software that big companies use?
Yes, but don't worry – CRMs have come a long way. There are tons of options that are lightweight, customizable and easy to use.
Remember, freelancing is far more than the services you provide. You're running a business, after all. Ask yourself:
Who do I target, and how do I find them?
How do I create, send and manage contracts?
How do I create and track invoices and manage expenses?
Where do I manage my projects, my deliverables and my project timelines?
Can I set up reminders and follow-up calls?
What parts of my business can I automate?
You might need some of these features. You might need all of them. It all depends on your unique business process. If you're a freelancer like me who wants to scale your practice, there's a good chance you'll need to jump off Google Sheets and onto one of these CRMs.
Overview: Best in class
And just in case you are short on time, here's a best-in-class quick reference list of some of the CRMs featured on the list.
Editor's Note: Prices and features listed are as of the time of this writing and are subject to change.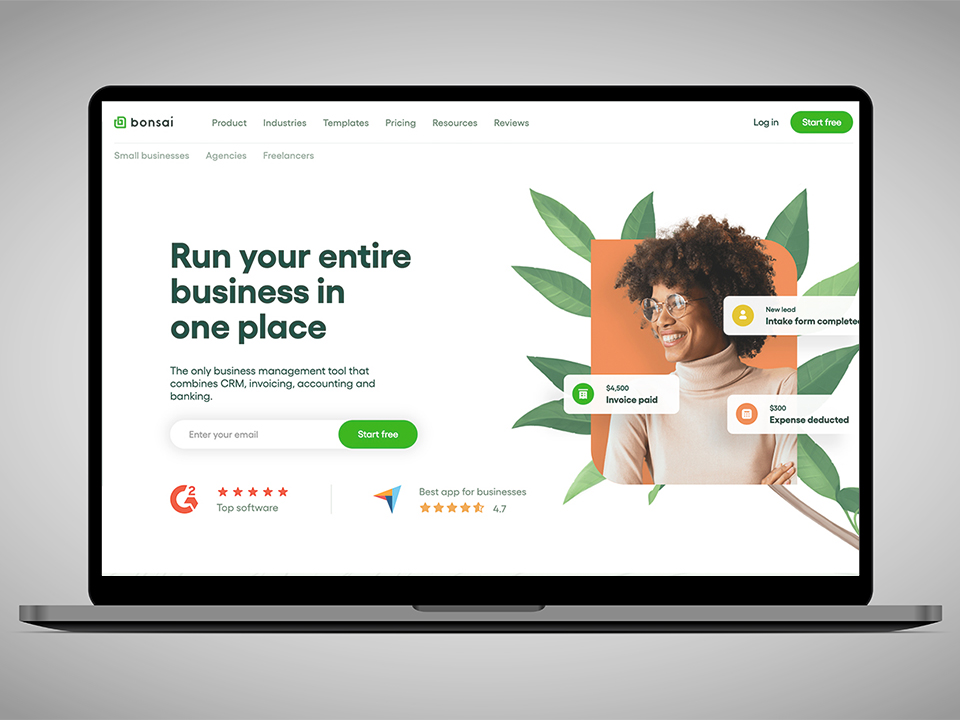 You haven't tried them all until you've tried Bonsai.
Bonsai was built with freelancers and small businesses in mind. Bonsai pairs an intuitive interface with even easier-to-use features.
Favorite Things
Easy setup. What I love about Bonsai is how quickly you can get set up. I was able to answer a few questions about my business and jumped right into it.
Customizable client experience. Match your brand and deliver a beautiful customer experience. Create a white-labeled experience from end to end.
Form builder and Form templates. Have a client intake form, a questionnaire or a lead form? You can build anything with Bonsai's form builder. The range of templates available is phenomenal. I could create a client onboarding form easily from a template, then drag and drop additional information I needed.
Criticism
7-Day trial. Bonsai only offers a 7-day free trial, which isn't enough time to dive into all the features. You also need to provide your credit card information, which isn't the norm for trials in this space.
Freshsales is a great easy-to-use option for freelancers and small businesses. It includes multiple products that help unify your marketing and sales efforts.
Favorite Things
Freddy AI Insights. Get a view of all your activities, messages, and interactions in one easy-to-read place.
Messenger. Fresh Sales lets you interact with customers across multiple chat channels like Facebook Messenger, WhatsApp, and more.
Sales sequences. If you're dealing with a group of leads you want to warm up, Sales Sequences are perfect. With Sales Sequences, I can set a sequence of events like emails, tasks and calls that Fresh Sales can automate. For example, I can have a sequence in which someone signs up for more info to send a thank you email, schedule a call and create a follow-up task.
Launch Pad. Launch Pad is a learning hub for new users. Here, you can learn how to set up different features, get answers to frequently asked questions and launch into your most common actions with a few clicks.
Criticism
Separate marketing and sales tools. I wish that there were pricing packages that included both Sales and Marketing tools.
HoneyBook is a simple, intuitive, and client-friendly platform to manage appointments, invoices, and sales processes. One of the things I love about HoneyBook, is it really nails the mobile experience.
Favorite Things
Contract management. HoneyBook contract management tools rock. You can create templates for proposals, and request e-signatures seamlessly.
Fancy AI things. HoneyBook is busy rolling out new AI features that can automatically prioritize promising leads and craft intelligent responses to clients.
Client portal. Your client can see all their outstanding invoices, messages, and documents – all from their own portal. Pretty professional, don't you think?
Criticism
CRM capabilities are lacking. HoneyBook really isn't a lead-sourcing tool, nor is it meant to store a ton of leads. It's more so for managing existing clients.
PS: At the time of this writing, HoneyBook is offering 25% off one year when you sign up using this referral link.
Pipedrive is one of the best CRMs for prospecting new leads. Whether you're new, or looking to migrate an existing client database, I was impressed with just how simple Pipedrive makes it to get started.
My Favorite Things
LeadBooster. If you're a freelancer who has your inbound strategy figured out, Pipedrive can give you all the tools to succeed. You can customize web forms or build interactive chatbots to engage with inbound leads while you sleep.
Pipedrive mail. You can create templates, compose emails, and track messages directly out of Pipedrive. The best part is that the email is sent on behalf of your existing email, so you don't have to worry about getting flagged as spam. I really love the prebuilt follow-up email template.
CRM workflow automation. What's pretty neat about Pipedrive is its impressive automation, especially for a lightweight tool. You're able to automatically qualify leads, automate responses, and create follow-up emails and tasks.
Criticisms
Upcharge for some additional features. If you want to take advantage of some of the really cool features, you'll have to pony up some extra money.
PS: At the time of this writing, Pipedrive is offering a free extended 30-day trial with this referral link.
HubSpot is known for its marketing automation and email marketing platform, but I've also discovered it offers great CRM and client management tools for freelancers.
Favorite Things
Free CRM software? Are you kidding me? Yes, this is more than a free plan or free trial – HubSpot offers completely free CRM tools. You can manage your deal pipeline, run reports, and take advantage of scheduling capabilities, email templates, and more.
Interactive demos. I felt like someone was holding my hand and guiding me through the setup process. Hubspot's interactive learning demos take you step by step through their platform, so you're prepared to dive in.
Sales extension. HubSpot offers a pretty cool email extension so you can manage your leads and sales pipeline right from your inbox.
Criticism
So much stuff. There are a lot of features and it can be a bit overwhelming to wrap your mind around.
6. Zoho CRM
You might've used Zoho as an email provider, but did you know about Zoho CRM? You should!
Favorite Things
Integrate Zoho CRM with over 800 applications. Zoho has an extensive marketplace with third-party apps. So, if you have a unique business process or niche, chances are, "There's an app for that!"
Super customizable. I'm a CRM Architect by day, and let me tell you – Zoho provides many options for nerds like me to get lost in. You can customize and configure fields, add custom javascript and configure complex automation.
Channels. You can enable and configure different communication channels. For example, you can set up and integrate a third-party telephony provider, configure SMS or build a custom portal in a few minutes.
Criticism
Highly Complex for Freelancers. Zoho may be a great tool for small businesses, but it can add complexity for a team of one. I'm also not a huge fan of the UI. It reminds me more of a desktop exe than a web application.
Engagebay brings marketing and customer success together, wrapped in a friendly user interface.
Favorite Things
Free for up to 15 users. No 14-day trial period. Just. Plain. Free. How cool is that?
Landing page, forms, and pop-up – oh my! Engagebay provides a super simple way to create landing pages, website pop-ups or inline forms that are perfect for collecting emails and enticing site visitors to sign up. So if you've got some good inbound traffic, this is a great tool.
Smart List. I was impressed with how you can segment and create contact lists based on many criteria. It makes client management that much easier.
Best-in-class affiliate program. Earn 30% recurring commissions for referring your friends.
Criticism
Buggy mobile app. Users complain that the mobile app could be a little more intuitive.
You might know Fiverr as a way for companies to connect with freelancers. But even if you're not on Fiverr, you can take advantage of Fiverr's new Workspace platform. Fiverr Workspace is a lifesaver for busy freelancers and a more than capable CRM with hourly time-tracking, invoicing and more.
Favorite Things
Mobile app. I really like how easy the Fiverr Workspace mobile app is to use. I can easily log time, create tasks, and track expenses with a few swipes. The interface is super intuitive and it saves me tons of time.
Proposal to contract to invoice. Beyond the ability to add and manage clients, the way Fiverr Workspace works so seamlessly between different stages of the sale is a thing of beauty. You're able to turn proposals into contracts and your contracts into invoices without having to deal with the extra headache of data entry.
Goal tracking. As a freelancer, I think it's so important to track your goals, even if they're simple. Fiverr Workspace lets you create and track monthly, quarterly and recurring financial goals. Then, after every invoice you can see where you stand.
Criticism
No Marketing Capabilities. Fiverr Workspace doesn't have some of the outreach capabilities that some other CRMs have. For example, you can't create email campaigns or customize buyer journeys.
Note: Get a $20 credit on Workspace Unlimited with my referral link.
Moxie is another CRM specifically built for freelancers.
With Moxie, you can track your time, invoice your clients, and even build a customer portal for your clients. Moxie packs in a ton of features in a lightweight CRM.
My Favorite Things
Scheduler. Moxie's scheduler and calendar syncing capabilities are super cool. It lets you send calendar links directly to your clients or embedded into your signature. Yeah – no more the playing "what hours work for you" game. You can even determine preset meeting settings like "30-minute intros," so you can control your time
Visual bandwidth planner. Are you close to missing a deadline? Can you take on a new assignment? Get the answers quickly with a really cool visual planner.
Overview. I enjoy the 360 view you get on a single page. On the overview tab, you can view all of a client's projects, invoices, and key contact information. Managing information is really easy with Moxie's UI.
Criticisms
I wish Moxie provided contact validation or contact lookup capabilities. If you're looking to grow your lead list, Moxie can't help.
| Moxie Plans | Price |
| --- | --- |
| Pro | $16/month |
| Teams | $26/month |
The Monday sales CRM is a very well-known CRM target to small teams and agencies. But how does it stack up for freelancers? I wanted to find out.
Favorite Things
Lead management. Manage, capture and track your leads all in one place. You can also implement lead scoring and create automations. One thing that's pretty cool is you can integrate with Facebook or your own website to capture leads and automatically put them in Monday
Views. Monday.com uses the concept of views – basically, you can control how you want to visualize your clients, tasks or projects. So, if you're using Monday to manage projects, you can choose a Gaant chart, and if you're using it as a way to track tasks, check out the Kanban view.
Template Center. When you create a new workspace, you can choose from a vast selection of templates from the template center. These include marketing calendars, collaborative documents, and flow charts. Anything you need to be productive, Monday has a template for that!
Criticism
Paid plans require a minimum of 3 seats. For a solo freelancer, the cost can be pretty high.
| Monday.com Plans | Price |
| --- | --- |
| Free | $0 (up to 2 seats) |
| Basic | $8/month per seat |
| Standard | $10/month per seat |
| Pro | $16/month per seat |
| Enterprise | Varies |
Keap has been a trusted CRM provider for twenty years. From expert staff to a powerful automation platform – it's a great option.
Favorite Things
Personalized follow-ups. If you're not following up, you're leaving money on the table. One of my favorite things about Keap is that it lets you set a workflow of scheduled, personalized follow-ups.
Hands-on support. Keap has an exceptional team of experts to help you get the most out of it. If you've got existing contacts or data, the team will help you migrate into Keap.
Integration. I was impressed with Keap's rich integration capabilities. For example, you can integrate PayPal, QuickBooks, Gmail and more through a direct Zapier integration.
Criticism
Keap can be a bit overwhelming and expensive, especially as a freelancer of one. You may not need all the functionality it offers.
| Keap Plans | Price |
| --- | --- |
| Pro | $159/month |
| Max | $229/momth |
| Max Classic | Varies |
Clientjoy is a great CRM for both freelancers and agencies. From outreach to payment – it can do a heck of a lot.
Favorite Things
Client Portal 2.0. I have nothing but great things to say about Clientjoy's portal builder. You can quickly throw together a custom client portal where your customers can view documents, invoices and files. You can also add your own custom tab and embed content you want.
Auto reminders. I don't like hounding my clients for payment. That's why I like how I can set automatic reminders for outstanding invoices so you don't have to worry about trying to collect payment.
Email sequence. It's so easy to create email sequences with Clientjoy. Control your email cadence, and write your email directly in the sequence builder. I've worked with multiple email marketing tools, and Clientjoy's is especially straightforward.
Criticism
No mobile app. If you want the best experience, you'll need to stick to the desktop.
| Clientjoy Plans | Price |
| --- | --- |
| Starter | $15/month |
| Agency | $25/month |
| Enterprise | $49/month |
Insightly is a super modern and fun CRM. With capabilities to perform sales, service and marketing in one helpful platform.
Favorite Things
Customizable Journey Builders. Build and organize your customers' buying journey. Send the right messages at the right time, schedule follow-ups and never miss a beat!
Customer support portal. Build a customer portal to host FAQs, useful information, and a way to contact you. You can take care of your clients while you sleep.
Range of features. Insightly is built on the Salesforce platform, so you can expect a host of features and benefits working with them.
Criticism
Bugs here and there. Reviewers and users not there are some issues with integration, and there can be a little bit of a learning curve.
| Insightly Plans | Price |
| --- | --- |
| Plus | $29/month |
| Professional | $49/month |
| Enterprise | $99/month |
SalesRabbit is a flexible CRM for on-the-go freelancers. SalesRabbit is geared towards 'outside' sales. So if you're closing deals on the road – you'll want to pay attention to this. Full disclosure here: SalesRabbit doesn't offer a way to sign up without a guided tour, so I was unable to review this one in the detail I'd like to.
Favorite Things
Neighborhood Lead Generation. Find and target leads based on location, business type, and more. Then, assign routes and go get them!
Lob Integration. Direct mail isn't dead! You can leverage SalesRabbit's Lob integration to set up direct mail campaigns.
Automate pitches and proposals. Customize and automate your pitches and proposals.
Criticism
Specialized and focused on 'outside' sales. If your product is digital, Sales Rabbit might not be the best fit.
| SalesRabbit Plans | Price |
| --- | --- |
| Lite | $0/month |
| Team | $29/month |
| Pro | $39/month |
| Enterprise | Varies |
Trello is part of the Atlassian suite and a great project management tool. If you're looking for a project-based type of CRM solution that allows you to manage work-in-progress, Trello is a good option.
Best Features
Kanban boards. See your outstanding pipeline or project work from an interactive board. It's a great way to manage work in progress.
Collaboration. Include external collaborators, like clients, to comment on outstanding tasks and share the responsibility of work.
Power-ups. You can use these integrations to bring more color and detail to your tasks. Integrate with JIRA, Slack or Gmail.
Criticism
No default CRM capability. You can't manage clients from Trello – it's more geared toward managing work.
Conclusion
I know you may be used to feeling overwhelmed all the time but it doesn't have to stay that way! There are some great CRM options for freelancers out there. I recommend getting specific about the problem you're trying to solve. What are your pain points? Where do you think you can save the most time? Then, evaluate each of these with those goals in mind.
Have you tried any of the above-mentioned CRMs? Let me hear your opinion in the comments below. And don't forget to connect with Morgan Media on social media.