Finding a vacuum cleaner that's small enough to work those tiny crevices on your keyboard but still provide substantial suction can be a chore.
I thought I was alone in this quest for the best mini keyboard vacuum until publishing my article "Gifts for freelancers: 27 gift ideas the entrepreneur in your life will love."
In the article, I included a link to my favorite cordless desk vacuum. And to date, it has been by far and beyond the best seller from that list.
Read Also: Gifts for freelancers: 27 gift ideas the entrepreneur in your life will love
And so, I decided to double down and create a ranked list of the best desktop vacuums on Amazon.
Each item on this list boasts its own unique set of features, at a variety of price points.
Disclaimer: Prices and availability are subject to change.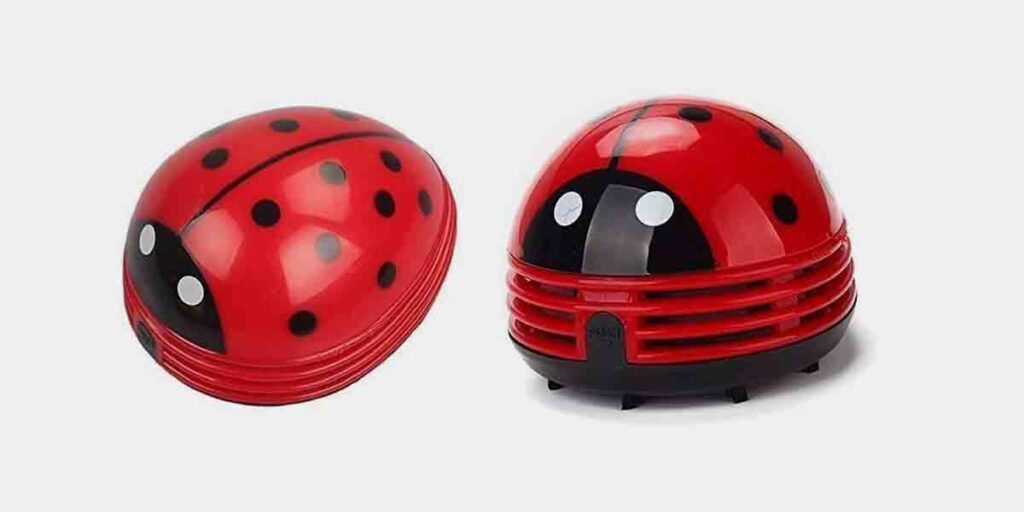 This cute little cordless vacuum is one of the smallest vacuums on our list. It measures in at just 4.1 x 3.1 x 2.8 inches. At the time of this writing, it's an Amazon's Choice pick. It has nearly 2,000 four and five-star reviews and retails for less than $12.
It's completely wireless and runs on two AA batteries making it ideal for travel. And it has a detachable bottom for fast and easy cleanup.
It's built for removing crumbs, small debris and ash in the home, car or office. And it comes with a 1-year warranty.
But be aware – as one might expect for a battery-powered vac of this size, its suction is weaker than the others on our list. However, if you're looking for something you can easily throw in a glove box or backpack while on the go, this is a great contender.
Before moving on to the bigger vacs, I wanted to give this little cordless desk vacuum an honorable mention. It's nearly double the price of the last. But it packs a surprising 12,000 RPMS of suction and even works on upholstered surfaces.
It, too, has a removable bottom half for each cleaning and is powered with two AA batteries.
It's also tiny measuring in at just 2.36 x 2.36 x 3.15 inches and weighs less than two ounces.
It has over 800 mostly favorable reviews on Amazon. But most verified buyers warn that it struggles with pet fur and needs to be cleaned out frequently.
And this is my personal favorite mini office vacuum.
For me, it represents the best of both worlds. It's sleek, just powerful enough to handle small messes.
It also has nearly 7,000 5-star reviews on Amazon.
Featuring 360-degree rotation, this mini vacuum comes in a variety of cute colors (black, red, yellow, orange, pink and green) and provides up to 400 minutes of cleaning time per charge. It also boasts 9,000 RPMS of suction.
And here's the best part, it retails for less than $16.
I love the fact that I don't feel like I have to unplug and hide this little mini keyboard vacuum when it's not in use. It blends in perfectly with my other electronics and just feels easier to maneuver.
In my opinion, if you're looking for a mid-range mini vacuum that can handle small messes with decent suction, this is a winner.
If you care more about "suction" than you do "cute" these next two picks are going to be right up your alley.
Featuring a 50W motor (stronger than some full-sized dust busters), this small handheld vacuum can deliver some serious suction.
It can reportedly easily tackle dust, hair, crumbs, pet fur, food debris, ash and even small gravel.
It's USB rechargeable, features a HEPA filter and comes with two interchangeable nozzles for hard-to-reach places.
The battery life isn't phenomenal – it only lasts up to 40 minutes of continuous use per charge. But as long as you're only using it on small spaces like your desk, office or car, I can't imagine you need more than 40 minutes of continuous use anyway.
It's also not quite as compact or as attractive as our earlier picks, but this Amazon's Choice pick is a great option for those who care more about power than looks.
Plus it retails for less than $23.
And if it's suction you're after, this cordless vacuum by ColorCoral is the cream of the crop.
It's an Amazon's Choice pick with over 200 four and five-star reviews. It features a 60W motor with a washable HEPA filter and is capable of vacuuming up bugs, hair, crumbs, beans, and small pieces of metal.
It's also cordless and USB rechargeable.
Plus, it's multi-use. It comes with two nozzles – a brush nozzle and a flat nozzle – which are great for clearing everything from rugged surfaces to upholstery.
This little sucker (pun intended) can even be used for detailing work on your car or furniture.
Crumbs, you're officially on notice.
Do you own any of the above-mentioned vacuums? I would love to hear your personal review in the comments below. And don't forget to connect with me on social media.