I remember the first time I saw an ad for ECOSUSI.
I was on a multi-year journey to find a cute, multi-purpose briefcase that could easily encase my 15-inch laptop.
You'd think finding something a bag that checked all of those boxes would be a piece of cake.
But reader, this couldn't be further from the truth.
In my experience, most cute bags fail to consider function, and most functional bags, fail to consider style.
And regardless of your feelings on leather – whether you avoid it for ethical reasons or you avoid it because of its heft – finding something that has the LOOK of genuine vintage leather is all but impossible.
Thus, I was admittedly skeptical of ECOSUSI.
Their beautiful bags claim to have it all. Versatility, style and function.
But do they hold up to all of the hype?
Selflessly, I decided to investigate.
In this review, I will be answering a few frequently asked questions about the brand, and talking about my personal experience.
For clarity, this review will focus on the Waffles – Women's Vintage Messenger Bag with an adjustable shoulder strap (retails for $83.50).
Without further ado, let's dive in.
What is ECOSUSI?
ECOSUSI is a vegan leather brand that specializes in vintage-inspired travel bags such as laptop bags, shoulder bags, briefcases and backpacks.
Is ECOSUSI real leather?
No, ECOSUSI bags and products are not real leather. They are vegan leather, often referred to as PU leather.
What is vegan leather made of?
Vegan leather, most commonly, is made from polyurethane instead of animal hide.
According to the ECOSUSI website, ECOSUSI experiments with a variety of high-quality recycled materials in the creation of their products.
Is ECOSUSI ethical?
ECOSUSI maintains a "zero cruelty to animals" policy and "promises" that all of its products are crafted in a sweatshop-free environment.
Where is ECOSUSI based?
ECOSUSI is based in Arcadia, California. But their products are made by craftsmen in China.
Their products will also ship from China, so expect shipping to take 1-2 weeks.
How do ECOSUSI bags hold up?
Now we are getting to the good stuff.
First, I want to offer a couple of quick disclaimers.
I do not live a vegan lifestyle; I own many real leather bags (don't hate me). I do, however, appreciate, and patronage brands that promote sustainability.
Additionally, while I am a lover of beautifully crafted bags, I do not handle my bags with child gloves. I use bags for the purposes for which they are intended.
I felt those two statements are important for context. Because I have to say, in my opinion, yes, ECOSUSI bags really hold up well.
In fact, I've been impressed by how well this bag has endured over the course of several trips.
I use the long strap and treat it like a crossbody, and I use the shorter handle and carry it in the crook of my arm. I strap it around my luggage trolley (more on this later), and I shove it under the seat in front of me on an airplane.
When I travel, I put this bag to work.
And through it all, it still looks brand new.
Will ECOSUSI briefcases fit a 15″ laptop?
While there are some exceptions to this rule, yes, most ECOSUSI briefcases and backpacks are designed to hold 15-inch laptops.
In fact, my ECOSUSI briefcase holds my 15-inch MacBook Pro with plenty of space to spare.
And, because ECOSUSI is a vegan leather brand its bags also tend to be lighter than their genuine leather counterparts.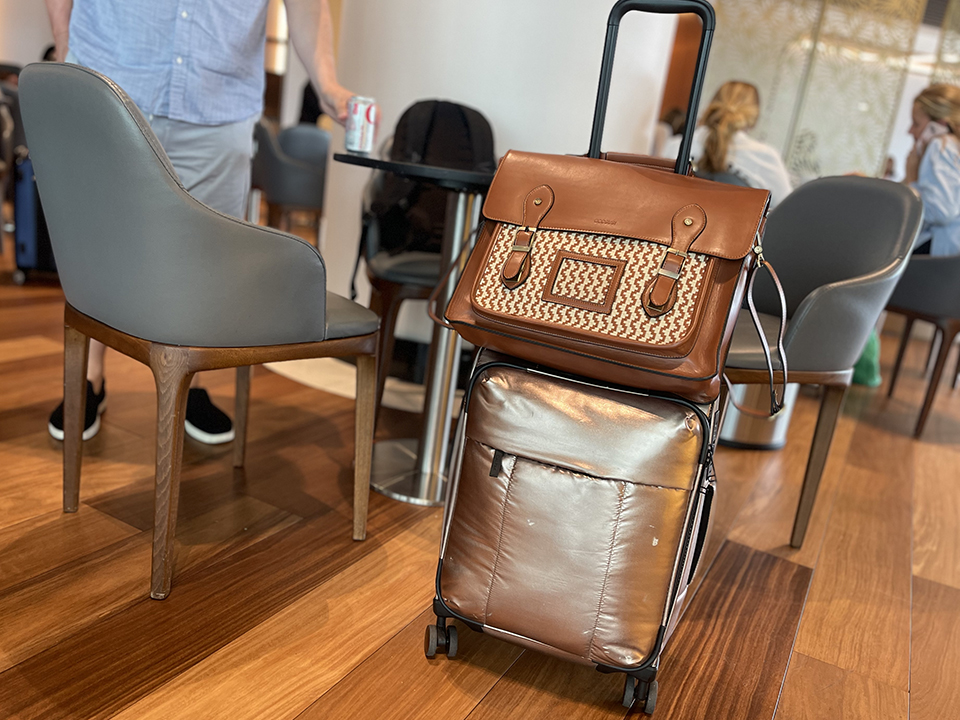 Do ECOSUSI bags have a trolley sleeve?
This is the only biggest complaint about ECOSUSI bags. At the time of this writing, no, they do not have trolley sleeves.
However, there are a couple of workarounds to this problem.
First, do as I do and just use the top handle. The top handle easily fits my standard-sized carry-on travel trolley handle.
Second, consider opting for an ECOSUSI backpack/briefcase combo bag. Many of ECOSUSI's briefcase bags have versatile straps that allow the wearer to use the bag like a backpack. And who needs a trolley sleeve when you have a backpack?
Editor's note: Dear ECOSUSI, if you're reading this, I'd still like a trolley handle on a future bag design. Please and thanks.
Is ECOSUSI worth it?
And finally, the big question: Is ECOSUSI worth it?
Average price points at ECOSUSI are as follows:
Wallets: $39-$45
Handbags & Tote Bags: $49-$102
Briefcases: $62-$92
Backpacks $69-$92
Are these price points a tad high for vegan leather? Maybe.
Save 10% on a single item
But if you consider ECOSUSI a designer brand, and honestly I do, I think it's a relative bargain. Especially if you use code IG10 to save 10% on a single item online at ECOSUSI.com.
In my opinion, it's the little things that set designer bags apart from the competition.
ECOSUSI bags feature high-end details throughout down to embossed hardware – like zipper pulls and buttons – and beautiful stitching.
Still on the fence? Just compare ECOSUSI to competitor brands like Samara, where even a tiny cheap-looking handbag will run you upwards of $135 (I also own Samera bag and can say – ECOSUSI bags look/feel 1000% better).
So are ECOSUSI bags worth it? In my opinion, yes they are.
I love their eye-catching vintage style, their versatility and their many pockets. Plus, for faux leather, they look great.
To say they are eye-catching, is an understatement.
But I'm curious to hear about your experience. Let me know if you think ECOSUSI bags are worth it in the comments below.
Also, don't forget to connect with me on Patreon, Facebook, Pinterest and Twitter using the links below.