When we set out to create a blog in 2019, we had absolutely no idea what we were doing.
Like you probably did to find this article, I spent an incredible amount of time googling advice on how to build a site that was capable of reaching millions of people.
Unfortunately, the Internet is inundated with generic, largely unhelpful advice – such as, produce great content, promote your blog on social media and use keywords.
Thanks, Captain Obvious.
And so, we had to learn the hard way.
But, I vowed that once we "cracked the code" that we would share what we learned with other up and coming bloggers.
I am happy to report that we are finally in a position to do so.
We "soft launched" our blog, TheSmokies.com on November 1, 2019 (with a shell of a website and a handful of articles) and launched the full site as it looks today on April 1, 2020.
From November 1, 2019 to October 31, 2020, our first full year of operation, we were able to reach 1,460,688 (1.4 million) pageviews.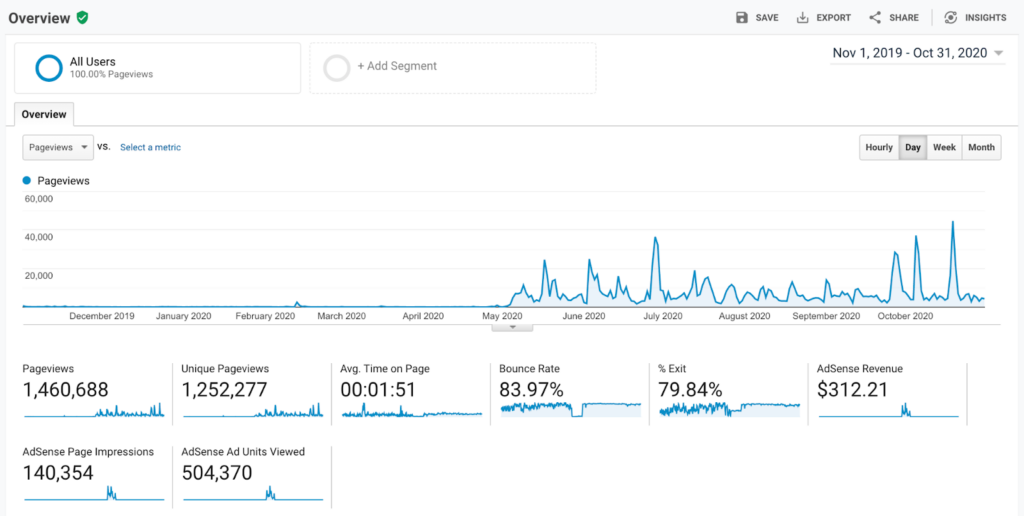 As further proof that we didn't know what we were doing in the beginning, take note of the flat line between November and April in the chart above.
I feel certain that if we figured it out a bit sooner, we'd have blown our 1 million pageview goal out of the water.
At the time of this writing, we are now at the 1.5 year mark and have since more than doubled that number, having recently hit the 3.5 million mark.
Below I will share a bit of real, actionable advice you can employ on your blog today, along with some of the biggest lessons we learned.
I only ask one favor of you. If you enjoy this article, leave a comment below and share it on the social media platform of your choice (Pinterest is our favorite).
Blog karma is real.
1. Build your site on WordPress
While there are lots of options out there when it comes to blogging platforms, WordPress is considered to be the industry standard.
Are there other platforms out there? Sure. But WordPress was built for blogging.
There's always a plugin available for just about any sort of functionality you require, most web developers are already familiar with the framework and most ad exchange networks have existing integrations that will work with a WordPress site (more on that later).
Plus, it's SEO (search engine optimization) friendly and can be easily migrated to a larger host as your site grows.
In fact, many hosts like GoDaddy, SiteGround, BigScoots and ServeBolt all offer managed WordPress hosting packages.
You can't easily migrate to a Wix site or a SquareSpace site. When you build on these platforms, you're stuck with their proprietary framework. So if you outgrow them, you'll basically have to import your posts and manually migrate your pages and images by hand.
Also, Wix is only free for the first 500MB of bandwidth each month. Premium plans are available for a charge ($24.50 per month for 50GB at the time of this writing). But if you need anything more than that, you'll have to look at a Wix Enterprise plan, which starts at a whopping $500 per month.
It's important to note that you will likely need a lot more than 50GB.
For example, we currently average about 300,000 pageviews per month, which equates to about 95GB of bandwidth. This runs us about $161 per month on ServeBolt.com.
You want a site that can easily grow with you as you go. WordPress will make that happen.
2. Build your site for speed, not beauty
If you are able to be both simple and beautiful, don't let me stop you. But your primary goal should be speed and maintaining excellent core web vitals.
Google recently announced their plans to boost websites with an excellent page experience, meaning that it's never been more important to make sure you're delivering your customers an excellent and seamless experience when visiting your website.
And one of the best ways to ensure an excellent experience is by choosing a lightweight speedy theme and framework on your WordPress website.
At the time of this writing, the following are considered to be among the fastest themes on the market:
If you choose the right theme the first time, it will save you loads of work down the road.
We had to completely rebuild our website twice for our blog posts to achieve a 90+ rating on Google's PageSpeed Insights.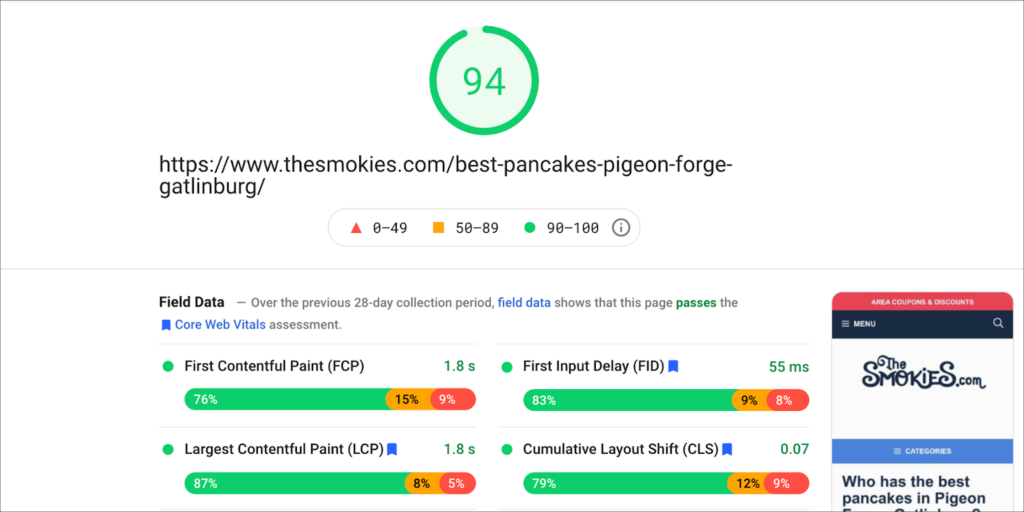 You may also be able to get a big speed boost by upgrading your host (to hosts like BigScoots and ServeBolt, who offer some of the best speeds in the industry) and using a CDN (content delivery network).
If you don't know how to get your numbers up, you may want to look into hiring a web developer who specializes in Core Web Vitals.
3. Publish every day
This might be the most obvious piece of advice in this entire article, so I'll keep this section brief. But if you really want to hit 1 million pageviews in your first year, you need to try to write at least 6-7 articles per week – or more if you are able.
The more you write, the quicker your traffic will grow. On our main site, we use freelance writers to help us keep up the pace.
But with that in mind, you will also want to make sure that each of your articles has the best chance of being successful, which brings me to my next big piece of advice…
4. Format your headlines and slugs using a specific formula
This is the biggest piece of SEO advice you will ever receive, and it is an absolute game-changer.
For best results, your headlines should always contain the exact keyphrase you are targeting.
This advice is so solid, I hesitated to give it away for free by including it in this article.
For instance, when I set out to write this article, I googled "how blog million" to see what other people were searching for on the topic.
Under the "people also ask" section, several suggestions popped up including:
How do bloggers get rich?
Do bloggers make millions?
How do I get a million views on my blog?
How much do bloggers make per blog?
I will admit, these search queries are rarely exciting and frequently poorly written. But when I target a keyphrase exactly how it's being queried on Google, more often than not, in just a few days, I am catapulted to page one.
Also, keep your headlines 70 characters or less. Google prefers headlines that neatly fit on a single line of a search results page.
Finally, make sure your slugs also match your selected keyphrase.
The slug is the url that comes after the core part of your url.
For instance, this article url is "morganoverholt.com/how-do-i-get-a-million-views-on-my-blog". The slug, in this example, is "how-do-i-get-a-million-views-on-my-blog".
5. Make sure each article is a minimum of 700 words
In addition to the obvious advice you will receive everywhere else on the Internet on the subject of how to build a better blog, you will also want to write long-form.
This advice, while obvious to some, threw me for a loop.
In the world of print media (where I originally come from), you are taught to keep it brief. Afterall, space is money in a newspaper.
But online, more is, well … more.
In fact, the longest blogs often achieve the highest RPMs ("revenue per mille" or ad earnings per 1,000 pageviews).
Long articles give Google plenty of keywords to pick up on and keep your readers scrolling (and hopefully scrolling through ads if you are monetized).
We typically aim for a minimum of 700 and ideally prefer to average around 1500 when possible.
I've seen bloggers average as much as 4000-5000 words per article and achieve astronomical RPMs.
Most ad exchange programs like Mediavine and AdThrive will also ask you to write "long" as it allows them to squeeze in more content ads per page.
Which brings us to the next tip …
6. Become monetized as soon as possible
While there are a variety of ways to monetize your blog, most advertisers and affiliates will want to see that you are capable of achieving a large amount of steady traffic and clicks before considering you for their program.
Here's a look at the basic viewership requirements of some of the hottest monetization partners out there today:
Most of these programs will also require proof of this traffic with at least 1-3 months of stability.
And if you get turned down the first time (like we did) just try again later. "No" doesn't mean "no forever".
Ad exchange programs and affiliate partners simply want to make sure that you are in this for the long haul and not a "fly by night" operation.
7. Use social media wisely
While SEO is the name of the game for steady long-term traffic, social media can often provide a powerful boost to your site traffic if used correctly.
Blogger favorites include Facebook, Pinterest and Twitter, as these are three of the most powerful traffic generators.
We personally see the biggest lift from Facebook Groups rather than Facebook Pages.
We also aren't afraid to occasionally buy ads on social media or boost posts, but we do so sparingly.
If you do want to boost a few of your Facebook posts, consider boosting each at just $5 per day to get a feel for performance before doubling down on a non-performer.
Anything that runs at less than $0.01 is generally a money-maker for us in the long run because it serves as a marketing funnel. We can invite anyone who engages with our posts to join our Facebook Group – which is where the real engagement happens.
8. Use an SEO marketing toolkit like SEMRush, Ahrefs or RankIQ
If it is within your budget, we also highly recommend subscribing to a social media toolkit like SEMRush or Ahrefs. Both sites offer content marketing tools including rank analytics, keyword research and backlink services.
Our traffic nearly doubled when we started using SEMRush. And to be honest, this is where we really felt like we started learning how SEO really worked.
Basic monthly subscriptions start at just $119.95 for SEMRush and $99 for Ahrefs.
RankIQ is another great entry-level option at just $29 per month.
Read Also: SEMRush review: A 6-figure blogger's opinion, with alternatives [2022]
9. Bonus tip: Keep it legal and get insurance for your blog
Finally, this isn't necessarily a traffic-driving tip, but it's important.
There are far too many predatory law firms afoot that are partnering up with photographers who are actively on the lookout for copyright violations.
I have personally known many fellow bloggers and graphic designers who have had to go to court or reach an expensive settlement over improperly licensed stock and copyright infringements.
But don't let that scare you.
You can protect yourself and your blog by purchasing a stock subscription (Adobe Stock and ShutterStock are our favorites), always applying appropriate attribution, always asking permission when not using stock and insuring your blog with a company like biBERK for good measure.
Most people assume they can simply search for "royalty free images" or "public domain images" and take anything that pops up on Google Images. That is just not the case.
Google Images is not a stock site.
To truly protect yourself, you need to buy the license each time, or obtain permission directly from the source.
As careful as we are, we too have been accused of copyright infringement by predatory firms before. But we were able to provide proof of purchase and the appropriate license. The accusers immediately backed down and apologized.
The bigger you are, the more often this will happen, so please protect yourself. Purchasing stock (or better yet – taking your own pictures) is a nominal expense in the long run when compared to a hefty lawsuit.
Let me know what you think about these tips in the comments below! And don't forget to connect with me on social using the links below.