So you're ready to post your first job on Upwork but you're unsure of how to proceed.
Never fear – I'm here to help!
For a bit of background on me, I'm an Upwork client who has spent over $15,000 on the platform. I'm also an Upwork freelancer who has earned $600,000 on the platform.
Needless to say, I know my way around the Upwork website.
And so, in this article, I am going to answer a few frequently asked questions about the freelancer platform, walk you through the extra steps needed to post a job, and share seven big mistakes to avoid in the process.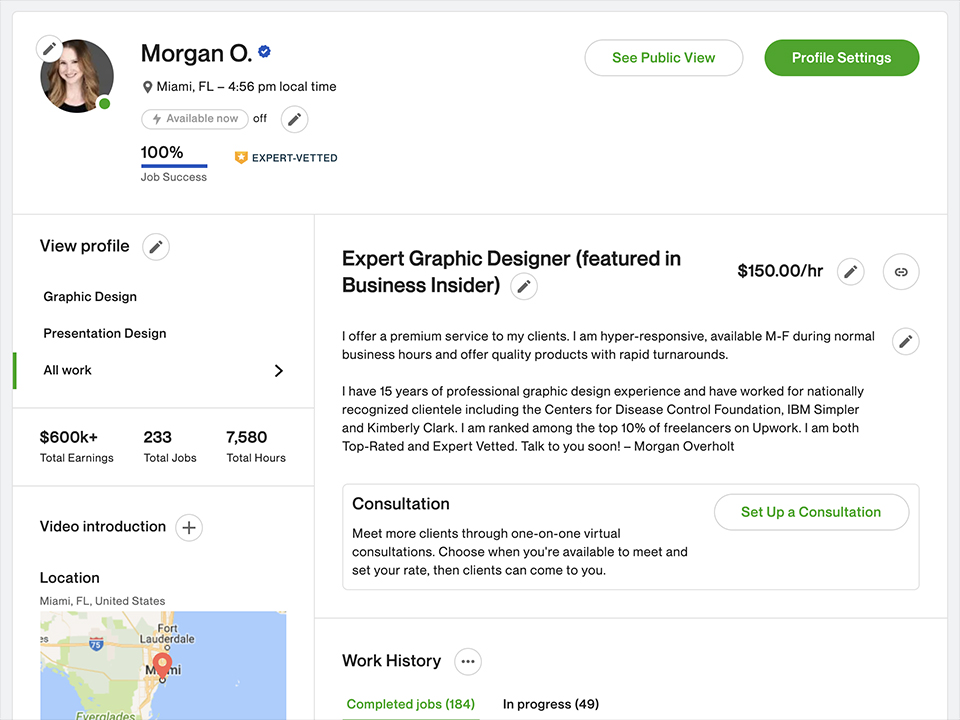 Is it free to post a job on Upwork?
Yes, it is free to post a job on Upwork.
However, the platform isn't entirely free to use.
You'll obviously have to pay any freelancer you hire. And all transactions will be subject to a 5% payment processing fee (or 3% for eligible U.S. clients who pay via ACH).
| Client Transaction Type | Client Fee |
| --- | --- |
| ACH (eligible U.S. clients) | 3% per transaction |
| PayPal | 5% per transaction |
| Credit Card | 5% per transaction |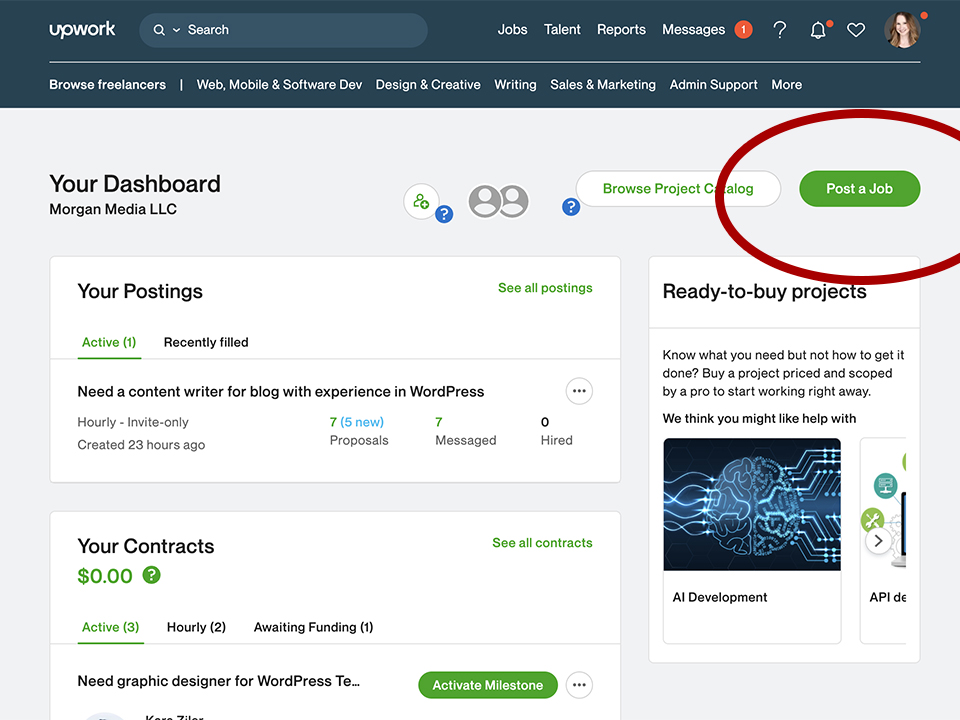 How do I post a task on Upwork?
There are three basic steps involved in creating a job post on Upwork.
Create a client Upwork account
Click on "Post a Job" from your client dashboard
Follow the prompts
For a detailed list of instructions that walk you through each prompt and how to answer the questions, be sure to check out my full-length article on how to hire on Upwork.
Read Also: How to hire on Upwork: Step-by-step guide to hiring quality freelancers
What happens when you post a new job on Upwork?
Within minutes of posting a job on Upwork, you will start to receive a handful of proposals from qualified candidates.
You can find these proposals by logging into your Upwork client dashboard, clicking on the title of the live job post, and then clicking Review Proposals.
What to do if you're receiving too many proposals
If you're receiving too many proposals, you might want to consider using the Filters button (located next to the Sort drop-down) to narrow down the talent pool to only the most experienced and qualified individuals.
Here are a few of my personal favorite filter settings:
Earned Amount: $10k+ earned
Job Success: Top Rated
Last Activity: Within 2 weeks
What to do if you haven't received any proposals
If a few hours have passed and you haven't received any bids, there could be a number of issues with your job post.
The most common issues are as follows:
Job is too niche
Rate/budget is too low
The job title and/or job description needs work
What to expect when reviewing proposals
Each proposal you receive will feature the following information about the prospective freelancer, and I suggest that you review all of it carefully to help you make an informed hiring decision.
Name
Profile pic
Title
Location
Earnings
Job Success Score
Top Rated status (if any)
Link to the freelancer's Upwork profile
List of skills
Availability badge (ignore this*)
A proposed hourly rate or proposed fixed-rate
Proposed milestones (if any)
Cover letter
Chatbox
*Pro-tip: The blue availability badge is purely for looks and isn't a true indication of the freelancer's availability. Freelancers pay Upwork to turn this badge on. It's just a way for Upwork to make a bit of extra money, and for freelancers to add a bright pop of blue color to their proposals in hopes of standing out.
Be sure to read the proposals carefully, and don't forget to take a peek at each freelancer's profile for positive reviews and glowing feedback from past clientele.
You can chat with a prospective freelancer as much as you wish before making your final hiring decision. And I highly encourage doing so as communication is key to a successful project kick-off.
When you are ready to make a decision, simply return to your Upwork client dashboard and click on "Hire Freelancer".
7 mistakes to avoid at all costs
Now let's get into some of the biggest mistakes I see new clients make on the Upwork platform.
Some of these mistakes will scare off the most talented freelancers. Others might even get you kicked off the platform.
1. Don't use Upwork to find full-time traditional employees
At least once a month, I see some poor hiring manager posting a traditional job ad on the Upwork platform for a regular part-time or full-time employee.
While Upwork does have a work-to-hire option, Upwork is not a traditional jobs board platform. Upwork is primarily a freelance marketplace.
Most Upwork freelancers aren't looking for traditional employment. The vast majority of freelancers are usually freelancers by choice. We are service professionals who enjoy running our own businesses and being our own bosses.
And even if you do select the "work to hire" option when posting the job, you are still required to work with that freelancer on the platform on a contract basis for at least two years. Taking the freelancer off the platform before the two-year mark is considered to be circumvention and is a violation of Upwork's Terms of Service.
Another easy way to violate Upwork's Terms of Service is by posting a traditional-format job ad that includes information about how to contact the company directly outside of Upwork or encourages applicants to circumvent the Upwork payment system.
2. Don't include personally identifiable information in your job post
As mentioned in the previous section, it's against Upwork's Terms of Service to share your contact information pre-contract (like an email address, a phone number, a website that contains a contact form, etc).
There are two main reasons that this rule is in place.
First, Upwork needs to make sure they are getting paid for services rendered.
Upwork makes its money by taking a 10% commission out of the freelancer's paycheck. This means, if you're immediately finding freelancers and hiring them directly off-platform, Upwork isn't getting paid. And not getting paid, isn't great for Upwork's bottom line.
Secondly, scams, while rare, do happen. And both clients and freelancers alike are vulnerable to scammers.
So, as you might imagine, the easiest way to prevent these nefarious behaviors is to ask that all pre-contract conversations and negotiations happen via Upwork Messenger so that Upwork can keep an eye on things.
3. Don't expect to pay a lower rate for expert help
This is another all-too-common mistake.
Look, there's nothing wrong with trying to find a deal or someone to work on the cheap. I get it, I am a business owner too. Margin is everything.
And while you may have some luck in finding a few beginners who are willing and able to perform the work on a budget, low rates tend to send the best freelance talent running for the hills.
If you want to hire the best talent, with the most subject matter expertise, you're probably going to have to fork over a bit of extra money and pay higher rates.
But what sort of hourly rates should you expect to pay for beginner, intermediate and expert talent on the platform? Just check out the table below for a guide to some of the most popular Upwork job categories.
I pulled this data directly from the Upwork job post-budget screen in 2023. The hourly rates below are based on the average prices being paid for US talent in each respective category.
What Upwork freelancers are charging in 2023
| Niche | Lowest | Entry | Intermediate | Expert | Highest |
| --- | --- | --- | --- | --- | --- |
| Full Stack Development | $15-$20 | $35-$70 | $40-$70 | $65-$85 | $160-$165 |
| Mobile App Development | $5-$10 | $30-$65 | $50-$71 | $70-$90 | $120-$125 |
| Web Design | $10-$15 | $30-$58 | $35-$55 | $55-$75 | $155-$160 |
| Social Media Marketing | $5-10 | $20-$50 | $30-$65 | $60-$100 | $205-$210 |
| Accounting | $5-$10 | $26-$50 | $25-$50 | $40-$65 | $145-$150 |
| Recruiting & Talent Sourcing | $10-$15 | $25-$50 | $35-$55 | $51-$68 | $130-$135 |
| Bookkeeping | $10-$15 | $26-$45 | $25-$45 | $40-$55 | $90-$95 |
| Graphic Design | $10-$15 | $30-$45 | $30-$50 | $47-$65 | $145-$150 |
| Video Editing | $10-$15 | $30-$45 | $30-$50 | $47-$65 | $145-$150 |
| Presentation Design | $15-$20 | $35-$54 | $40-$65 | $64-$100 | $170-$175 |
| Illustration | $15-$20 | $25-$43 | $30-$45 | $42-$70 | $100-$105 |
| 3D Animation | $5-$10 | $25-$40 | $25-$50 | $42-$80 | $130-$135 |
| Transcription | $10-$15 | $10-$20 | $10-$20 | $20-$30 | $60-$65 |
| UX/UI Design | $15-$20 | $31-$68 | $44-$70 | $65-$90 | $155-$160 |
| Email Marketing | $5-$10 | $25-$50 | $35-$65 | $55-$100 | $195-$200 |
Data Extracted Feb. 20, 2023. Numbers are subject to change.
4. Keep your job description short and sweet
While it's important to be descriptive, and include key details like budget, deliverables and project preferences, don't overwhelm prospective talent with too many details in the job post.
Just because Upwork gives you 5,000 characters to work with, doesn't mean you should use all of them.
To put things into perspective, the average length of a novel runs between 50,000 and 110,000 words. Five-thousand words is a tenth of a novel. And to be blunt – excuse my Southerness here – ain't nobody got time for that!
Whenever I see a job post that looks like it's going to take me more than 2-3 minutes to read I just move on.
Keep your job posts short, sweet and easy to comprehend.
5. Don't disrespect your freelancer
You aren't the boss of your freelancer. The freelancer is not your employee. Nor are they your servant.
The best freelancers on Upwork are independent professionals who excel in their respective fields.
Mutual respect in a freelancer-client relationship is key to a successful outcome.
6. Don't ask for free work or a free trial
Asking for free work is a violation of Upwork Terms of Service. This includes free "trial runs" and free "tests".
This ain't Sam's Club, there are no free samples.
This one goes back to the whole Upwork not getting paid thing.
Again, Upwork gets paid by taking a cut of the freelancer's earnings. And if the freelancer isn't making any money, Upwork isn't making money either.
In addition to the practice being a direct violation of Upwork policy, it's also just disrespectful.
With that said, there's nothing wrong with asking for additional work samples from previous jobs. There is also no rule against asking for a test or trial. Just make sure it's a paid trial.
7. Don't take the freelancer off of Upwork
And finally, whatever you do, don't take the freelancer off of the platform. Doing so may result in both your account and your freelancer's account, being permanently suspended from the platform.
There are only two legal ways around this rule.
You wait at least two years
You pay the conversion fee
Read Also: Hiring outside of Upwork: Advice from a $600k Upwork freelancer
It is perfectly legal to work directly with your freelancer two years after the original Upwork contract commences.
Alternatively, if you don't want to wait the full two years, you can instead pay a 12% conversion fee.
A freelancer's hourly rate, for the purposes of calculating the 12% conversion fee will be the highest of the following:
Earned hourly rate on any hourly project on Upwork
Proposed hourly rate for any hourly contract on Upwork
Hourly rate as it appears on the freelancer's profile
That hourly rate is then multiplied by 2,080 hours (the equivalent of a 40-hour workweek multiplied by 52 weeks). Which, in my humble opinion, seems more than a bit unfair, but I digress.
The equation looks something like this:
(Freelancers Hourly Rate * 2080) * .12 = Conversion Fee
In most cases that equates to a ridiculous amount of money that's not even close to worth it, at least in my opinion.
But for those of you with money in your bank account to burn, you can start the process by contacting Upwork using this email address: conversionfee@upwork.com. Clients can also start the process by clicking on the Move Outside Upwork button in their contract room.
Is this your first time hiring on the Upwork freelance platform? Found any talented contractors or quality talent lately? Let me know in the comments below and don't forget to connect with me on social media.
PS: If you've found any of the above advice helpful, and you feel so inclined – buy me a coffee (leave a tip) on Kofi!