The following article is a repost from Refinery29.
In our series Salary Stories, women with long-term career experience open up about the most intimate details of their jobs: compensation. It's an honest look at how real people navigate the complicated world of negotiating, raises, promotions, and job loss, with the hope it will give young women more insight into how to advocate for themselves — and maybe take a few risks along the way.
The Stats
Age: 34
Current Location: Miami, FL
Current Industry & Title: Freelance Graphic Designer
Starting Salary: $19,000 in 2007
Current Salary: $200,000
Number Of Years Employed: 16
Biggest Salary Jump: $125,000 ($75,000 to $200,000) in 2018 when I quit my job to become a freelancer.
Biggest Salary Drop: $25,000 ($100,000 to $75,000) in 2015
Biggest Salary Negotiation Regret
"I once scored an interview with one of the largest cable-shopping networks in the nation. It felt like the opportunity of a lifetime. But during the interview, they said they were 'concerned about my age,' literally warned me that people who worked for them in the past tended to leave feeling disgruntled, and asked me to take a $25k pay cut (at the time I was making $100k). I was so excited about the opportunity that I naively chose to ignore all of the red flags and accepted the job…and the pay cut. After just two years at the company, as many had apparently done before me, I walked away feeling disrespected, overworked, and disgruntled. I still harbor a chip on my shoulder about the entire experience to this day. My advice: No matter how great an opportunity seems, don't ignore the red flags, and don't just accept a huge pay cut unless you absolutely have to."
Best Salary-Related Advice
"While at the large shopping network, whenever I asked for a raise, I was met with a hard 'no.' I was told I had to be 'patient,' that I was 'too ambitious,' and that I probably wouldn't be considered for a raise for another 'five-six years.' These words infuriated me. So after a couple of years of rejection, I finally snapped. I decided to stop relying on others to determine my worth – and go into business for myself as a freelancer. Don't get me wrong: I was terrified at first. I wondered if my former employer was right. Was I too ambitious? Spoiler alert: They were wrong. My first full year in business, I cleared over $200k. So my advice — know your worth and don't let others make you feel small. Sometimes if you really want something, you have to do it yourself."
2007 – Newspaper Editor (First Job Out of College) – $19,000
"My first job out of college was working for a local newspaper where I was in charge of design, layout, and copy editing for the special sections of a daily print publication. I was so excited to secure a full-time job straight out of college in my hometown that I was barely thinking about how to actually live off of $19,000/year. So I moved on pretty quickly, BUT I have to say I actually loved the job and loved the people, many of whom I'm still in contact with to this day. I also learned a lot of life lessons about budgeting — ha!"
2007 – Graphic Designer (New Job) – $25,000
"While I was at the newspaper, I was also freelancing a bit on the side to make ends meet. One of the companies I had been freelancing for — a nationally televised satellite-based shopping network in East Tennessee — knew I was looking to make a change and offered me a full-time job. While I still wasn't making a ton of money, this is when I really started to get my feet wet and make professional connections that would set a course for the rest of my professional career."
2008 – Graphic Designer (Raise) – $35,000
"After being at the shopping network for a little over a year, I was given a $10k/year raise. To be honest, I don't even remember whether or not I asked for it — the company was family-owned by some of the most honest and kind-hearted people I've ever met, and they always took care of me. Considering the fact that I had only been making $19k a year just two years prior, I thought I was rich. I was also spoiled because I would later learn that not all employers were going to be as kind."
2009 – Creative Director (New Job) – $45,000
"One of the shows at the shopping network was bought out and asked me to jump ship to come with them to be their graphic designer and creative director in Nashville. Even though I already had two years of full-time work experience under my belt before I got to this point, this job was the first job that really FELT like a 'grown-up' job. I was tasked with a great amount of responsibility and was given the opportunity to spread my wings. It was also the first time I experienced some of the pitfalls of corporate life — such as nepotism, gender bias, and trying to compete in a 'boys' club' type of environment — but it ultimately made me stronger, and I appreciate the experience today."
2010 – Creative Director (Raise) – $75,000
"In order to make myself an invaluable asset to the company, I ambitiously took on as much responsibility as they were willing to give me. I made it known that I was eager to learn — and I fought for opportunities to shine.
"What started out as just a graphic design position ended up including web development, on-air graphics operation, and show-running. This is really the point where I developed a taste for glory and realized the sky's the limit as far as salary and career aspirations were concerned.
"Eventually, with the encouragement of my coworkers, I worked up the nerve, named my salary, and got it. (My title was still creative director, but with an expanded role.)"
2014 – Creative Director/Show Host (Raise) – $100,000
"This was my Cinderella moment. One night during a live show, I was asked to appear on air (before this I was always behind the scenes) for a promotional spot. Shortly thereafter I started appearing as a regular part-time on-camera show host in addition to my other duties as a graphic designer, web developer, graphics operator, and show-runner. I was wearing a lot of hats and working crazy hours, but I LOVED it. The upgraded position came with an upgraded, six-figure salary and the title of creative director/show host."
2015 – Show Host (New Job) – $75,000
"In 2015, I was given the opportunity to work for one of the largest cable-shopping networks in the nation. I was so excited that I all too eagerly put my graphic design career on hold and accepted a $25k pay cut for the opportunity to become a full-time show host.
"To my devastation, I wasn't able to cope with the expectations of the job, which involved a demanding, unpredictable schedule (with rotating overnight shifts, weekends, and holidays) and public scrutiny on everything from my looks and my personality to the sound of my voice. At one point, I even chopped off my then-long hair to an outdated 'bob' in an attempt to people-please.
"I requested better shifts, more money, or even a sign that these efforts would have a better payoff in the future but was told, 'I'm sorry, this is just a tough industry.'
"The whole thing was taking a toll on my health — both physical and mental — and my self-confidence was at an all-time low. I was sleep-deprived, lonely, and felt like an imposter in my own skin. One day, in the middle of a one-on-one with my supervisor, I confessed that I could not do this to myself anymore, and walked away."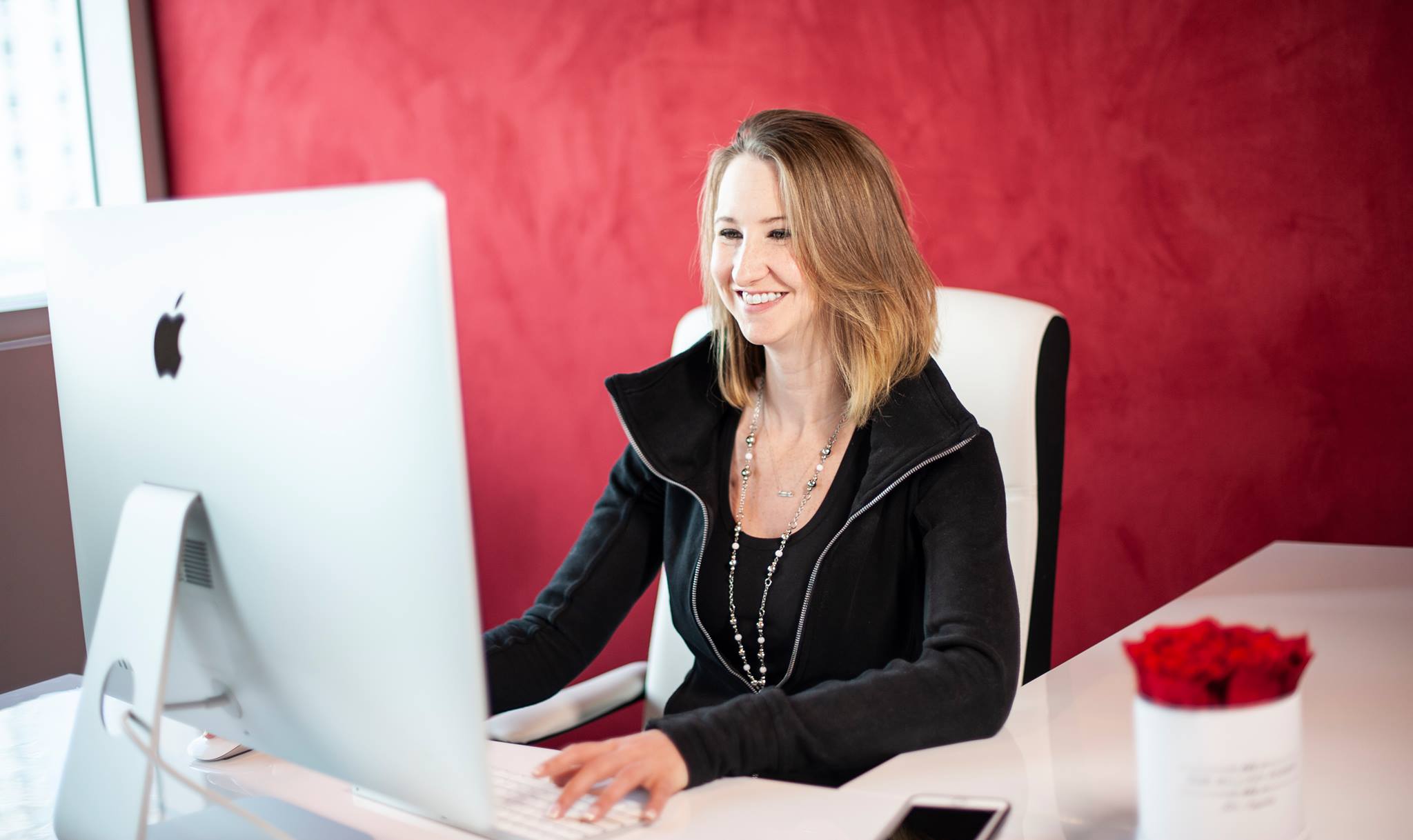 2017 – Freelance Graphic Designer (New Job) – $200,000
"As the dust settled and I slowly regained my self-confidence, I started to realize: Maybe this was my big chance. Maybe I would never be truly happy working for someone else. Perhaps this time, it could be MY TURN to be the boss.
"And so, armed with over a decade of professional experience, I returned to my roots in design and went into business for myself as a full-time freelancer. I worked my way up by becoming a self-promotion machine. I called all of my old contacts and told anyone who would listen that I was looking for work. I practically lived on Upwork, the largest freelancing website in the U.S., applying for work left and right.
"At first, the work came in like a slow, steady stream, and after only a couple of months, I was earning an income that was equivalent to my old salary. Before I knew it that slow, steady stream quickly turned into something that more closely resembled a geyser, with more work lined up than I could handle. In my first full year of business, I netted nearly $200k. I didn't even know that kind of money was possible for a freelancer. This meant it was time to expand."
"Today, I employ one full-time contractor and two part-time contractors who work under me. We are still on Upwork — which turned out to be a money-making machine — and we are currently on track to gross $300k for the 2019 calendar year.
"It's been quite a journey, but I finally feel like I've figured out what I was meant to do and love the freedom the freelance lifestyle has afforded me."
—
I hope you enjoyed this reposted interview! Don't forget to connect with me on social media using the links below.