Hi, I'm Morgan. I'm an Expert Vetted freelancer who has earned over $600,000 on the Upwork platform since joining in 2017.
I'm also a self-described fan-girl and Upwork evangelist.
Upwork has changed my life in ways that I never imagined possible.
And I largely credit the Upwork platform, which continues to make up about half of my monthly take-home pay to this day, for my success.
Read Also: Can you make good money on Upwork? How I made $600,000 in 5 years
Upwork saved me from a miserable life in the corporate world that wasn't going as planned.
Because of Upwork, I am now able to earn a respectable wage, work from anywhere in the world, and be my own boss.
That's the stuff that dreams are made of.
But while we are talking about dreams, I thought it would be fun to fantasize about how to make the dream even better by revealing my Upwork wishlist.
Over the past several years, I've been making notes to myself about little things that I would improve about the platform if given the chance to chat with the many wizards behind the curtain that make Upwork tick.
Some of these items would be easy fixes, some are absolute pipedreams and will likely never happen.
Feel free to add to the list by leaving a comment below the article – I'd love to hear from my fellow Upworkers on what you think about my number one pick!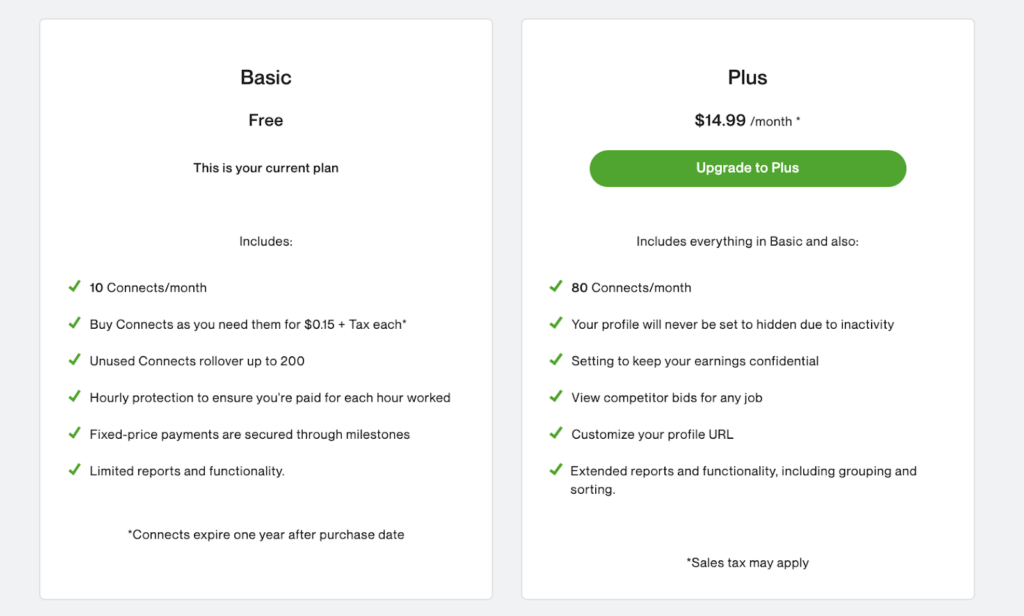 9. Improve the Freelancer Plus program
I've actually subscribed to Upwork's Freelancer Plus program before, and other than enjoying the benefit of bonus Connects, I've never used the other features.
For the uninitiated, Upwork offers two Freelancer plans, Basic (free) and Plus ($14.99/month).
The Plus plan includes:
80 Connects per month
View competitor bids for any job
Enjoy extended reports and functionality
Ability to keep your earnings confidential
Customize your profile URL
Your profile will never be hidden due to inactivity
Weekly coaching office hours
Access to the Freelancer Plus group and events
Skip the line for Upwork Skills Certifications
Enjoy a 0% service fee when you bring new clients to Upwork
If I were to quickly address the flaws in those incentives I would point out:
If I'm inactive on the platform, I don't know why I would care whether or not my profile was hidden
Keeping your earnings confidential is not recommended
I can get a domain at GoDaddy for $12.00 per year and forward it to my Upwork profile (or even better, just use a Tiny.url for free)
Better UX should never require an upgrade
In my opinion, the Freelancer Plus account should be more about getting a bulk price discount on Connects and be priced at around $9.99.
8. Give freelancers the ability to propose rate increases
At the time of this writing, only the freelancer can lower a contract's hourly rate and only the client can raise it.
One of the great things about being a freelancer is having control over your own contracts and your own business.
But with the way this is currently set up on Upwork, if I wanted a rate increase I would have to ask the client to go through the motions of logging into their account and manually making the adjustments on their end or proposing an entirely new contract.
Read Also: How to increase your rate on Upwork: Step by step instructions (2021)
Most of my clients tend to prefer a "set it and forget it" style contract. They want everything to be auto-billed and never want to worry about logging into their account.
And I hate burdening my clients with extra steps, especially for my own benefit.
I believe Upwork could easily remedy this issue by allowing a freelancer to propose an hourly rate increase which would trigger a notification to the client that can be approved with just a simple click of a button.
In my mind, it would work similar to the way a freelancer accepts a job offer.
Relying on the client to make the change themselves can take forever. Especially when the client has little incentive to do so.
I usually just end up proposing an entirely new contract to save my client the headache and move things along.
7. Ditch the time clock on the manual time tracker
I'm going to be honest, when I manually track my time, I only count my hours and never make a note of the actual slot of time that I worked on a project.
For instance, let's say I started working on a project at 8:12 am and worked for 2.5 hours, took a 15-minute break then came back and worked for another 15 minutes, took an hour-long lunch break then spent another hour on the project later that afternoon.
I would never bother to go into that incredible amount of detail on the Manual Time Tracker – I'd just make a note that I worked 3 hours and 45 minutes.
It's a pain in the rear with the current Manual Time Tracker interface to go into that level of detail (with multiple separate entries for the same project to account for breaks). And my clients have never asked for that level of detail either.
I wish Upwork would just do away with the specific time slots and allow us simply log hours instead.
6. Nix the screening questions
There's a chance I might be alone on this one, but I would prefer that Upwork ditch the screening questions.
I do think they've been attempting to improve this functionality as of late by allowing clients to create custom questions.
But for fun, I thought I'd share a few of my least favorite default questions, along with the answers I say to myself in my head before biting my tongue and writing something else.
Q: Why do you think you are a good fit for this particular project?
A: This is what I do for a living.
Q: What challenging part of this job are you most experienced in?
A: This job isn't challenging. I am experienced in all of it. Again, this is what I do for a living.
Q: What part of this project most appeals to you?
A: The making money part.
Q: What past project or job have you had that is most like this one and why?
A: Literally, all of them. For the third time, this is what I do for a living.
I find these questions largely unhelpful to both the client and the freelancer.
What I'd like to see are more relevant questions that make sense to ask a professional service provider. A few examples would be:
How long do you estimate it will take you to complete this project?
What do you need from us to get started? (source files, logins, copy, etc)
What are your preferred means of communication?
My basic rule of thumb when it comes to screening questions is: If it would feel strange asking your dentist, plumber or accountant the question (why they think they would be a good fit for this project or what part of the project appeals most to them) then it's probably not a great question to ask any other type of service provider.
5. Ditch the Talent Specialists
This might be another unpopular opinion, but I see the Upwork Talent Specialists as a roadblock to the ability to win jobs.
I haven't been able to secure a job in years that came to me through a Talent Specialist and I am nearly at the point where I'm thinking about ignoring their invites.
One of my greatest strengths is communication. I value being able to speak to potential clients directly, deciding whether or not we are a great fit for each other, and closing the deal.
This isn't possible if there's a middleman getting in the way.
4. Let the client see time log notes on their invoice
I've received this request numerous times, and unfortunately, there's nothing I can do about it on my end.
Currently, when a client receives an Upwork invoice in their inbox it only contains the title of the contact name and the total amount of hours worked.
My clients have requested that I line item projects within the contract on numerous occasions, and I always have to tell them that they have to login to their Upwork account and review the time log manually to see notes from my time log or my time tracker – which they never seem happy about.
To be clear, they don't seem to care about when I work, but what I'm working on.
This seems like an easy fix, and I hope the Upwork gods are listening.
3. Remove the off-site pre-contract communication ban for Expert Vetted Talent
In 2020, Upwork decided to prohibit off-site pre-contract communications between freelancers and clients.
It was an effort to cut down on scams and work (and money) wandering off-site prematurely.
While I have no doubt that this effort has been somewhat effective, I would say it's also been a bit of a bottleneck.
The Upwork Messenger can be buggy at times, and when a client repeatedly asks if they can just call me instead, and I have to repeatedly say no, it can be a real predicament.
Last year I even had a frustrated client go to the trouble of tracking me down off-site, finding my email and reaching out on his own.
I ended up walking the client through how to send an Upwork contract over the phone and begged him to make no mention of the phone call in future conversations on the Upwork chat.
I realize that not every freelancer is as honest as I am and would have not gone to the trouble to bring the client back to the platform.
But I do think Upwork's Expert Vetted talent pool has earned the right to be trusted with off-site communications when necessary without having to fear repercussions for breaking the rules.
This brings me to my next wishlist item …
2. Improve the Upwork Messenger
Worrying about off-site communications wouldn't be an issue if the Upwork messenger was just a bit more streamlined.
A few of my suggestions would include:
Increasing the file size upload limit or integrating with something like WeTransfer if large files need to be exchanged
Including a "Download All" button like you find in Slack for multiple file sends. (I am sure clients would appreciate a "Download All" button for portfolio attachments on job posts as well)
Making an "End Contract" button easily accessible on both the client and the freelancer end
The Upwork Messenger also tends to be buggy in general. I've personally been going back and forth with Upwork customer service for over a month now about the broken "away message" that says it's on but never works.
I love the Messenger and use it every day, but it sometimes feels like the neglected red-headed stepchild of the Upwork platform
1. Let Expert Vetted talent keep their 5% commission in perpetuity
As many of you already know, Upwork used to charge a sliding fee based on your billings with each unique non-Enterprise client.
Those fees were as follows:
$0-$500: 20%
$500.01-$10,000: 10%
$10,000.01 or more: 5%
But here's the bad news, in May 2023, Upwork switched to a flat 10% fee across the board. And contracts with over $10,000.01 in earnings were only grandfathered in at the old rate until January 1, 2024.
As an Expert Vetted freelancer who is mostly working on large, long-term contracts, this means, in 2024, most of my Upwork fees will DOUBLE.
And considering the fact that most of these contracts are well over the two-year mark – I may just de-platform those clients by the end of the year as I have little reason to stay.
It's a lose-lose decision for the company. One that I think they will eventually regret.
Read Also: How to avoid Upwork fees: Ways to reduce fees from a $500k freelancer
I hope you've enjoyed reading this little wishlist as much as I did writing it.
Your move Upwork.
What would you add to this list? Let me know in the comments and don't forget to connect with me on social using the links below.
PS: If you've found any of the above advice helpful, and you feel so inclined – buy me a coffee (leave a tip) on Kofi!