If you've been a freelancer for any considerable amount of time, you've probably experienced that stomach-churning moment at some point or another.
Sometimes the client has simply become unresponsive. Sometimes the client is being disagreeable or difficult.
Regardless of the "why", the all too familiar cold sweat kicks in. And you begin to grapple with the fact that getting the client to pay up, isn't going to be an easy task.
Luckily, Upwork has a set of safeguards in place just for such an occasion.
To find out how to employ those safeguards in your particular situation, keep reading.
And as always, for the latest and most up-to-date information, be sure to check out Upwork.com.
What happens if an Upwork client doesn't pay?
The most common scenario for a client refusing to pay on Upwork happens when milestones are involved.
I've personally been burnt by so many wayward milestone projects over the course of my Upwork career that I now mostly stick to hourly contracts.
After all, hourly projects that are logged with the Upwork Time Tracker desktop app qualify for Upwork Payment Protection. And, they are billed automatically each week.
No muss, no fuss.
Technically speaking, milestones-based fixed price projects also quality for Payment Protection. However, Payment Protection only covers funds already in escrow and not the entire project.
And time logged manually in the Work Diary does not qualify for hourly protection at all.
But never fear. If you're currently in a situation with a client who refuses to pay, you, the freelancer, have a few options at your disposal. And those options vary slightly depending on your predicament.
1. The client is unresponsive
If it's only been a couple of days since you last heard from your client, try not to jump to conclusions. We all have life emergencies that get in the way.
Give your client a bit of grace. Strive to remain professional if you've only experienced a few days of unresponsiveness or inactivity.
Attempt multiple methods of contact. Politely remind your client that payment is due.
Also, consider taking a break from the project. You don't want to rack up an even bigger bill until you're sure you're getting paid.
But if the client continues to be unresponsive over the course of several days or even weeks, it's time to escalate.
First, contact Upwork Support. Ask them to contact the client and request payment on your behalf. You can reach support via Upwork chat. Allow Upwork at least a couple of days to work their magic.
If Upwork Support fails to produce results, you can either file a dispute (more on that later) or settle for partial payment.
Collecting partial payments from an unresponsive client
On hourly contracts, log all of your hours if you haven't done so already and allow those payments to clear.
On fixed-price contracts, complete the last milestone, and formally submit the work for payment. You can do this by going to "My Jobs" and clicking the "Request Milestone Approval" button.
After you formally submit the work for approval, your client will be given 14 days to respond. If the client ignores the submission, funds in escrow will be automatically released.
Once those funds are safely in your bank account, you may end the contract.
Don't forget, if you end a contract before funds have been released from escrow you will forfeit those funds. So be sure to wait the full 14 days.
And don't worry too much about your Job Success Score. Unresponsive clients rarely leave feedback. And a lack of feedback does not negatively impact your JSS.
2. The client simply refuses to pay
This one, unfortunately, is going to be a little trickier.
If the client is simply refusing to pay, you're only option is to file a dispute.
And remember, the dispute process is much easier if the contract remains open. So don't end the contract prematurely on your end.
How to open a dispute on Upwork
Instructions on how to file a dispute vary based on the status of your contract.
To file a general dispute for a lack of payment or partial payment contact customer service here. Offer details and documentation to support your claims.
To file a dispute on an ended contract for which the client is requesting a refund, go to "My Jobs" and select "All Contracts". Next, find the contract and select "See Request". Then, select "I do not approve of this request and wish to file a dispute" and click "Next". Provide details to support your claim. Finally, click "Continue to Dispute".
Formal disputes enter a mediation process with an Upwork specialist. The specialist will attempt to get both parties to come to a mutual agreement.
If no agreement is reached during mediation, the Upwork specialist will draft their own recommendation.
If that recommendation is rejected by either party, the dispute then enters arbitration.
Arbitration will be handled by a third-party company, the American Arbitration Association. Related legal fees are equally divided between you, the client, and Upwork.
As a general warning, lawyers, attorneys and legal services can be expensive. You might even be able to use this as a bargaining chip with the client. They probably aren't going to be entirely keen on wasting money on legal fees either.
In my personal experience, just threatening legal action is usually enough to produce results.
How long does a client have to pay on Upwork?
Again, payment periods depend on the contract.
Read Also: Why is my Upwork payment pending? How long does it take to approve?
At the time of this writing, hourly Upwork contracts can take between 10-17 days.
Fixed-rate milestone-based payments are made available just five days after approval.
Formally submitted milestones to unresponsive clients are automatically released after 14 days.
Unfortunately, there's no definitive timeline for disputed contracts. Mediation and arbitration could take weeks or even months to resolve.
How to prevent this from happening in the future
Before you go, I want to offer a few words of wisdom.
First, I can assure you that every freelancer has dealt with their share of scary situations over the years. Myself included.
It's par for the course. Every business has its ups and downs.
But freelancing can be a lucrative career if you stick with it.
In fact, I've personally accumulated over $600,000 in total earnings on the Upwork platform alone.
Read Also: Can you make good money on Upwork? How I made $600,000 in 5 years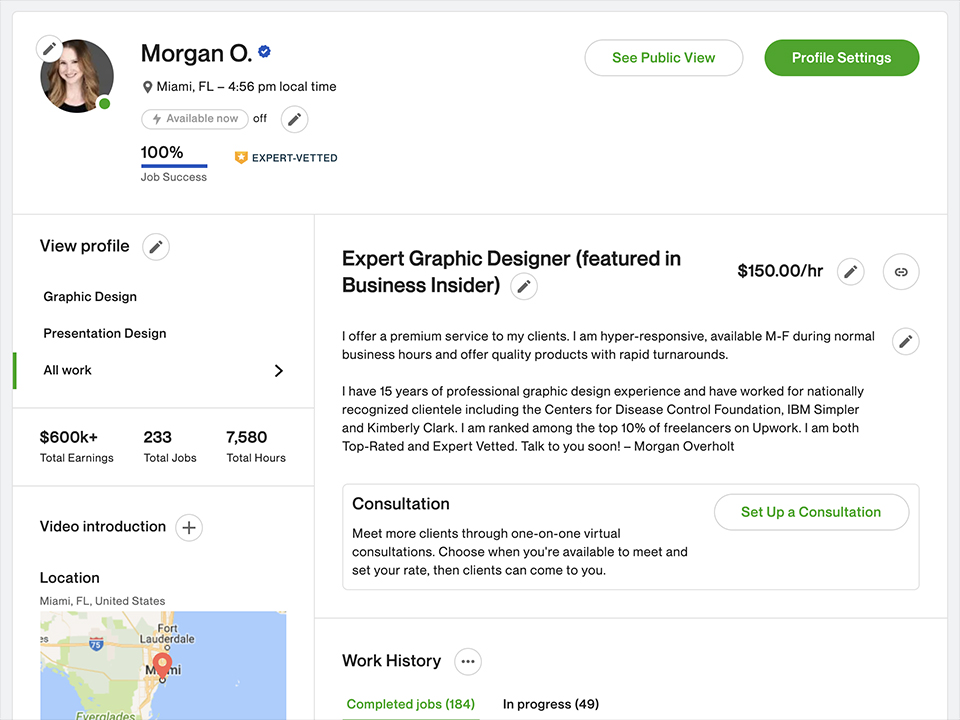 The trick to avoiding these headache inducing situations is largely prevention.
First, you need to learn how to spot a bad situation before you take on the contract.
For instance, I've developed my own set of red flags for bad clients, which you can read more about here. If a prospective client demonstrates one or more of these tell-tale signs, I politely decline the job.
Additionally, try to focus more on long-term jobs and long-term clients.
It's easier to work with clients when trust has been previously established rather than taking on new clients every few days. Plus, long-term contracts can help improve your JSS.
It's also incredibly important to be 100% confident that the job itself is a good fit for your skillset and availability. The quickest way to anger a good client and turn an otherwise promising contract into a nightmare situation is by overpromising and underdelivering. So read the job description carefully, and ask a lot of questions upfront to better ensure a mutually successful transaction.
Finally, consider doing what I did for a while – working exclusively on hourly projects using the Time Tracker.
It's much harder for a client to file a successful claim against you if the Time Tracker has screenshots of your work. Plus, the client is automatically billed with the Time Tracker – which means no more manually requesting milestones.
In my opinion, hourly contracts are just easier on Upwork. Especially for newbies.
Are you currently struggling with a client who refuses to pay? Let me know in the comments, and don't forget to connect with me on social media using the links below.
PS: If you've found any of the above advice helpful, and you feel so inclined – buy me a coffee (leave a tip) on Kofi!