There are a number of reasons you might want to close your Upwork account.
Perhaps you are simply no longer using the platform. Maybe you want to close it out for security reasons.
Or, perhaps you recently received some bad feedback or an account suspension and just want to start over (spoiler alert, if this is the case, you'll want to keep reading).
In this article, I'm going to talk about how to delete your Upwork account and what you should know before you hit that delete account button.
Note: For the purposes of today's article, I will mostly be focusing on deleting freelancer accounts.
Read Also: Can you make good money on Upwork? How I made $600,000 in 5 years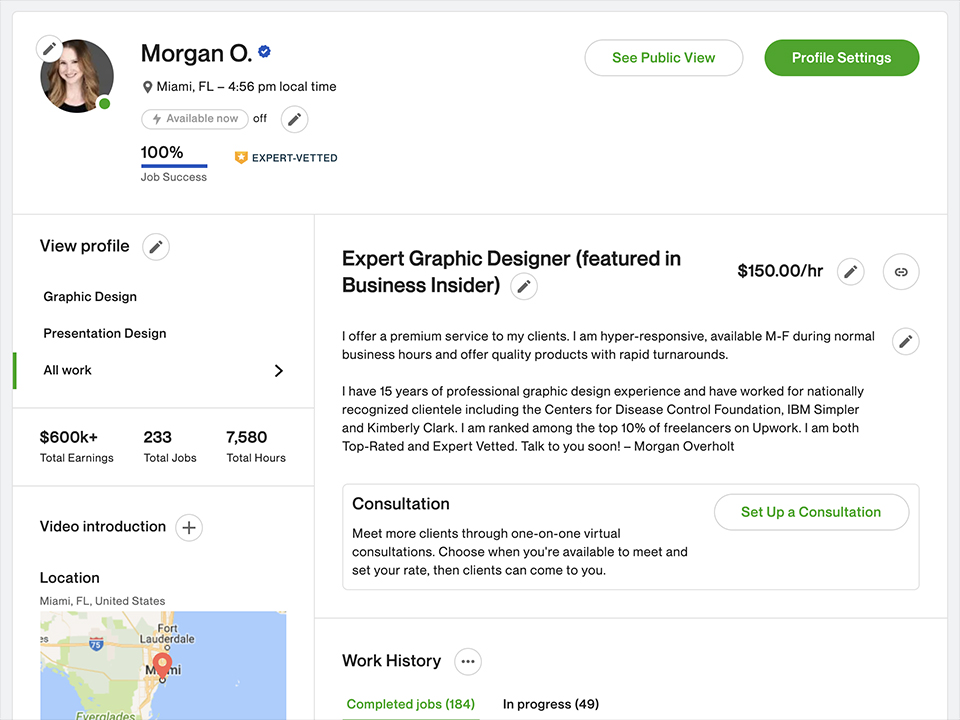 Can I delete my Upwork account and create a new one?
No, it is against Upwork's Terms of Service to delete your old Upwork account and create a new one.
Even if the old freelancer account has been deleted, Upwork still considers this to be "having two accounts."
And if Upwork catches you creating a fresh account, they may choose to suspend you from the platform permanently.
This rule is in place to maintain the integrity of the platform. Upwork only wants the best freelance professionals and the best quality clients on its platform. They also strive to make the online freelance marketplace a safe place for both freelancers and clients to conduct business. And they feel that limiting users to a single account is one of the many ways to maintain a safe and healthy environment for both freelancers and clients alike.
Listen, folks, reputation is everything. And if you keep hitting the delete button on your reputation and past projects, you're not exactly being as truthful as you could be to potential clients, or to yourself for that matter.
So if you're considering deleting your Upwork account over some bad feedback – don't.
Instead, strive to bury that bad feedback with fresh jobs and new 5-star reviews. Or, if you feel the bad review was undeserved, contact customer service to see if it qualifies for deletion.
Note: If you're already logged into Upwork, you can contact customer service by clicking on Help & Support at the bottom of the page.
Alternatively, if you just want to take a break from the platform, I highly recommend changing your visibility to Invisible, your profile to Private and/or your availability to Not Available instead of deleting your entire Upwork account
Read Also: Remove a bad review on Upwork: 3 ways you can dispute negative feedback
Can I create an Upwork account after suspension?
Again, it is against Upwork's Terms of Service agreement to have two accounts. Even if your original account was suspended and you open a new one, it's still considered to be "two accounts".
Can I restore my Upwork account?
Yes, it is possible to restore both deleted and suspended Upwork accounts.
If you want to restore a deleted account, simply contact Upwork customer service and follow the directions provided.
But be warned, the process could take days, weeks, or even months. So think twice before deleting your account if you have plans to use it again in the future.
It is also possible to restore a suspended account using this method, however, suspended account restorations are the sole discretion of Upwork and are handled on a case-by-case basis.
There are, however, a few ways you can improve your odds of restoration after suspension.
Common suspensions are usually the result of one or more of the following violations:
Creating multiple accounts
Using an unapproved payment method
Taking clients/freelancers off of the platform illegally
Sharing personal contact information before a contract is in place
If you were suspended over failing to win jobs, you may need to prove to Upwork why you believe you will be more capable of winning jobs in the future. Examples include:
Learning a new skill
Furthering your education
A dramatic change in your life
Again, there are no guarantees that Upwork will empathize, but it's worth a shot. There is many a tale on the internet from other Upwork freelancers who found a moderate amount of success with simply pleading their case.
How to delete your Upwork account
Without further ado, here are the actual steps required to delete your Upwork account:
Login to your Upwork account
Click on your profile pic in the upper right-hand corner of your screen
Go to Settings from the drop-down menu
Reenter your Upwork password when prompted
Click on Contact Info
Click on Close My Account
After clicking on "Close My Account" you will be taken to a screen that asks you why you want to close your account. Options include:
I finished my work and don't need Upwork anymore
I couldn't find the jobs I wanted
I found a good client on Upwork, but we're working directly together
I want to change my username
Upwork is not easy to use
I signed up for the wrong type of account
Closing duplicate account
Select an option, and to confirm, again, click "Close Account".
Please note, you will likely need to close out all of your existing client and freelancer contracts before proceeding. Client accounts will also need to remove team members.
You will also need to allow all pending payments, outstanding billing and any open activity (like open jobs on client profiles) to clear before hitting the delete button.
If you run into any trouble during the process, simply contact customer service.
Once your account has been successfully deleted, you will be logged out and redirected to the login page.
Future login attempts will result in an "account not found" error message.
Do you have any questions about deleting your Upwork account? Let me know in the comments below. And don't forget to connect with me on social media.
PS: If you've found any of the above advice helpful, and you feel so inclined – buy me a coffee (leave a tip) on Kofi!