There are currently a couple of different ways to increase your hourly rate as a freelancer on Upwork.
First, I will walk you through the official method recommended by Upwork.
After that, I'll share a slightly more unconventional method (that I personally use) and the rationale behind it.
But before we begin, there are a few things about me that you should know. I am not some random influencer on the internet offering untested advice.
I am an Expert Vetted freelancer on Upwork who has earned over $500,000 on the Upwork platform.
Read More: Can you make good money on Upwork? How I made $500,000 in 4 years
My initial hourly rate was just $34 when I originally joined the platform in 2017. Today, my rate is $120 per hour.
And while I've become quite skilled at raising my rates over the years, I think Upwork is long overdue for an overhaul when it comes to this process.
That's why I will be recommending a backup strategy should Upwork's recommended method fail to produce results.
It never hurts to have a plan B.
How to increase your hourly rate on Upwork (Upwork method)
At the time of this writing, only the freelancer can lower a contract's hourly rate and only the client can raise it.
That means, if you are a freelancer, you'll have to ask your client for the raise, then ask them to login to their account on Upwork and follow these steps to raise manually raise the rate using the following steps:
1. Log on to Upwork.com (Client side)
2. Select "Jobs" from the top navigation bar and click on "My Jobs" from the drop-down menu
3. Click on the ellipsis button (…) located in the upper right-hand corner of the contract title and select "Increase Rate"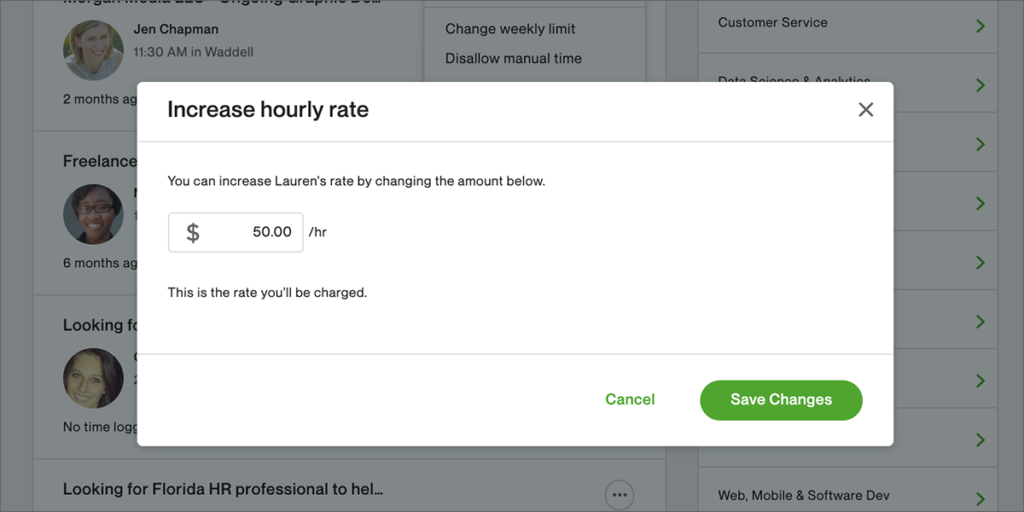 4. Type in the new desired rate when prompted and click "Save Changes"
While this process seems simple enough, I find it to be burdensome for the client.
Most of my clients tend to prefer a "set it and forget it" style contract. They want everything to be auto-billed and never want to worry about logging into their account to make manual adjustments.
Half the time I have to walk them through the process myself over the phone or via Upwork messenger to get the job done. And I hate burdening my clients with extra steps, especially for my own benefit.
I believe Upwork could easily remedy this issue by allowing a freelancer to propose an hourly rate increase which triggers a notification to the client which they can approve with just a simple click of a button via email or Upwork messenger. Similar to the way a freelancer accepts a job offer.
Relying on the client to make the change can take forever. Especially when the client has little incentive to do so.
This is why, until Upwork puts the power back into the hands of the freelancer, here's an alternative and highly effective method that I use instead.
2. Increasing your hourly rate with a new contract (my method)
First, I send out a polite but brief message or email to the client informing them of the upcoming rate change about a month in advance.
Notice that I said I "inform" and not "ask". I treat my freelance career like a small business.
You ask a boss for raises. You inform your clients.
A month's notice will usually give the client plenty of time to wrap up pending projects and make plans to accommodate for the rate change either by adjusting their budget or finding a new freelancer to take your place should the new rate be out of their budget.
My letter always includes a kind note, a thank you and a deadline.
Here's an example:
Hi there!

I hope all is well with you and your team.

I am writing to you today because I am doing some general housekeeping on some of my older contracts and Upwork clients.

Did you know that you are one of my longest running contracts on Upwork? Meaning you are one of the very first clients I ever had the privilege to work with and I have loved our partnership.

I am however needing to bump up my rates on some of these older contracts as I've become busier in recent months.

We are currently at $55/hour. I am currently only taking on new clients at the new posted rate of $120/hour, and am raising all of my older contracts to a $75/hour minimum.

Therefore, I would like to make that new rate $75/hr rate effective Feb 1.

I am going to send over a revised proposal via Upwork – I hope that this change is still within your budget. I would love to continue working with you and your team! If not, I completely understand and hope that this gives you enough time to plan as needed.
I then login to my Upwork freelancer account and create a new proposal to send to the client. You can create a new proposal by completing the following steps:
1. Select "My Jobs" from the top navigation menu and click on "All Contracts"
2. Click on the contract name you wish to amend, then click on the ellipsis (…) in the right-hand corner of the contract summary screen, and finally click on "Propose New Contract".
3. Fill out contract details and click "Send to Client" when you're done.
This will automatically trigger a notification for your client to click on and approve.
I prefer this process because it:
Puts the power back in the freelancer's hands.
Makes the process easier for your client.
Creates an opportunity to end the old contract and trigger a new one (which also creates an opportunity to receive a 5-star review from the old contract).
While this method hasn't failed me yet (knock on wood) if a client either declined or failed to respond I would simply end the old contract, wish them well and move on after the deadline passed.
Never let the fear of losing a low-budget client scare you out of raising your rates as long as you know that you're easily able to find new work elsewhere to replace the income.
And Upwork, if you're listening, I'm adding the whole "let the freelancer simply propose an increased rate" to my Upwork wishlist. Love, Morgan.
Have you ever struggled to increase your rate on Upwork? Which method do you prefer? Let me know in the comments and don't forget to connect with me on social using the links below.
PS: If you've found any of the above advice helpful, and you feel so inclined – buy me a coffee (leave a tip) on Kofi!