If you're reading this article there's a good chance you're new to the Upwork platform. And if so – welcome!
Upwork is a wonderful place to jumpstart – or launch – your freelance career. After all, it's the world's largest freelancer marketplace.
However, as you may already be well aware, Upwork can also feel a bit confusing, frustrating, and even intimidating to Upwork newbies.
I speak from experience.
Five years ago when I initially signed up for Upwork I hadn't even heard of the company before. And I had no idea what I was doing.
I mostly figured out the more confusing aspects of the program like working with project milestones, proposal writing, answering screening questions and obtaining badges, largely through trial and error.
However, despite my rough start, I eventually managed to earn a small fortune on the platform – over $600,000 in fact – in just five years.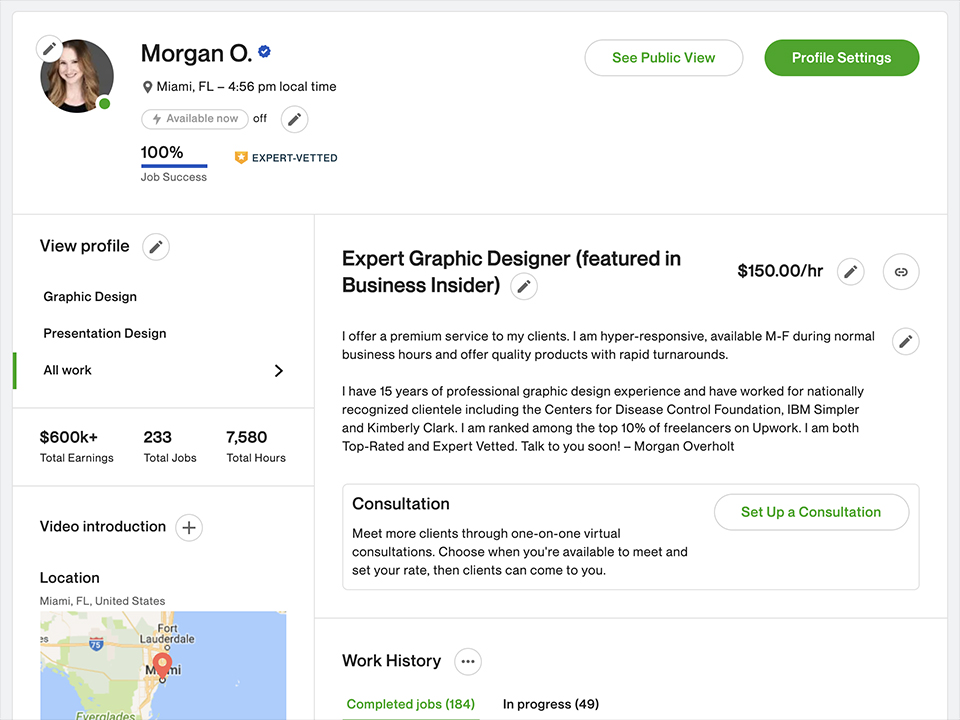 Frequent readers of my blog know that I love to talk about my Upwork journey.
I've written articles on topics like how to write proposals, how to format your Upwork profile and how to improve your Job Success Score, just to name a few.
PS: If you are new here and haven't signed up for my newsletter to receive your free 28-Day Jumpstart Guide to Upwork (written by yours truly) I suggest you do so now.
But I've never really taken a deep dive into the Rising Talent program.
And veteran Upworkers know, just how important this badge can be to winning new jobs on the platform.
So today, I'm going to tell you everything you need to know about the dedicated Rising Talent badge – the first badge you'll receive on your Upwork journey.
In this article, I will cover the following topics:
What does Rising Talent mean on Upwork?
The Rising Talent badge is the first badge in a series of four: Rising Talent, Top-Rated, Top-Rated Plus and Expert Vetted.
Read Also: How do you become Top Rated on Upwork: badges, requirements and benefits
Badges are displayed on profile pages, proposals and Project Catalog projects.
They are indicated by label and color:
Rising Talent: Green
Top Rated: Blue
Top-Rated Plus: Pink
Expert Vetted: Yellow
The Rising Talent badge is an indication of your early success on Upwork. It's Upwork's way of rewarding those who have demonstrated great potential and recognizing the best new members on their platform.
Freelancers who hope to obtain this badge must complete a certain set of requirements. And there are benefits in store for freelancers who achieve the Rising Talent status.
Freelancers with prior experience, strong backgrounds in their fields and a robust portfolio usually have the best luck of achieving this badge early on in their Upwork journey.
Upwork Rising Talent badge requirements
According to Upwork.com, to achieve this designation, freelancers must:
Maintain a 100% complete profile with accurate skills and genuine work
Maintain an up-to-date availability status
Regularly submit proposals to jobs that match their skill set (or actively work on jobs)
Adhere to the Upwork Terms of Service
Have remained active in the past 90 days (or joined in the past 30 days)
It is also important to note that even freelancers who have not yet completed Upwork projects can achieve the Rising Talent distinction. The overall strength of your profile, your prior experience and skills, your educational background and your recent activity on the platform are all strong contributing factors.
But if you are already winning jobs, demonstrating your ability to complete projects on time and as promised to clients will be taken into account.
By focusing on the above-mentioned key areas, you'll be on your way to Rising Talent in no time.
Pro-Tip: Rising Talent hopefuls will also want to pay special attention to their responsiveness score and client feedback. Poor responsiveness scores, and negative client feedback (both private and public) may not only hurt your ability to win and maintain talent badges, but may also impact your ability attract potential clients over time.
New agencies have their own set of requirements which include:
Maintaining a 100% complete agency profile with accurate skills and genuine work
Maintaining a 100% accurate and complete agency owner profile
Having 2 or more team members
Maintaining a 60% or higher average profile completeness across the agency
Regardless of whether or not you're a solo freelancer or an agency, when you've checked all the proverbial boxes, Upwork will reach out and formally invite you to the program via email.
Benefits of the Upwork Rising Talent badge
The Rising Talent designation also comes with the following benefits:
Reduced fees on Featured Jobs on the Upwork Marketplace (starting at 10%)
A one-time bonus of 30 free Upwork Connects*
Access to chat and ticket support from Upwork's specialized customer support team
*The 30 free Connects are valued at about $4.50 on the marketplace.
There are also a series of unspoken and "unofficial" benefits to the Rising Talent badge. Speaking from personal experience, Upwork designations like the Rising Talent may also help new freelancers:
Win more jobs on the platform
Grow their client base
Be more easily discovered in the Upwork search algorithm
Why am I not getting Rising Talent on Upwork?
There are a number of factors that might contribute to preventing a new freelancer from achieving the Rising Talent designation on Upwork.
Typically, it is because they have not achieved one or more of the above-mentioned requirements.
Mistakes I often see new Upworkers make include:
Having an incomplete Upwork profile
Failing to adhere to Upwork Terms of Service
Becoming inactive on the platform
The time frame for inactivity on is just 30 days. This means you should strive not to let 30 or more days lapse between some form of activities on the platform.
To be clear, activity counts as either actively working on jobs or regularly submitting proposals.
Can you lose Rising Talent on Upwork?
Yes, you can lose your Rising Talent badge on Upwork.
The most common reasons for losing your badge include:
Failing to adhere to Upwork Terms of Service
Becoming inactive on the platform
Having too many negative client outcomes (or too much negative feedback)
What happens if it's removed? Can you get it back?
But here's the good news – unless you've lost your Rising Talent status due to a Terms of Service violation, yes, you can get the badge back.
In fact, in most cases, after you've become active again, it will take just 90 days to requalify.
What comes after the Rising Talent Badge?
Once you achieve the Rising Talent badge on Upwork, the next stop, with enough work history, will be the highly coveted Top-Rated status.
Top Rated status means you are ranked among the top 10% of talent on Upwork.
It too comes with its own set of requirements – like having at least $1,000 in earnings and no recent account holds – and benefits, which you can read more about here.
Did you find this article helpful? Are you new to Upwork? Do you hope to soon be counted as one of the up-and-coming Rising Talent freelancers or Rising Talent agencies? Are you struggling to find Upwork clients? Let me know where you are in your Upwork journey in the comments below and don't forget to connect with me on social media.
PS: If you've found any of the above advice helpful, and you feel so inclined – buy me a coffee (leave a tip) on Kofi!