The only thing I like more than freelancing is knowing how to get in on the ground floor with trending SEO terms before the playing field becomes too crowded.
With that tip in mind, welcome to my "Best Tools for Freelancers Guide, 2022".
For first-time readers, allow me to introduce myself.
I'm Morgan Overholt and I am a full-time six-figure freelance graphic designer, writer and blogger.
Read Also: Can you make good money on Upwork? How I made $500,000 in 4 years
This isn't going to be one of those articles written by a large corporation that has never actually been in your shoes.
I know what it takes to create a flourishing freelance career.
Below you will find a list of the actual tools and resources I use nearly every day to run a successful six-figure freelance business, broken down into categories.
Some are free, some are not. All are game-changing.
Best tools for business and project management
I've used a ton of project management systems both for my own business and my client's businesses over the years and I have to say that Trello is my favorite.
It's the system we use to manage all of our internal projects.
Before Trello, we were relying far too heavily on our client's project management systems and Post-it Notes. It simply wasn't sustainable, or scalable for that matter.
Trello uses a series of boards, lists and cards to keep you and your team on track and it's all completely customizable to the specific needs of your business.
For instance, we typically maintain two "boards" – one for our freelance client projects and one for our blog. Each board contains a series of columns, which contains a series of movable "cards".
Each card represents a specific project or task and each task can be assigned to one or multiple team members.
Cards can also be expanded to contain additional details about that project or task including a description, due date and pertinent files.
We usually use the columns to indicate the status of a given project and move cards to the right as the project status progresses from a "work in progress" or "needs edits" to "complete".
Trello's project management system is browser-based. Meaning that you don't need to download special software, and it can be used anywhere, on any device.
There's also a mobile app for Google Play and iOS if you wish to access your boards on the go.
And here's the best part, the base subscription (the only subscription you'll likely ever need) is completely free. We've been using the free version for years and it does everything we need it to do.
Trello Pricing: FREE – $17.50 per month
2. Slack: For Communication
Slack was another game changer for our small freelance agency.
Slack's clientele include nationally recognized brands such as TD Ameritrade, Target, Uber, Time and Oracle just to name a few.
And many of our clients use it too.
Slack is basically what would happen if AOL Instant Messenger (throwback) grew up and got a Master's degree in business.
Slack offers each organization its own workspace where the administrator can create a series of "channels" that work like chat rooms for some or all of your team members. Users may also opt to simply use direct or group messaging features.
And best of all – you can seamlessly move between workspaces without having to log in and out like you normally would with other messaging apps or project management tools. This makes it easy to juggle multiple clients at the same time.
Slack also allows for seamless file uploads (up to 5GB at a time on the free version), video conferencing and message archiving.
It's amazing for internal office communication. It's even better for remote teams. And it drastically reduces long, annoying email chains.
And of course, there's also a Slack mobile app available on both iOS and Google Play.
Slack Pricing: FREE – $12.50 per month
Best software for contracts and invoicing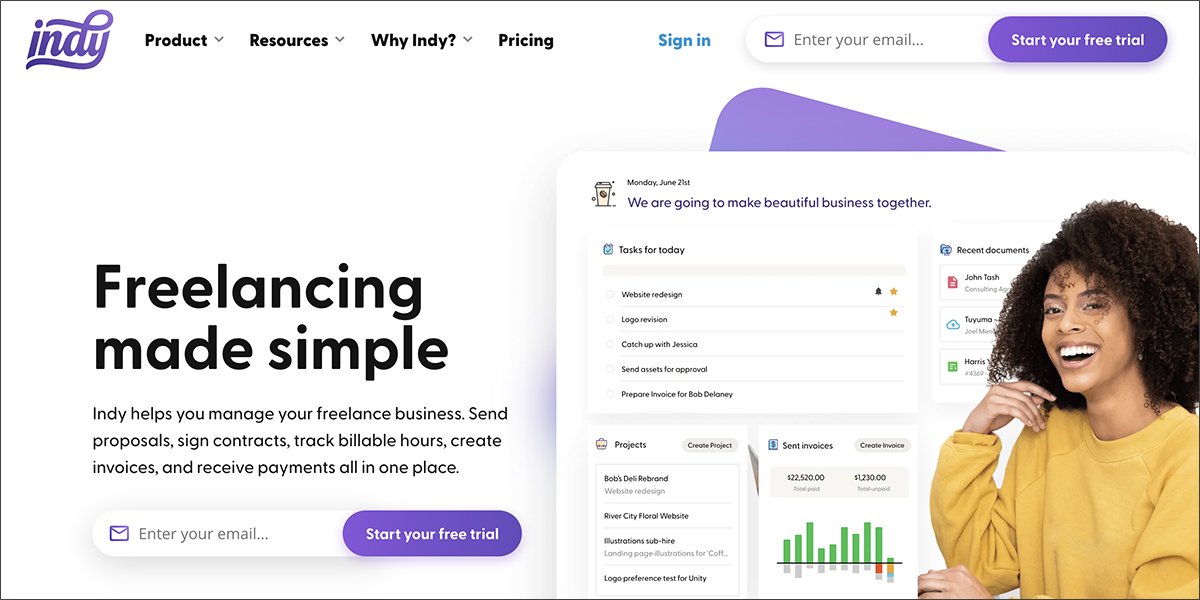 If you're looking for a platform that can wear multiple hats, Indy is your best bet.
Indy offers a robust toolset for freelancers. They make it possible for freelancers to "do it all in one place."
This concept is a game changer in the industry because before they came along, you really did need 4-5 separate services to do what Indy can do with a single affordable subscription. It's a platform that was built with freelancers in mind.
With Indy, freelancers can create and send contracts, generate and send invoices, create proposals, store files, manage upcoming tasks, track their hours and chat with the teams and clients (with a slack-esque interface).
And here's the best part – it's free to try, and just $6.75/month to "go pro".
It's basically Slack, Fiverr Workspace, Trello, Google Calendar and Google Drive all rolled up into one.
Plus it integrates with Stripe, PayPal and Zelle. It can even handle direct deposit.
But there is one drawback – it lacks some of the automation that its competitor Fiverr Workspace offers (albeit at a slightly higher price, but time is money, ya know?).
For instance, when it's time to invoice a project on Fiverr Workspace, the invoice automatically populates with all the time log and rate information I need for each respective client. On Indy, you're stuck entering that information manually, each time, for every invoice.
Indy Pricing: FREE – $6.75/month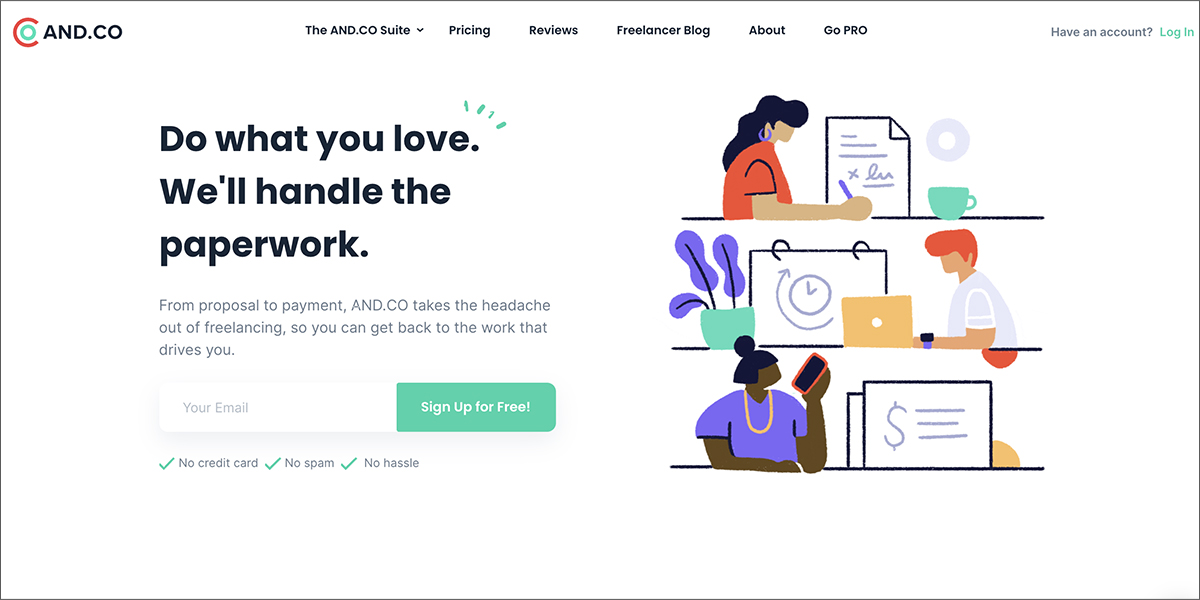 As a freelancer and owner of a small graphic design agency, Fiver Workspace (formerly And.Co) was a game-changer for my freelance business.
Features include:
Proposal & contract creation designed for digital signature capture (in partnership with Freelancers Union)
Invoicing
Payment processing (via integrations with PayPal, Stripe and PayMe)
Time tracking (automatic and manual)
Expense tracking
Detailed reports
AND.CO also integrates with Slack, Zapier and Shopify.
AND.CO's base service is free, but if you opt to upgrade you can do so for just $24 on a month-to-month plan or $18 per month if paid annually.
AND.CO Pricing: FREE – $24 per month ($18/month annual plan)
5. Rocket Lawyer: For LLC formations and contracts
And then we have the gold standard for contract creation and business formations: Rocket Lawyer.
While I use AND.CO for everything else, I mostly lean on Rocket Lawyer for my client contracts.
New contracts can be created in under five minutes using Rocket Lawyer's contract creation wizard before being sent out for digital signature via email.
And I love the peace of mind that comes with having a real-life lawyer review the contract to make sure all of your bases are covered when onboarding new clients.
I've also used Rocket Lawyer to help with new incorporation filings (like LLCs) and the occasional legal consultation.
Rocket Lawyer features include:
Contract and legal document creation
Document defense
Legal consults
Incorporation filing
Registered agent services
Having a Rocket Lawyer subscription feels like having your own personal legal counsel on retainer.
Rocket Lawyer services are available either al la carte or by annual subscription.
At the time of this writing, monthly subscriptions are just $49.99 after a 7-day free trial but annual and biannual subscriptions are available at a discounted rate (as low as $16.63 per month with a 2-year commitment).
Rocket Lawyer Pricing: $16.63 – $49.99 per month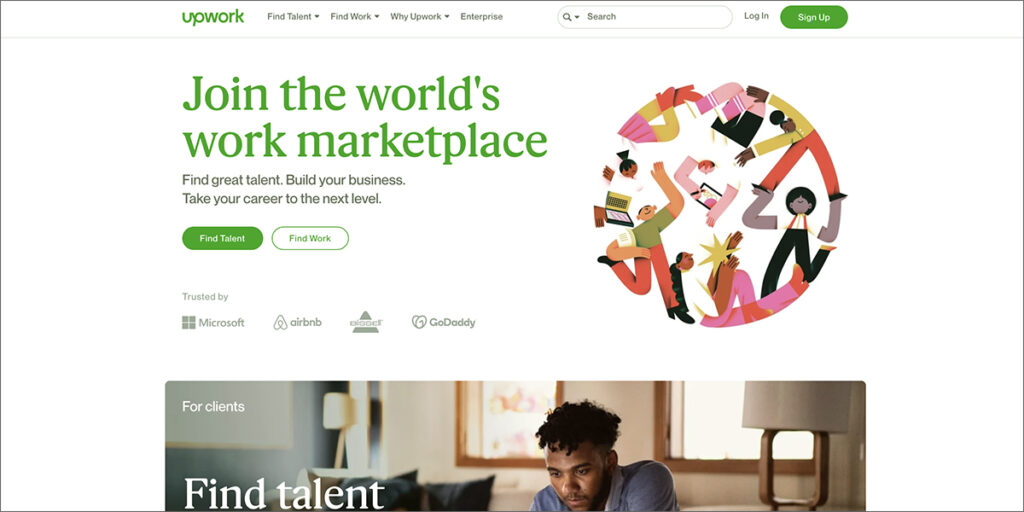 Best tools for finding clients (and freelancers) online
6. Upwork: For finding freelance work
Frequent readers of my blog already know what an Upwork fangirl I am. I really credit this platform to catapulting my freelance career.
I've personally made over $500,000 on this platform alone in just four years.
Upwork is the largest freelance marketplace in the world and attracts nationally recognized clientele such as Microsoft, Airbnb, Bissell and GoDaddy.
I personally scored a contract with Kimberly Clark using this platform. I never thought meeting with major brands was possible over the internet before I joined Upwork.
I'll spare you the details in this article because I've gushed about Upwork at length elsewhere on my blog. But I will say, if you are new to the freelance game and in search of new clients – this platform is a must.
Upwork Pricing: Free for freelancers to join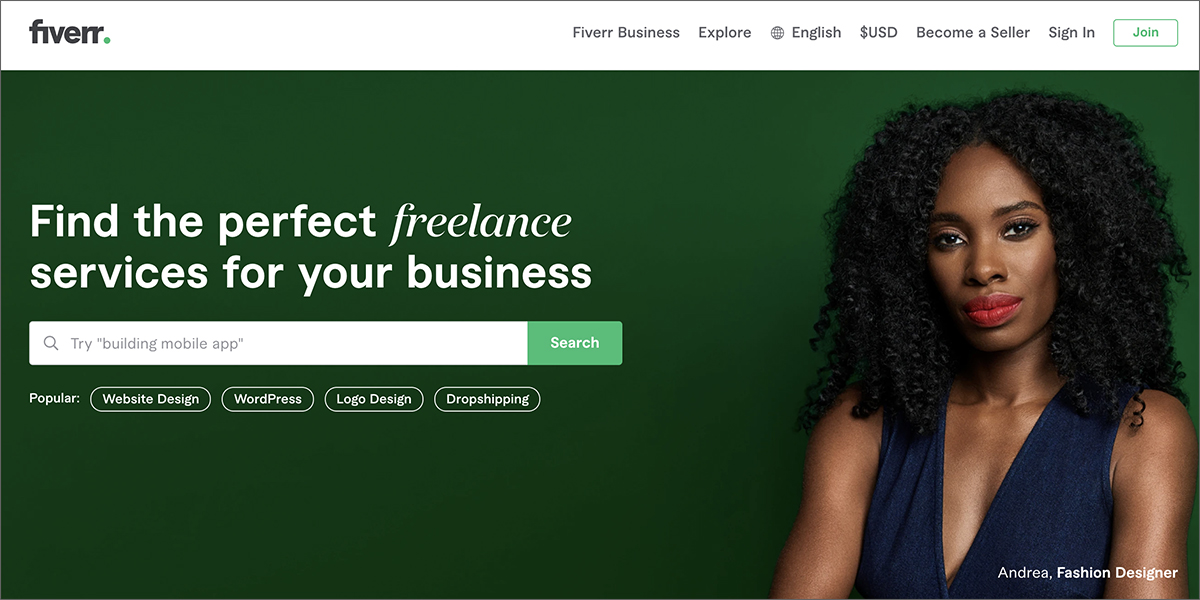 This is Upwork's competitor.
Fiverr leans more towards a catalog style offering when it comes to projects and freelancers (something that Upwork only recently launched as a feature on their platform in 2020).
While I personally don't use Fiverr to find freelance work (I just tend to get more work from Upwork), I know several freelancers who have been able to make a small fortune using the platform.
I do, however, use this platform to hire freelance talent for special projects.
I think Fiverr is ideal for a small business like myself because it allows clients to purchase specific, clearly defined services and products without all the "back and forth" or detailed contract negotiations.
And you always know exactly how much the project is going to cost before you hire.
There are a wide variety of services available (many starting at just $5) on Fiverr including (but not limited to):
Graphic design
Digital marketing & SEO services
Website creation
Writing & translation
Video & animation
Programming and tech services
Data services (like SQL and data entry)
Business services (like virtual assistants)
In my experience, freelancers rarely think about how to utilize other freelancers to make their lives easier. But I can practically guarantee, once you have your first affordable headache-free project created on Fiverr, you'll be back for more.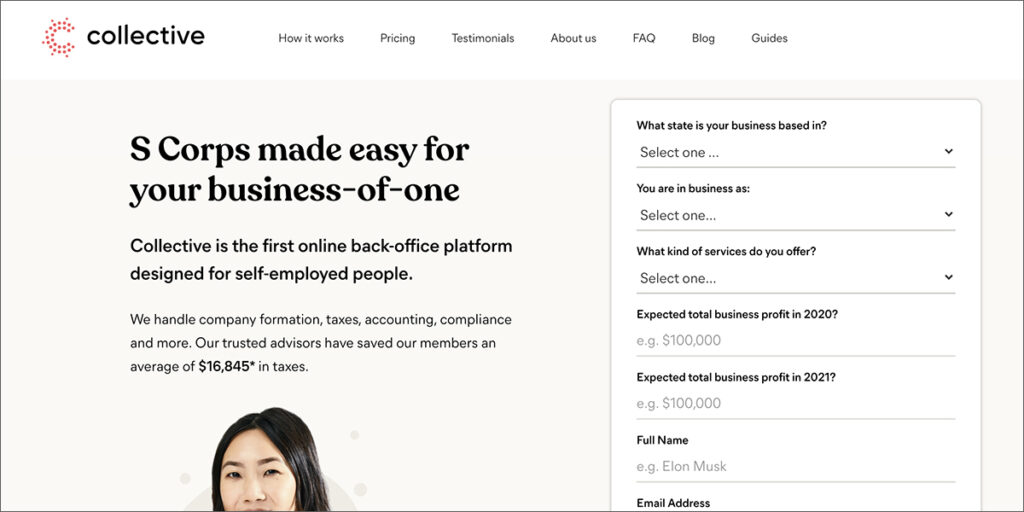 Best CPAs, tax services for freelancers
Listen up, readers. If you told me I could only keep one subscription service from this entire list and give up all of the rest, it would be this one.
I absolutely despise doing my own taxes as a freelancer and small business owner.
But finding an accountant who understands the unique challenges we freelancers face seemed impossible before I discovered Collective.
When I joined Collective, they completely took over my quarterly estimates, bookkeeping, reconciliations and my annual taxes.
They also absorbed the cost of my QuickBooks and Gusto accounts (because QuickBooks and Gusto are included with your subscription to Collective) and helped me save a ton of money on self-employment taxes.
Putting my back-office duties and taxes on autopilot has been worth its weight in gold.
This service has more than paid for itself over the years and then some.
With all the savings it almost feels like they pay me to use it.
If you'd like to learn more, you can read my full gushing review of Collective here.
At the time of this writing, Collective is offering their base service for $297 per month when you pay annually or $349 per month when you pay month to month. And if you use the referral code MORGAN you'll get your first month free.
And as of December 2022, Collective is now available in all 50 states.
Collective Pricing: $349 per month (or $297 per month when paid annually. Get your first month free with promo code MORGAN).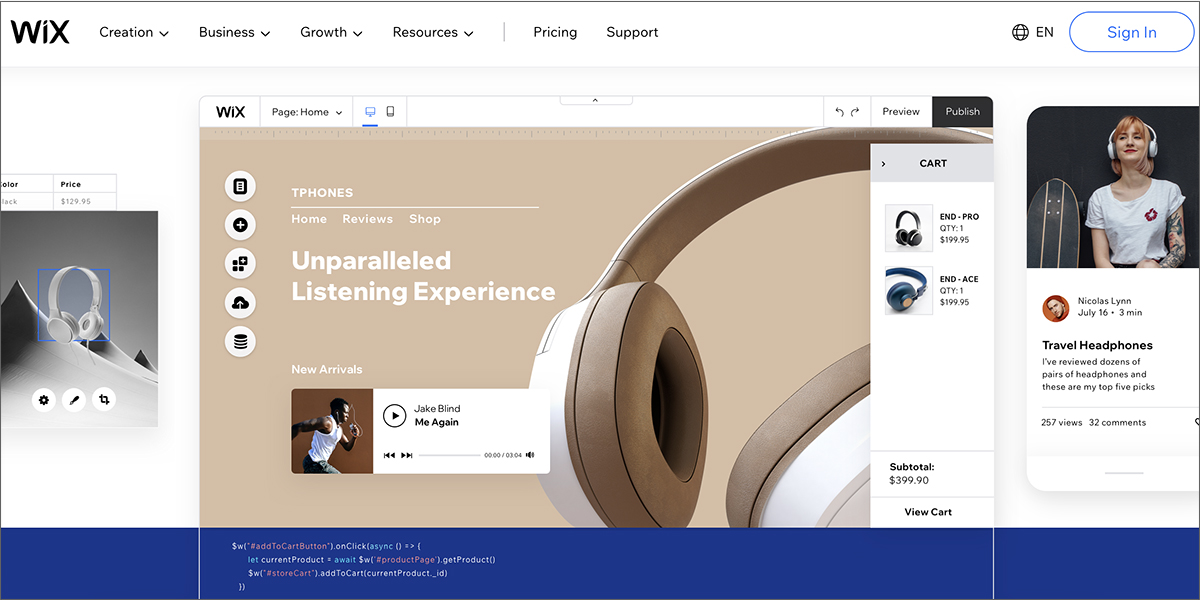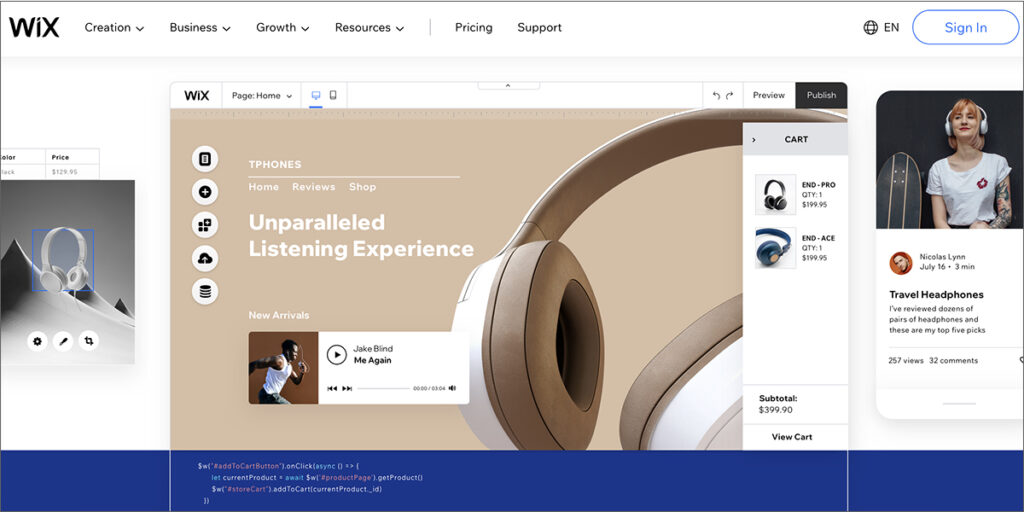 Best website hosts for your portfolio site or blog
9. Wix: For small websites on a budget
Looking for a cheap and easy way to get a small business or portfolio website up and running with little to no technical experience? Wix is going to be a great option.
Wix features hundreds of customizable templates (way more than Squarespace) and a drag and drop style website builder (no coding knowledge required).
Best of all, Wix, unlike Squarespace, offers a truly free plan (with Wix branding and 500mb of bandwidth) for startups and individuals on a budget.
We all know what it's like to operate on a shoestring budget when you're just starting out in your freelance career. This is one of the only trusted free web hosts with the built-in drag and drop on the market today.
And if you ever outgrow the free plan, you can easily upgrade with just a click of a button and receive a variety of enhanced features including a custom domain name, a free SSL certificate, upgraded bandwidth, analytics and even professional logo design.
Wix Pricing: FREE – $500 per month
The next two options are primarily for WordPress users.
Bluehost is more of a traditional website host (like GoDaddy) than it is a website-builder like Wix. But if you want to dip your toes into the world of WordPress, there is no better option than Bluehost.
For the uninitiated, WordPress will require a bit more technical expertise, it's also considered to be the industry standard for small businesses and bloggers alike.
In fact, it's even one of WordPress's officially recommended hosting providers and has been since 2005.
And here's the exciting news – WordPress hosting packages start at just $2.95 per month.
All of Bluehost's WordPress hosting plans include:
A free domain name (free for one year)
Automatic WordPress installations
Automatic WordPress updates
A free CDN
A free SSL certificate
Microsoft 365 email accounts
A verified Google Business listing
The biggest limitation on the $2.95 plan is the 50GB of SSD storage but if you don't anticipate thousands of hits on your website each month it's unlikely you'll ever hit that limit.
And if you do start receiving thousands of website visits each month you can easily upgrade to an unlimited plan for as little as $5.45 per month.
Bluehost WordPress Plan Pricing: $2.95 – $5.45 per month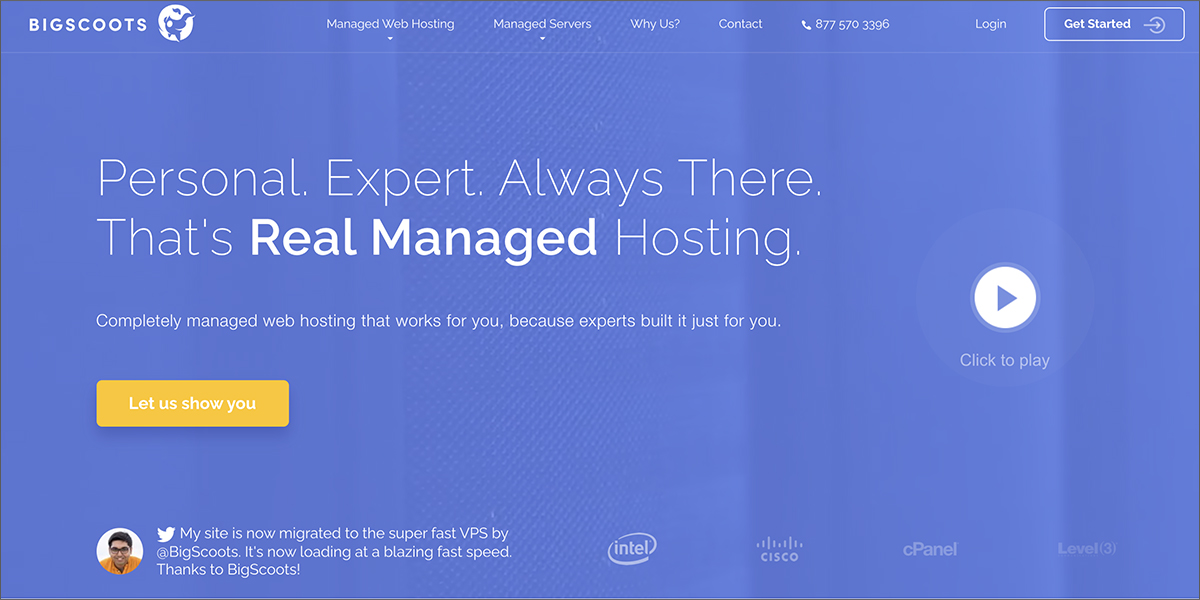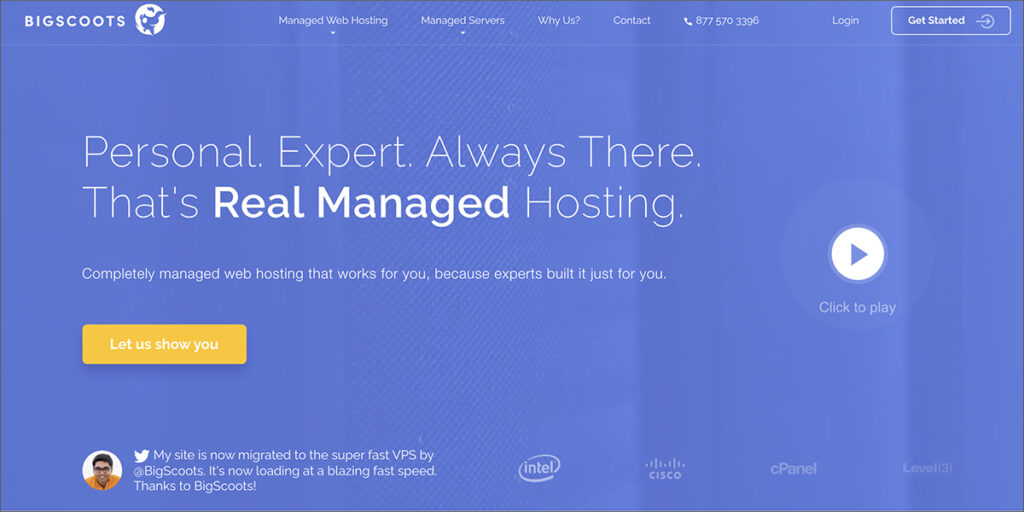 And finally we have the creme de la creme of WordPress hosts: BigScoots.
BigScoots is an impressive solution built for big websites.
I first heard about BigScoots after joining AdThrive AdExchange where I have the distinct honor of being one of only about 2,500 other bloggers who own and operate sites that receive over 100,000 pageviews each month.
When asking my fellow bloggers to recommend the best WordPress host, one name kept coming up: BigScoots.
BigScoots offers full managed WordPress solutions with automatic installs, free SSL certificates and free email.
But what really sets BigScoots apart are two things: speed and customer service. Those two key elements are what makes BigScoots ideal for larger blogs.
And every blogger knows – speed is crucial to excellent SEO and superior Google rankings.
According to BigScoots, they are capable of offering the following site speed increases over their competitors:
1&1: Up to 99% faster
Amazon Web Services (AWS): Up to 100% faster
Bluehost: Up to 98% faster
GoDaddy: Up to 93% faster
HostGator: Up to 96% faster
SiteGround: Up to 93% faster
Bloggers also know how crucial attentive customer service and automated backups can be when you can't afford any downtime – BigScoots has ya covered there too.
I've never experienced better customer service with any web host than I have at BigScoots.
Anytime I have a question or require technical support I simply submit an electronic ticket and typically have an answer within the hour.
No waiting in long phone queues, no downtime and no messing around.
WordPress hosting packages at BigScoots start at $34.95 per month.
BigScoots Pricing: $34.95 – $248.95 per month
Best WordPress theme
Speaking of WordPress, I'd also like to recommend my all-time favorite theme: GeneratePress.
GeneratePress is a favorite amongst professional bloggers with over 3 million downloads and counting.
When I was new to the world of WordPress, I'd often feel overwhelmed by the process of choosing a theme.
I'd typically find a free or cheap theme on some marketplace that was ultimately clunky and buggy with little to no customer service or support.
GeneratePress is different.
It was originally recommended to me by that exclusive group of bloggers that I mentioned earlier.
It's a theme that focuses on speed, usability and accessibility which allows for optimal SEO performance with unrivaled support.
There are also a million ways to customize GeneratePress. No two sites ever look exactly the same.
There's both a free and premium version of this theme available.
I personally decided to upgrade right out of the gate to take full advantage of GP's many premium features.
An annual single-site license is just $59 but you can also upgrade (like I did) to the lifetime multi-site license for just $249 (for up to 500 sites).
The multi-site license pays for itself in five years with a single site and becomes more affordable with each site you add.
This is also a great deal for my fellow web developers out there who regularly develop WordPress sites for their clients.
GeneratePress Pricing: $59 annual – $249 lifetime
Best stock sites for freelancers
I personally use all of the services mentioned in this section because each offers something a bit different than the other – but Shutterstock is my main go-to.
As a freelance creative and blogger, I find myself in constant need of professional and fully licensed photography, templates and illustrations.
And to be honest I just don't trust most "free" stock websites. I mean, are we really sure they've secured all of the appropriate permissions?
It's for that reason that I like to maintain a fairly decent sized subscription to a variety of stock services just to keep everything on the "up and up."
Better to be safe than sorry.
But when it comes to best overall value, it's Shutterstock that I find generally offers the best bang for my buck because of their discounts on annual pre-paid subscriptions.
Shutterstock's annual prepaid plans makes them one of the most affordable stock sites of their size in the industry.
(PS: Don't forget to use my exclusive referral link which will save you 20% on an annual subscription with Shutterstock upon signup.)
At the time of this writing, package prices (broken down per month) at Shutterstock are as follows:
Shutterstock
(monthly)
Shutterstock
(annual)
Shutterstock
(annual pre-paid)
10 assets/mo
$49.00
$29.90
$24.92
50 assets/mo
$125.00
$99.00
$81.58
350 assets/mo
$199.00
$169.00
$137.42
750 assets/mo
$249.00
$199.99
$166.59
Prices as of July 2021
And Shutterstock offers more than just licensed stock photos they also offer:
Stock videos
Stock music
Stock templates
3D Models
Shutterstock Pricing: Subscriptions start at $24.92 per month, assets are also available al la carte. SAVE 20% on your annual subscription when you use my referral link.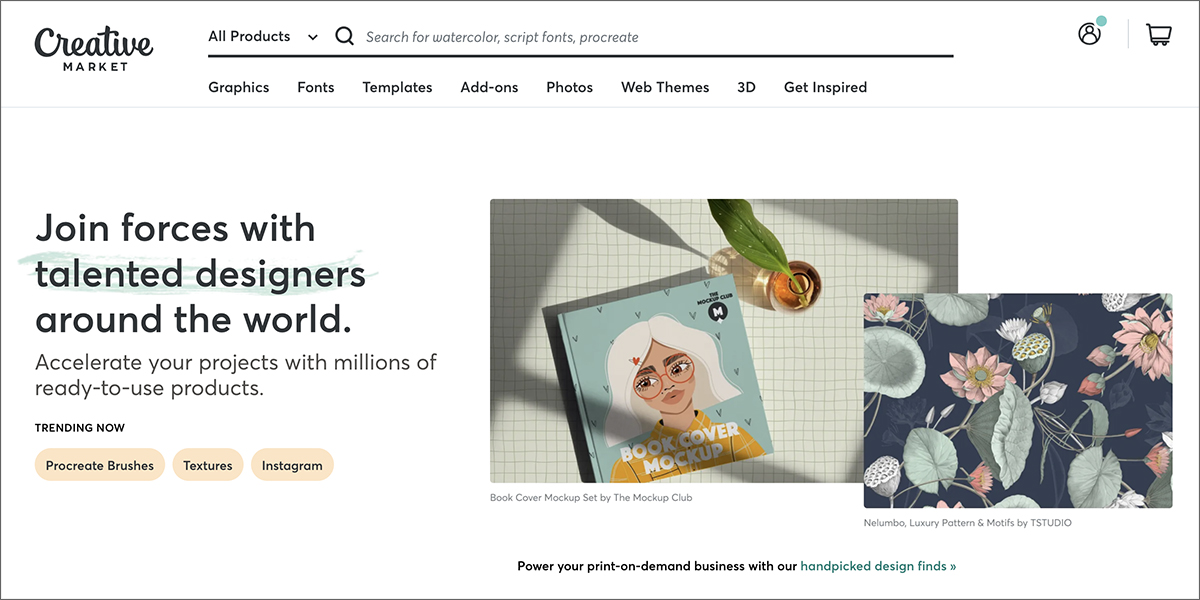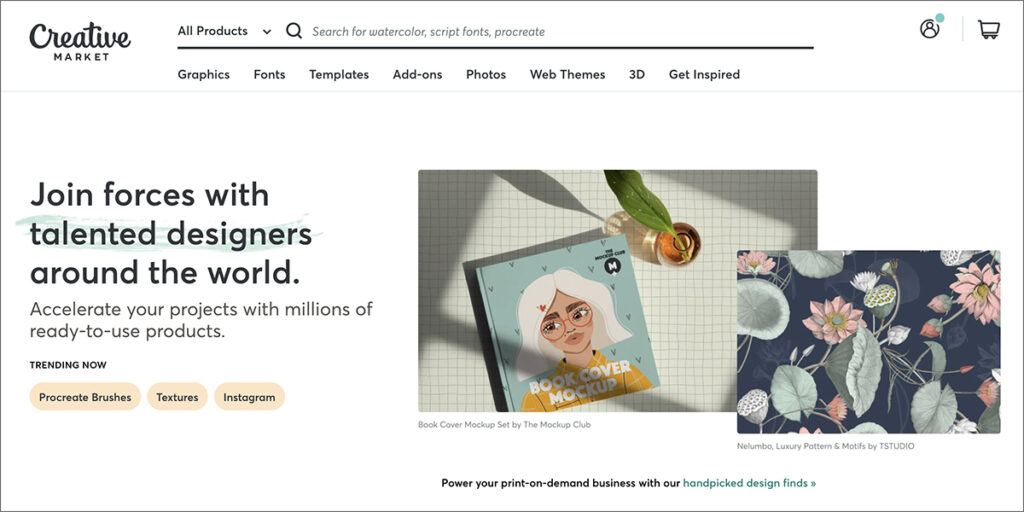 While I don't maintain a subscription to Creative Market, I do occasionally pay for credit packs when a project calls for a special font or 3D template.
Creative Market is a premium "stock" site that offers gorgeous graphics, fonts, templates, photos and 3D mockups.
Pro tip: Creative Market also offers a set of rotating freebie fonts and templates once per week on their website. If you sign up for their newsletter you can also have a link to these freebies sent directly to your inbox.
Creative Market Pricing: Image packs start at $25, select freebies available, paid assets are also available al la carte.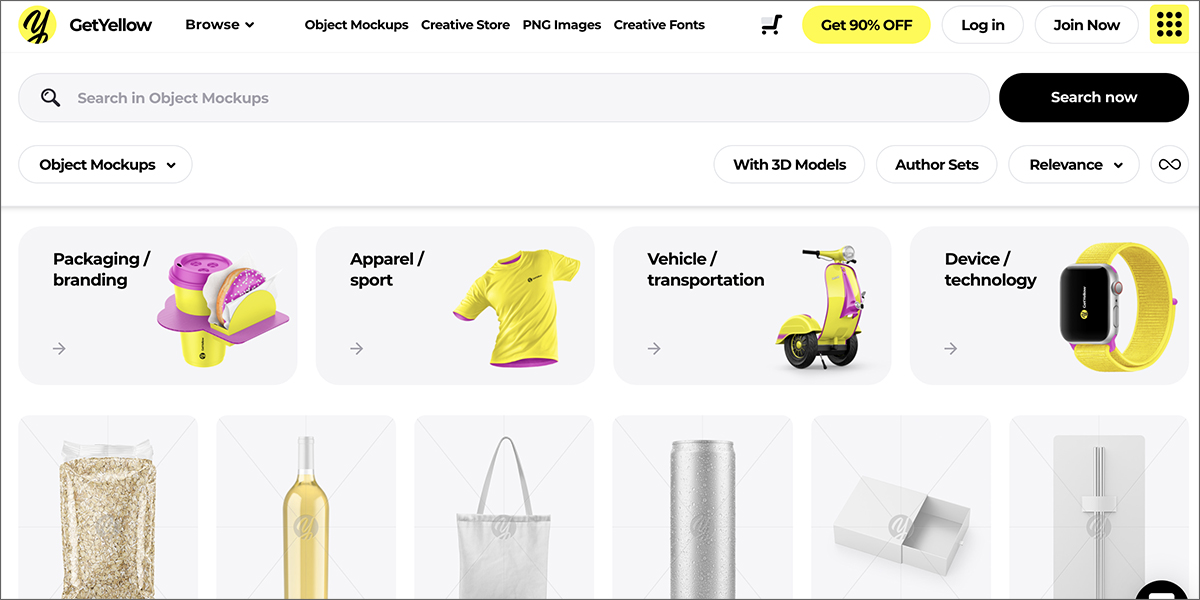 Speaking of 3D templates – if you're a creative professional who's never heard of Yellow Images you're missing out.
As a graphic designer who has no 3D modeling experience whatsoever, but has clients who frequently request rough mockups of their tangible goods, I was thrilled to discover Yellow Images.
Yellow Images features one of the largest selections of skinnable 3D Photoshop mockups that I've ever seen.
They have models for everything from apparel to automobiles to bottles and boxes.
If it exists as a tangible good in this world – there's a good chance Yellow Images has a 3D mockup for it.
Pro-tip: I also find that these mockups tend to be really impressive to clients. Whether you're trying to secure a new client with kick-butt portfolio or just trying to get a client to fall in love with their own commissioned work, coming up with ways to include these 3D mockups to display your designs is a game-changer.
Yellow Images Pricing: Subscriptions start at $33.25 but assets are also available al la carte.
Congratulations to everyone who made it all the way through this huge list of freelancer tools and subscriptions.
What are your favorite freelancer tools? Let me know in the comments below and don't forget to connect with me on social.