The internet is full of advice articles when it comes to Upwork.
There's plenty of advice on how to write great cover letters and effective proposals, how to win your first client or your first gig, how to build a robust portfolio, how to pass an Upwork Skills Test, how to raise your rates and even how to secure a positive review.
Read Also: Can you make good money on Upwork? How I made $500,000 in 4 years
And yet we rarely talk about how to actually respond to job invitations and interviews or accept offers on the Upwork platform.
This is disappointing because I think the process can be a bit confusing for a new freelancer or someone using the platform for the first time.
So let's remedy that right now.
Read Also: 23 clever tips: How to calm nerves before an interview
Topics covered in this article:
What is Upwork?
But before we get into exactly how to reply to these inquiries, let's make sure we are all on the same page by talking about the circumstances that might lead to acquiring that interview invitation or job offer in the first place.
For the uninitiated, Upwork is the largest online freelance marketplace in the world.
Clients use the platform to post jobs. Freelancers use the platform to win jobs.
Most of these transactions happen on something called the Upwork Job Feed.
The Job Feed looks similar to any other social media feed. But this feed features clients looking for freelance work.
On the Job Feed, freelance professionals browse job posts related to their field of expertise to which they can apply if there's a job description that captures their attention.
But that's not the only way to discover new clients and find jobs on the Upwork platform.
In fact, the best way to find jobs on Upwork is actually via invitations.
Want to know what the interview process looks like? Keep reading young padawan.
Read Also: How to land your first job on Upwork: Advice from a $500k freelancer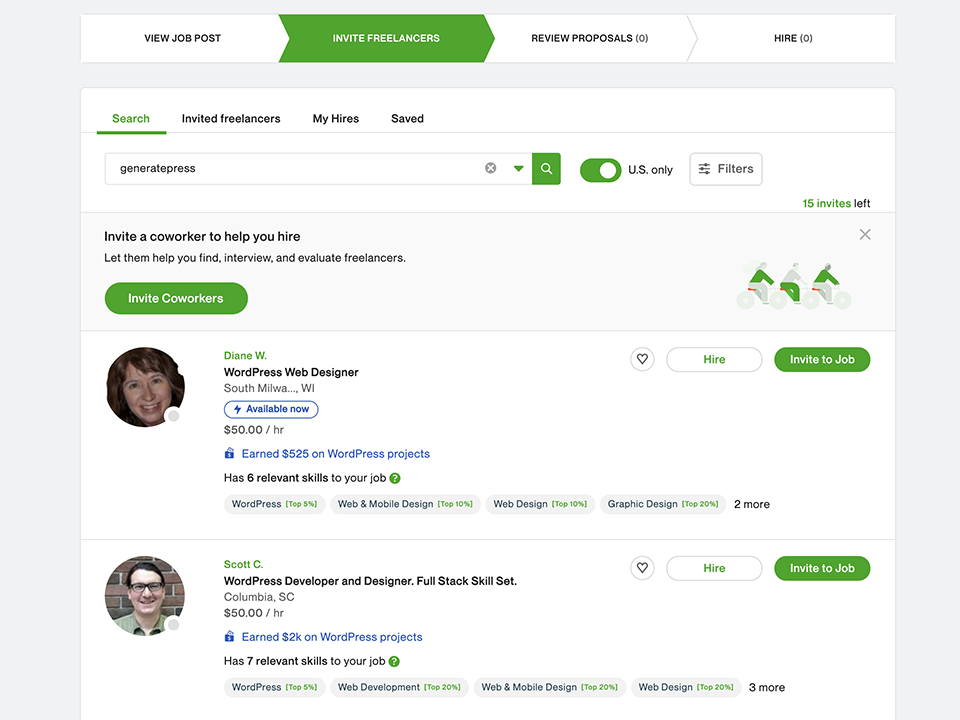 How do interviews work on Upwork?
When a client posts a new freelance job on Upwork, they are given the option to invite specific freelancers to apply.
Upwork suggests freelancers that best fit the job, which are usually displayed in a paginated list. This results page works similarly to a search engine. Those with more of the required job skills and qualifications will have a high ranking on the list. Those who lack the required skills and qualifications rank low on the list.
The client may also search the Upwork database for freelancers whose profiles contain keywords related to the job post.
Only freelancers who have their availability turned on will appear on this list.
In the screenshot above, the client is searching for WordPress and web design professionals with GeneratePress experience. This example offers a glimpse into exactly what that looks like from the client's perspective.
The client may choose to send invitations to one or many freelancers – or none at all.
Those invitations are then sent to the freelancer's email inbox, at which point the freelancer can either submit a proposal or decline.
Pro Tip: Invited Freelancers have an increased chance of being hired for the job than those who apply via the feed.
As an added benefit, Upwork Connects – Upwork's form of digital currency – are not required to apply when you've been invited to interview.
Should I pay for the boosted Availability Badge on Upwork?
At the time of this writing, the boosted Availability Badge does not play a role in the sorting of the above-mentioned list. It's for aesthetic purposes only.
It is entirely possible to receive an invitation to apply without paying for the badge.
A better way to improve your rank in the feed is to use SEO tactics like including high-trafficked low competition keywords in your Upwork profile (including the Work History section) and maintaining a decent Job Success Score.
How do I respond to an Upwork interview invitation?
If the freelancer chooses to submit a proposal, they are directed to submit a cover letter just like they would for any other job discovered on the Job Feed.
The actual invitation itself will look nearly identical to a regular job post.
And as with any job post – invite or not – the client may also request that their applicants answer a list of specific questions related to the job or the freelancer's previous experience in the field. They may also mention specific job requirements.
Default screening questions include:
Describe your recent experience with similar projects
Please list any certifications related to this project
How do you incorporate feedback and edits into your work?
What part of this project most appeals to you?
What part of this project do you think will take the most time?
But the question is – exactly what should you say when accepting the invitation?
Personally, I just amend the first part of my proposal template to thank the prospective client for inviting me to apply. Then, I more or less respond the same way I would with any other job posting.
Read Also: How to increase your rate on Upwork: Step by step instructions
Below, I will include a real-life example that I used to win a $150 per hour interview on the Upwork platform.
For advice on how to write a great Upwork proposal, be sure to check out this article which contains proposal writing tips and cover letter templates.
Great freelancers know that learning how to write an effective proposal is key to winning jobs.
Read Also: Upwork proposal sample: 11 tips from a $500k freelancer
Upwork accept interview message sample
Hi [insert person's name here],

Thanks for the invite – I'd love to help you and your team develop a public health toolkit! My background with the CDC Foundation will be an asset to this project.

A bit about me – I am a graphic designer with 20 years of professional experience. I work with nationally recognized clientele on a daily basis including the Centers for Disease Control Foundation (CDCF), Stanley Black & Decker and Kimberly-Clark (Kleenex).

Additionally, I have a hybrid background in graphic design and sales and am able to work with a variety of mediums including digital downloads, presentations and toolkits.

I am also FAST and pride myself on my ability to offer quick turnarounds. I will attach a few design examples to this proposal.

Reach out to me here on Upwork and we can talk details! Looking forward to hearing from you soon!

Morgan Overholt
Also, be sure to answer any of those previously mentioned questions the client has included with the invitation to interview.
The key thing to remember when it comes to writing proposals is to always keep the client's needs in mind. Keep the focus on what you are going to do for the client, and how you can be an asset to their team or their specific project. Also, be sure to list relevant work experience.
What does the Upwork interview process look like?
If your cover letter manages to impress the potential client, the client will reach out via Upwork Messenger to chat a bit more about the project, related milestones and deadlines. This is known as the interview phase of the hiring process.
Read Also: Red flags for bad clients: 10 tell-tale signs from a six-figure freelancer
Your new client may also request a Zoom or video call. Just be sure not to share any personal information in the Upwork Messenger before the contract is in place. And do not accept off-site calls. Instead, schedule the Zoom directly from the Upwork messenger.
It is against Upwork's Terms of Service to share email addresses and phone numbers outside of the contract. Breaching Upwork's Terms of Service could lead to platform suspension.
The interview phase is unlikely to resemble that of traditional job interviews. In fact, I personally find, more often than not, that I ask more questions than the client.
I usually use the interview phase as more of a discovery process. I behave as though I've already been selected for the job and ask my prospective client a lot of questions about their project requirements and goals.
Acting as though you've already won the bid is also a great way to portray confidence and close the deal.
Sometimes, the client doesn't even need a call or a video interview. If that's the case, just ask project-related questions via the Upwork messenger.
Upwork Interview Questions
As I said above, you should strive to lead the interview rather than let the client lead the interview. Below, you can find a list of interview questions and prompts to help you get that conversation started.
Some of these may or may not be applicable to your particular job, use your own discretion when deciding which questions are appropriate for your specific scenario. Do not inundate your client with every question on this list.
Tell me a bit about yourself and your company. (I always start with this one)
Do you have experience working with freelancers?
Do you have experience with Upwork?
Tell me about the project.
What is the target demographic for this project?
Will I be working with anyone else on your team?
What is your preferred method of communication?
What is the primary goal of this project?
Are there any special requirements I should know about?
Does your company already have a branding guide in place? (if applicable)
What's your preferred medium? (if applicable) (app, print, web, etc)
Do you have any personal style preferences? (if applicable)
Does your company have access to any graphics/style libraries or stock accounts? (if applicable)
Is your content ready to go? (if applicable)
What is your target deadline?
Do you anticipate several rounds of revisions?
Who has the final approval on project deliverables?
Do you have a budget in mind? (although I prefer to tell the client what I charge rather than asking about a budget)
Can I start right away?
Here is what you can expect from me …
Do you have any questions about the process?
Do you have any questions about the project?
Do you have any additional questions for me?
Remember, in this context, you are a professional who is offering a specific kind of work for your client. The client may ask about similar past projects or about your experience working with a particular project.
But do not expect your client to ask about years of experience or employment history during the interview phase. These are questions more catered toward traditional job interviews, not remote work freelance gigs.
Read Also: What not to wear to an interview: 9 things to avoid
How do I accept an offer on Upwork?
Once the freelancer has convinced the client they are the ideal candidate for the job, the freelancer should ask the client to send over an offer.
The offer initiates the formal contract.
To accept the offer you will be prompted to review the contract terms and send a message confirming acknowledgment of those terms.
I find the message portion of this interaction to be fairly redundant. But it can be a good place to include additional notes about the contract.
Most of the time, I simply respond with a "thank you" or a "received".
For example, I will include my offer acceptance acknowledgment of that previously mentioned $150 per hour job below.
Don't spend too much time overthinking this step.
Upwork accept offer message sample
Received
See? That's not so complicated.
The hard part is over, once the job has been accepted, you can get to work.
And in case you're wondering, the job was completed successfully and the client gave me a 5-star review.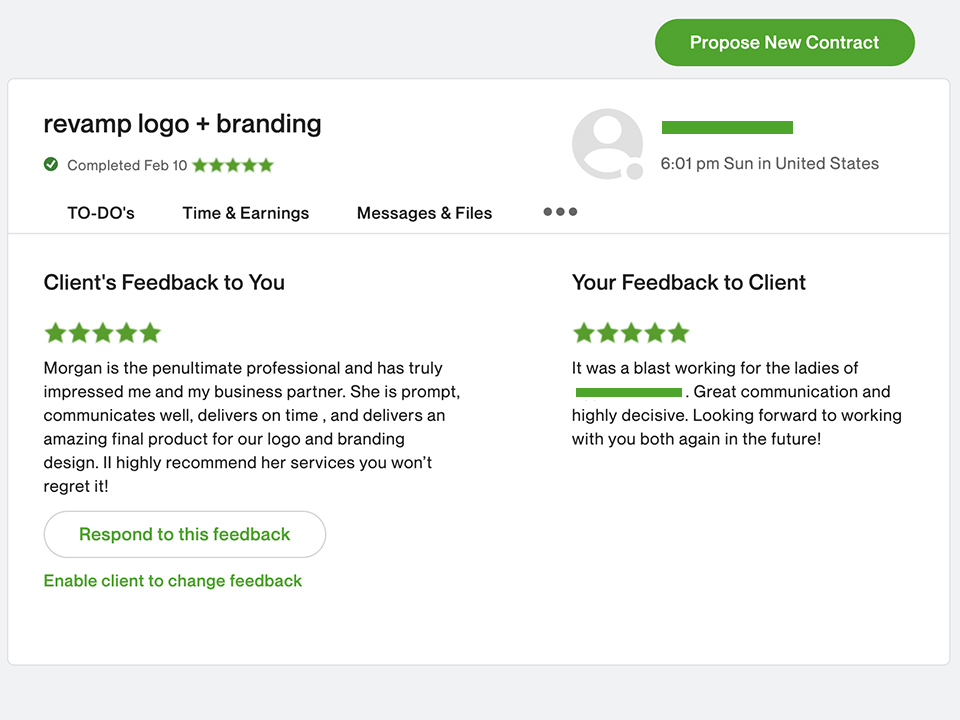 Are you new to the Upwork platform? What types of jobs are you looking for? Have you received your first offer yet? Let me know in the comments below.
And don't forget to connect with me on social media.
PS: If you've found any of the above advice helpful, and you feel so inclined – buy me a coffee (leave a tip) on Kofi!