In 2017, I rage quit my full-time job.
That's right, woke up one morning, completed my shift, and quit with no notice.
Read Also: I quit my job without a plan and it was the best decision I ever made
It was both exhilarating and terrifying.
Exhilarating because, let's be honest, who doesn't daydream about telling their boss where to stick it from time to time? Terrifying because I had to figure out a way to make some quick money to survive.
And so, I turned to online freelance marketplaces and created accounts on both Upwork and Fiverr.
In this article, I am going to talk a bit about the main differences between the two platforms and share my opinion on which I think is better.
How is Upwork different from Fiverr?
First, let's start with the core differences between the two platforms.
Fiverr
In a nutshell, Fiverr is like the Etsy of freelance marketplaces. It's a place where freelancers – or as Fiverr refers to them, "sellers" – can sell pre-packaged services (or gigs).
For instance, as a graphic designer, I posted a pre-packaged logo service where clients could purchase a logo design in a variety of colors and formats.
Clients – or as Fiverr refers to them, "buyers" – can then browse the freelance platform for specific gigs and make a purchase just like they would on any traditional e-commerce platform. They can browse by keyword or category and even narrow that search with filters including "budget" and "delivery time".
Fees, Payments and Seller Levels
There is no hourly work on Fiverr, only gig-based, flat-rate pricing.
Fiverr takes 20% of the seller's project earnings, and charges buyers 5.5% on every transaction.*
Fiverr sellers can also achieve a series of Seller Levels and each comes with its own set of benefits. Seller Levels and designations include New Seller, Level 1, Level 2 and Top Rated Seller.
Fiverr also offers a program called Fiverr Pro for its top-tier sellers. Fiver Pro gives sellers access to a larger elite clientele, faster payment processing and access to Success Managers.
Buyers on Fiverr may use a variety of payment methods including credit card, PayPal, Apple Pay, Google Pay, wire transfer and more.
Fiverr sellers can receive payment via PayPal, Fiverr Revenue Card or Bank Transfer.
Upwork
Upwork is primarily a freelance marketplace that works more similarly to a traditional job site like Indeed or Monster, only catered to freelance workers.
In recent years Upwork has added a Project Catalog feature to its platform that closely resembles Fiverr's marketplace. But Upwork's core function remains its proposal-based job bidding system.
On Upwork, clients can create a job post, publish it to the Upwork Jobs Feed (also known as the Talent Marketplace) and even invite specific freelancers to apply by sending in a proposal.
Proposals feature the freelancer's bid, a cover letter and an estimated timeline for delivery. Expert freelancers will also usually include portfolio samples. However, they aren't required to do so.
And unlike Fiverr, on Upwork freelancers and clients may choose between Fixed-Price contracts and Hourly contracts.
Fees, Payments and Special Designations
Freelancers are required to spend something called Connects to bid on a job post from the Jobs Feed.
Upwork Connects works like a digital token or digital currency. Upwork gives freelancers 40 free Connects upon sign-up and an additional 10 free Connects for each month they are active on the platform. Freelancers can also earn additional free Connects by winning and responding to interviews.
Upwork Freelancer Plus subscribers ($14.99 per month) receive 80 Connects each month.
Freelancers can also purchase additional Connects for $0.15 each.
Read Also: Upwork Connects: Tips on pricing, bidding from a $600k Upworker
Upwork encourages freelancers to spend extra Connects on Boosted Proposals that temporarily improve the proposal's visibility in the client's Upwork inbox.
Upwork also has a Top-Rated program (similar to Fiverr's Seller Levels). With the Top-Rated program, top-tier freelancers are able to earn badges to display on their profiles and special perks that make it easier to win big jobs and get paid faster. Upwork's special designations include Rising Talent, Top Rated, Top Rated Plus and Expert Vetted.
Finally, Upwork clients may use a variety of payment methods including credit cards, Paypal and ACH.
Upwork freelancers can withdraw funds via direct deposit (ACH), bank transfer, wire transfer, PayPal and Payoneer (non-U.S.).
Read Also: How do you become Top Rated on Upwork: badges, requirements and benefits
Upwork vs Fiverr: Features & Key Differences
| | Upwork | Fiverr |
| --- | --- | --- |
| Project Catalog | * | * |
| Job Post Feed | * | |
| Project-Based Pricing | * | * |
| Hourly Pricing | * | |
| Pre-Hire In-App Messaging | * | * |
| Allows In-App Zoom Calls | * | |
| Freelancer Fees | 10% | 20% |
| Client Processing Fees* | 3%-5% | 5.5% |
| Digital Tokens Required | * | |
| Digital Token Cost | $0.15/ea | |
** For purchases under US$50 an additional $2 small order fee will be applied on Fiverr. On Upwork, the marketplace fee is 5% on all payments, but they also offer a discounted rate of 3% for eligible U.S. clients who use a checking account.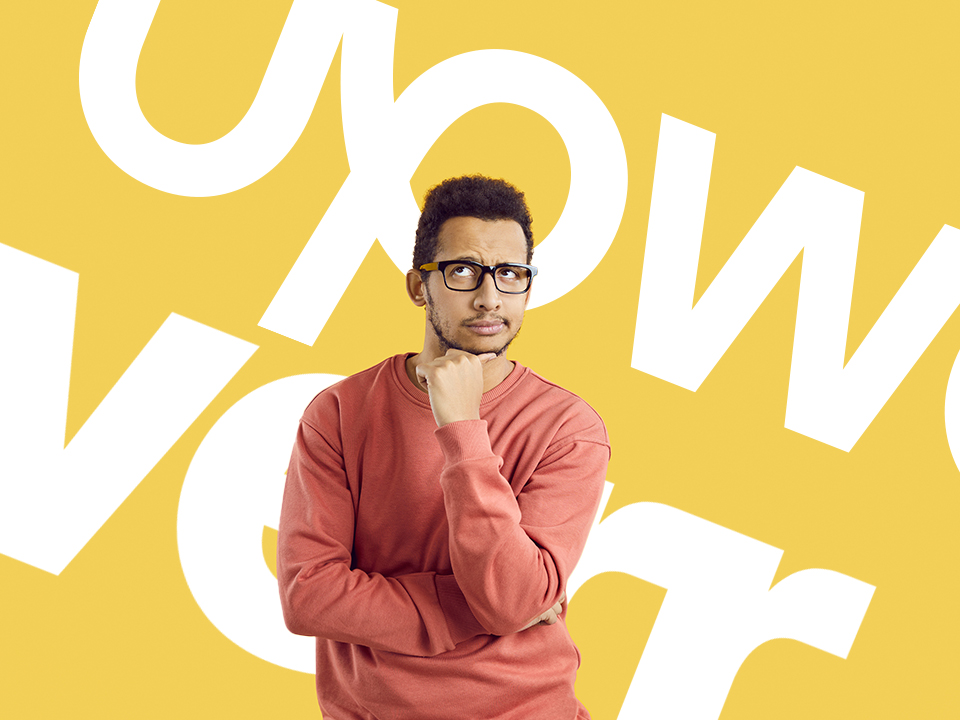 Which is better Upwork or Fiverr?
Now let's get to the goods – which is better, Upwork or Fiverr?
Personally, I still use both platforms today but that's mostly because there are things that I both like, and dislike, about both. I think each platform has its own strengths.
So what do I think those strengths and weaknesses are?
Here's a breakdown.
1. Upwork is confusing
Look, I love Upwork. I use Upwork as both a freelancer and a client. And Upwork is where I've made most of my money freelancing online.
In fact, I've made over $600,000 freelancing on the Upwork platform in the last five years with a current hourly rate of $150.
Read Also: Can you make good money on Upwork? How I made $600,000 in 5 years
But I think Upwork is almost too feature-rich at times between Connects, Boosted Badges, Boosted Proposals and Milestones. And because of this, it ends up feeling overly complicated for both new freelancers and new clients alike.
In fact, I often spend a significant portion of my client onboarding time as a freelancer explaining how Upwork works to new clients.
Fiverr is just simple and easy to understand, especially for clients who need to make a quick hire on a simple project.
Speaking of which …
2. Fiverr is better for hiring short-term
Again, Upwork now also offers a catalog-style service but that hasn't always been the case.
But gig-based catalogs are Fiverr's specialty. They have experience in this category and that experience shows in the user experience.
Whenever I need to make a quick hire without all the fuss, I turn to Fiverr instead of Upwork.
Even with Upwork's Project Catalog, clients still have to go through the process of manually approving deliverables and milestones. Freelancers still have to go through the process of requesting payment.
With Fiverr, it genuinely feels more like a traditional eCommerce solution. I can purchase a service, with minimal communication or back and forth with the freelancer, and simply approve the project when it's done with the click of a single button.
The UX is clean, headache free, and requires little to no learning curve for new freelancers and new clients alike.
3. Upwork is better for hiring long-term
This is where Upwork really shines – with long-term work and long-term relationships.
Fiverr can sometimes feel too transactional, especially when it comes to large or complicated projects with a lot of moving parts. And, because Fiverr is more project-based, information on the actual freelancer for hire is usually limited to a single brief description, some client feedback, a location and a list of languages.
On Upwork, freelance professionals are encouraged to create robust profiles and portfolios that include a profile pic, a biography, a portfolio, a work history, an education history, a Job Success Score and a list of skills and credentials.
When I hire on Upwork, I feel like I really know who I am hiring. I feel like I have a better understanding of their capabilities and expertise.
Plus, Upwork offers a variety of tools inside the Upwork Messenger including the ability to initiate an in-app phone call or an in-app Zoom call versus Fiverr which restricts in-app messaging to simple text.
Upwork also allows freelancers and clients to communicate off-platform AFTER a contract has commenced (but not during the interview phase). This means after you're initiated a contract if you want to ditch the Upwork messenger and use Slack or e-mail – you're good to go.
Just remember that only on-platform communication is covered by Upwork Dispute Resolution services.
Finally, Upwork even allows clients and freelancers to take their relationship off the platform after two years – a practice that Fiverr shuns entirely.
NOTE: Neither platform allows off-platform messaging prior to hiring or off-site payments. Fiverr restricts the exchange of personal contact information to only what is required for order completion. Taking a client off of the Upwork platform prior to the two-year mark is also strictly prohibited and may be grounds for suspension.
4. It's easier to make money on Upwork
At the time of this writing, I've made over $600,000 on the Upwork platform. And I've made $0 on Fiverr.
I signed up for both around the same time, one took off and one didn't, so I doubled down on the platform that was making money and never looked back at Fiverr. At least not as a freelancer.
But keep in mind, this is just my personal opinion. There are probably tons of things I could have done better on Fiverr that would have gotten me noticed.
Take Alexandra Fasulo for instance. Who, as Business Insider recently reported, made over $1 million on Fiverr as a freelance writer.
So really, take this one with a grain of salt. It's possible to make a small fortune on both platforms.
5. Upwork has lower commissions, but more miscellaneous fees
Upwork charges freelancers a flat 10% commission on each contract.
Fiverr charges freelancers a 20% commission.
And while that might seem like a no-brainer on the surface, it is important to keep in mind that there are additional hidden fees involved when using Upwork. Especially with Upwork's Connects system and its many upsells.
Upwork Connects, as mentioned earlier, is a form of digital currency on Upwork. Freelancers use them to bid on bid on jobs (required), boost proposals, and turn on their Boosted Availability Badge (which is kinda like a Krispy Kreme Hot Light for freelancers).
Most Upwork freelancers start out with roughly 40 free Connects, but they tend to blow through that initial lot with haste.
And additional Connects will cost $0.15 a pop.
This means, if you don't know what you're doing, the Connects alone could start to add up pretty quickly.
Regardless, with commissions being half of what Fiverr is currently charging, you'll probably still end up spending less on Upwork over time.
Plus, after a while, you might not need any Upwork Connects at all.
The name of the game on Upwork isn't bidding on Jobs, it's sitting back and letting those jobs come to you through invites. And invites don't require Connects.
The highest-earning freelancers with the highest platform designations (like Top Rated, Top Rated Plus and Expert Vetted) tend to receive invites on a fairly regular basis.
In fact, I haven't spent a single Connect in years.
In conclusion
In conclusion, I'm not sure there's really a clear winner in the battle between which freelance platform is better.
You can find high-quality work on either platform whether you're a buyer, seller, freelancer or client.
If I had to offer my personal opinion on the subject, I prefer Upwork for freelancing, and Fiverr for hiring.
But as a business owner, I fully acknowledge that everybody's needs and preferences are different. This is why I encourage you not just to take my word for it and to try both platforms out for yourself.
| | Upwork | Fiverr |
| --- | --- | --- |
| Easier to use | | * |
| Better for simple projects | | * |
| Better for long-term projects | * | |
| Easier to make money | * | |
| Lower service fees | * | |
| Fewer hidden fees | | * |
Was this article insightful? Which platform do you prefer for freelance work? Let me know in the comments below and don't forget to connect with me on social media.
PS: If you've found any of the above advice helpful, and you feel so inclined – buy me a coffee (leave a tip) on Kofi!