Knowing how to create a great Upwork profile and write an attractive bio can be a "make it or break it" moment for even the most experienced freelancers among us.
When I joined Upwork in 2017, I was already an experienced freelancer.
But winning jobs over the internet while competing with thousands of other freelancers all over the world on a freelancing marketplace was a foreign and scary concept.
Regardless, with a bit of trial and error, I was eventually able to create a bio and profile that most clients found irresistible.
So irresistible that in just five short years, I was able to pull in over $600k in earnings on Upwork alone.
Read Also: How I made $600,000 in 5 years on Upwork
And here's the great news – I'm going to share some of my best tips and tricks with you in this article along with real-life Upwork profile examples from a few of my fellow six-figure top-rated Upwork freelancers.
Topics covered in this article:
7 Upwork Profile tips and tricks
Without further ado, below, are some of the tips and tricks I personally used to earn over $600,000 on Upwork.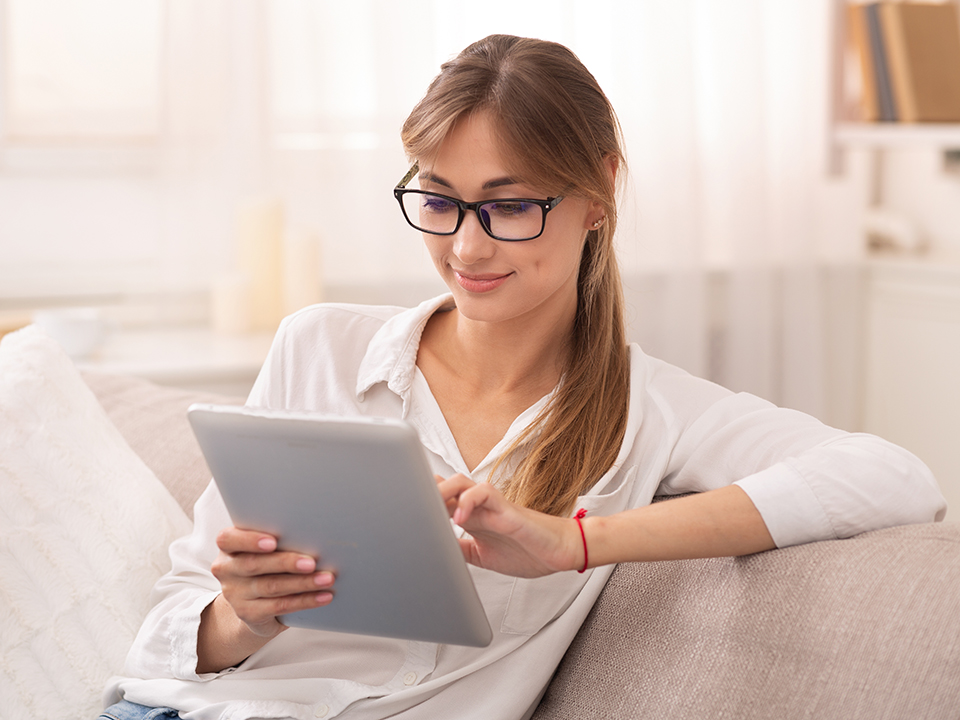 1. Fill out your profile completely and utilize keywords
This one may seem obvious, but it's important to fill out your profile completely without skimping until the "Profile Completion" indicator reaches 100%.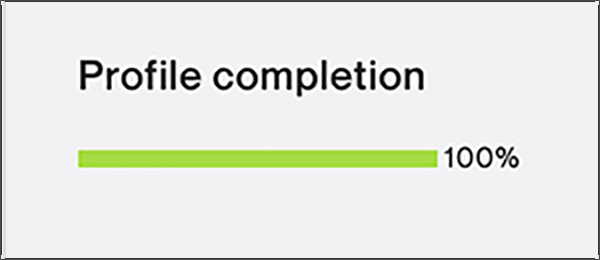 Required sections
Freelancers are required to complete the following sections of their profile:
Profile photo
Profile overview (bio)
Employment history (1 required)
Skills tag (1 required)
The required sections will instantly catapult your progress bar to 50% complete. To achieve 100% completion you will need to choose from a variety of the following additional sections.
Additional sections
Portfolio items (5% each, max 20%)
Additional employment history items* (10% each, max 20%)
Additional skills tags (10%) (the more the better)
Education (10% each, max 20%)
Profile video (10%)
One linked account (10%)
Certification (5% each, max 10%)
Experience item (5%)
*Don't have a recent employment history? Do what I did and just list work history instead (as in your freelance business or recent projects)
In my opinion, the more sections you fill out the better. You never know what a client might be looking for. 
And while Upwork keeps its exact algorithms for the Job Success Score and talent searches close to the chest – I suspect keywords assist the Upwork search algorithm's ability to find and suggest yourself to prospective clients.
So be sure to scatter in a few relevant industry keywords and phrases throughout your profile.
Also, get out of your own head and keep your prospective clients in mind when filling out each section.
A client-focused profile is the best kind of profile. This isn't about you, it's about them.
Ask yourself the following questions:
What are my client's concerns?
If I were in my client's shoes and shopping for a freelancer, what would I be interested in seeing?
What are my client's goals?
What about my profile assures prospective clients that I am the right freelancer for the job?
If you need a bit of inspiration, I've included a few examples of client-focused profiles at the bottom of this article.
When you're done, ask a friend, colleague or peer to carefully proof your profile for typos and grammatical errors.
Read Also: Upwork profile examples and tips from six-figure freelancers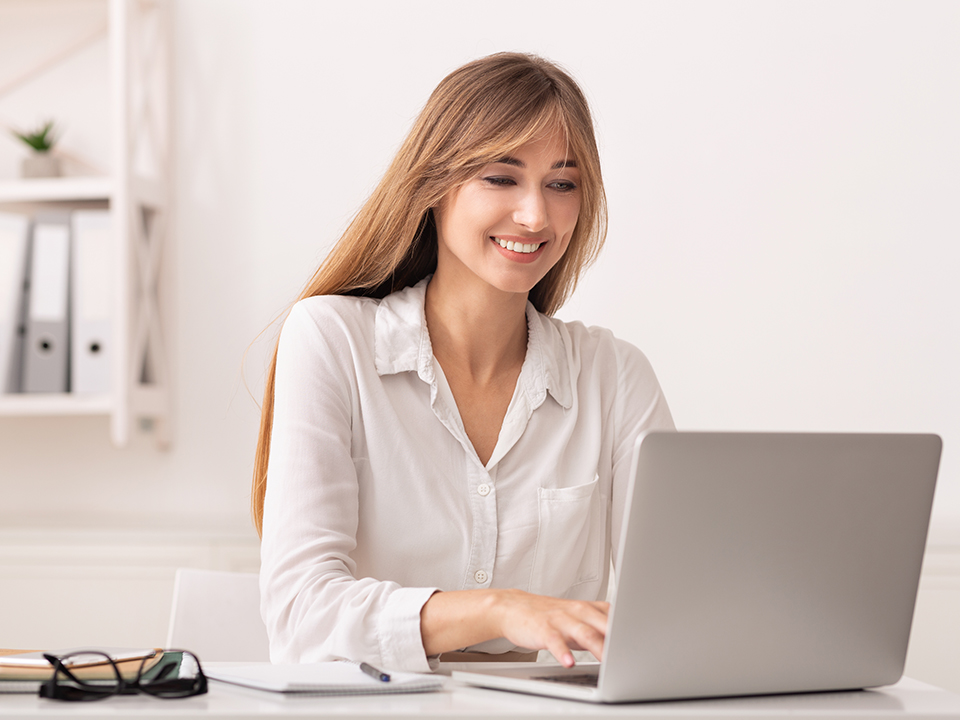 2. Create a client-focused bio
Speaking of client-focused profiles, you're also going to need a client-focused bio.
Humans, by design, are self-centered creatures. Appeal to your client's human nature. Highlight your unique selling points and make your bio about how you will improve your client's life and business, not the other way around.
I will use myself as an example.
The first line of my Upwork bio reads:
"I offer a premium service to my clients – I am hyper-responsive, available M-F during normal business hours and offer quality products with rapid turnarounds."
In just 24 words, I've established myself as an expert who values communication and delivering a gold-standard product on time.
Also, I recommend keeping your bio short and sweet.
Ask yourself how many times in the past week you've read an article online "word for word" from start to finish.
Are you even reading this article in full or are you just skimming like 81 percent of internet users?
My entire Upwork bio is only 70 words long. It's so short that it doesn't even require a "more" dropdown.
If you absolutely feel the need to write a bit more to get your point across, make sure that your most relevant information is right at the top of the page, addressed within the first couple of sentences, and does not require the client to click "more" to get to the good stuff.
You could also do what many other Top-Rated freelancers do and use the read more dropdown to provide a formatted list of your services and skills which may improve the algorithm if you use the right strategic keywords.
Plus, using lists and bullet points for longer bios tends to make lengthy write-ups more easily digestible. Professional bloggers utilize lists all the time to make content easier to skim and keep readers engaged. You can use those same tactics in your Upwork bio.
Read Also: Upwork proposal sample: 11 tips from a $600k freelancer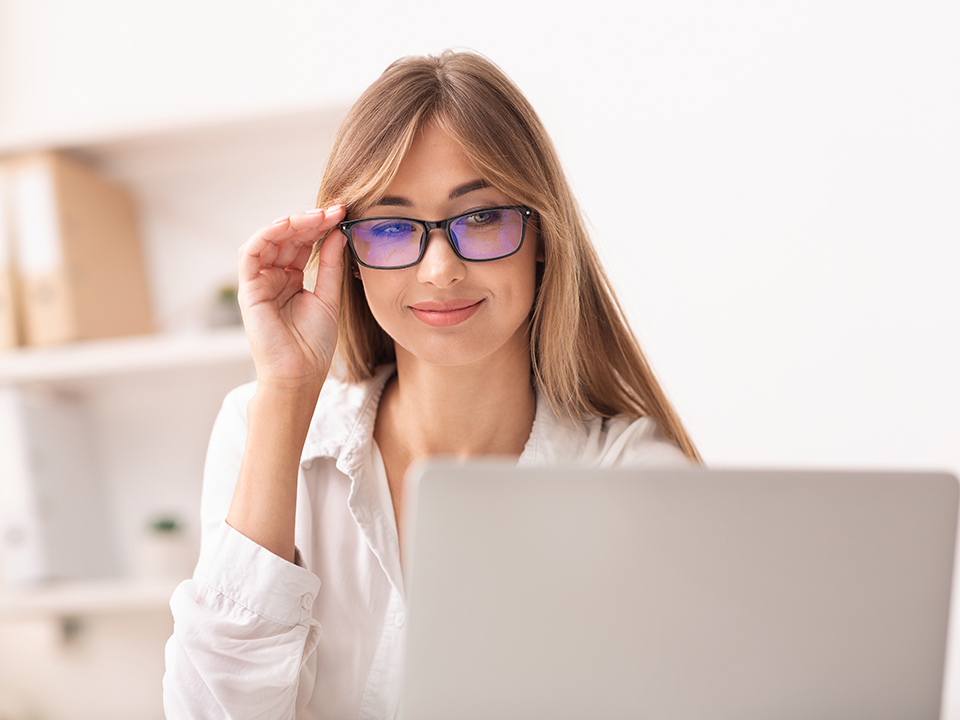 3. Create a title that combines keywords and selling points
One of the secrets to my success was spending a bit of time on the client side of Upwork.
I'm not just an Upwork freelancer, I've also used Upwork to hire talent.
Being on the other side of the fence has given me a real insight into how clients discover talent and make hiring decisions.
For instance, I've learned about how the Upwork talent search plays a huge role in the hiring process.
The Upwork talent search allows clients to search for freelancers who they think may be a great fit for the job, and send invites to candidates who spark their interest.
What do clients see when searching for freelancers?
The Upwork talent search displays the following snippet of information about potential candidates:
Name
Photo
Hourly rate
Total earnings
Job Success Score
Skill tags
Profile title
A brief snippet of your bio
Your title plays two important roles on Upwork
It helps potential clients find your profile by utilizing strategic keywords 
It helps you stand out in the crowd and establish yourself as a professional
Again, while Upwork doesn't go into specifics about how their Upwork search algorithm works, I believe they rely heavily on keywords in the title section of your profile.
I happened upon this theory by accident.
One day I was searching for a freelancer named "Josh". Obviously, there are thousands of Joshses on the platform, but this guy, Josh Tuper, kept coming up as the first result.
Why that Josh, you ask?
Was he Top Rated? Nope.
Was he a high-earner? Nope.
It's because Josh's Upwork title was "Josh Tuper".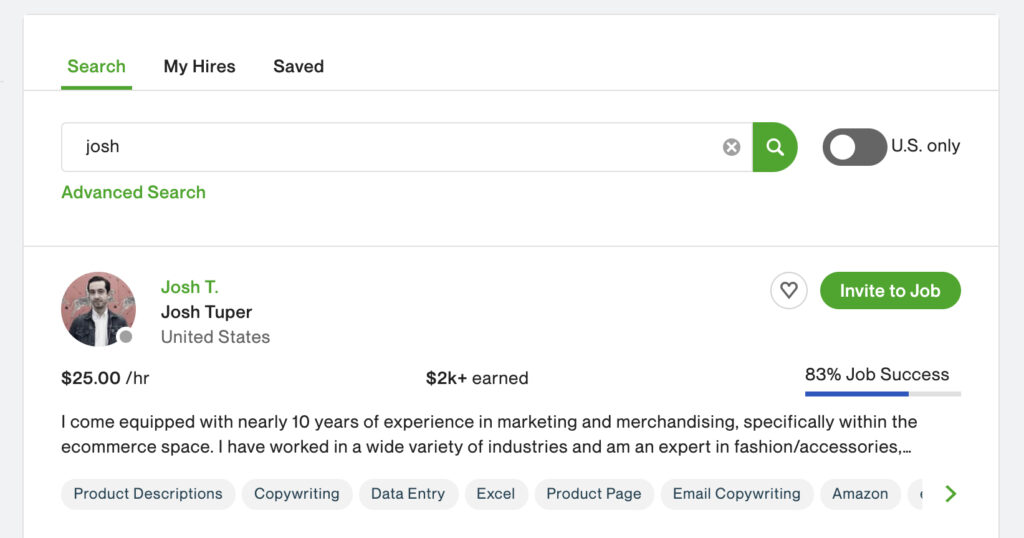 Now I wouldn't recommend using this space for your name as most of your clients will be searching for keywords related to your industry rather than for a specific freelancer. However, it does seem relatively clear that the title section plays a humongous role in the search algorithm.
For instance, if you're a designer make sure the term "graphic design" is somewhere in your title. If you are a content writer make sure "content writer" is somewhere in your title.
You get the idea.
Additionally, top freelancers always use the title section to establish themselves as "experts" in their fields.
In just 70 characters or less, you need to come up with a title that clearly conveys the services you offer, makes your expert status known, and if possible, offers a unique selling point or something that makes you stand out in a crowd.
A few examples of great Upwork titles
That might sound like a tall order for just 70 characters, so let me offer a few real-life examples to get your creative juices flowing:
Morgan O: "Expert Graphic Designer & Freelance Coach (ft. in Business Insider)"
Josh B: "Microsoft SQL Server DBA (Ranked in the top 1 percent on Upwork)"
Pansee F: "Whiteboard & Animated 2D 3D explainer videos, Expert 16 yrs experience"
In the first example, I call myself an expert and toot my own horn about being featured in Business Insider as a unique selling point.
Josh reminds us, as an Expert Vetted freelancer, that he is ranked in the top 1% of all Upwork freelancers.
And Pansee makes great use of multiple keywords and lets everyone know that she has 16 years of professional experience.
All three do a great job of combining keywords with selling points in 70 characters or less.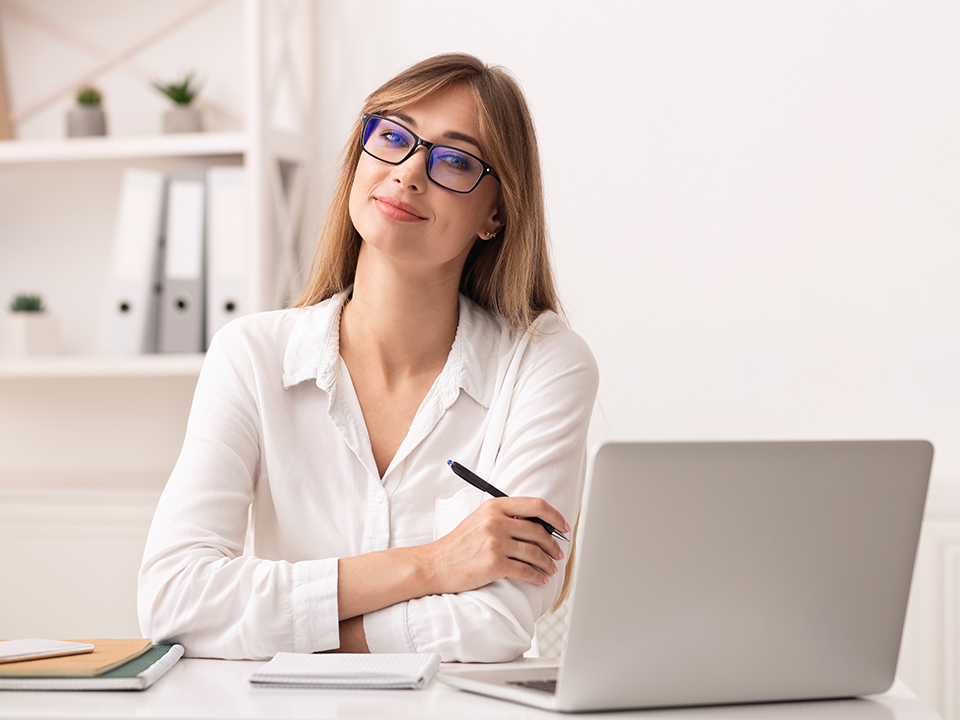 4. Curate a portfolio that effectively showcases your skills and credibility
Humans are visual creatures.
Larry Kim, an Inc.com contributor, offers some interesting statistics on the subject in his article "16 Eye-Popping Statistics You Need to Know About Visual Content Marketing":
Posts that include images produce 650 percent higher engagement than text-only posts.
People are 85 percent more likely to buy a product after viewing a product video.
This is why it's of the utmost importance to take full advantage of the portfolio section of your profile.
Obviously, this is an easier task for some than others.
Graphic designers and artists can simply use this section to display sample work.
But what about non-visual fields?
If you're not an artist, consider using this section for case studies.
Take a screenshot of a recent project or blog post and include a link or small description of the work.
And here's a pro tip: This section also offers a great opportunity to squeeze in even more of those all-important keywords. Label each portfolio item appropriately. and provide a detailed description of the project.
I personally strive to include as much variety as I can with over 30 portfolio examples on my profile showcasing everything from package design to business cards.
This variety is one of the many reasons I'm so easily able to secure quality clients and relevant projects.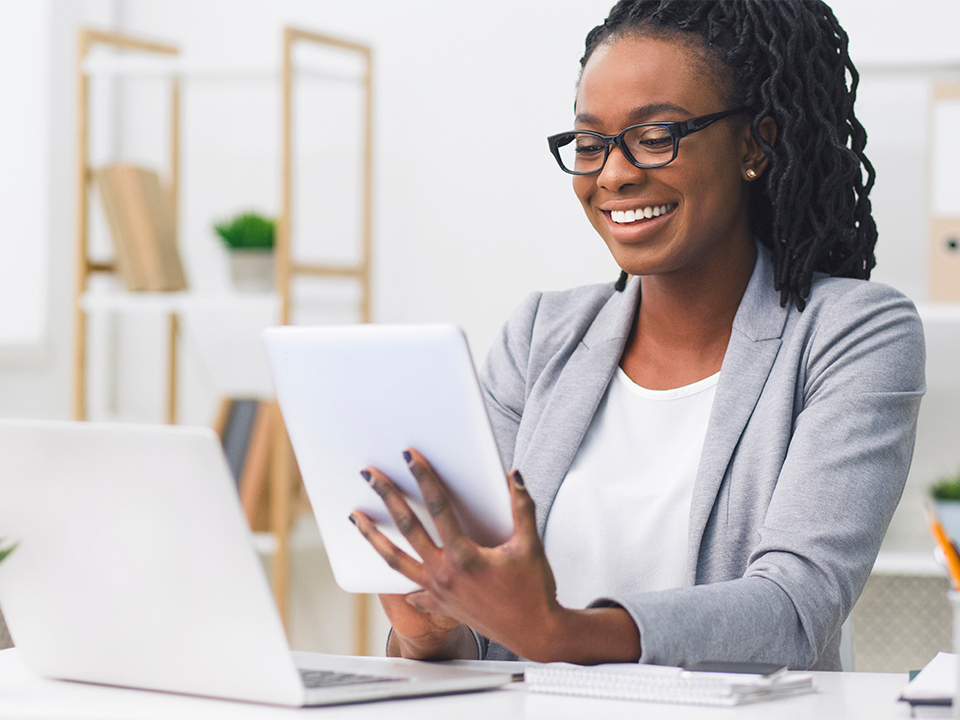 5. Create three Project Catalog listings
Upwork's Project Catalog is a relatively new – and as such less competitive – feature on Upwork.
It works similarly to Fiverr's project-based marketplace.
On Upwork Project Catalog, clients search for pre-packaged services. If they see something they like, they can book and pay directly through the catalog. No Connects spending, proposal sending, or interviewing required.
You will be notified of these sales via Upwork messenger.
That's right, you can literally book freelance gigs while you sleep with this tool.
Plus, only a small percentage of Upwork users actually utilize the Project Catalog, so it can be less competitive than the Jobs Feed.
And, it also seems to improve the search algorithm. In my experience, freelancers with multiple project catalog listings always tend to appear at or near the top of the Find Talent search results.
At the time of this writing, freelancers are limited to a max of three listings. Utilize this tool.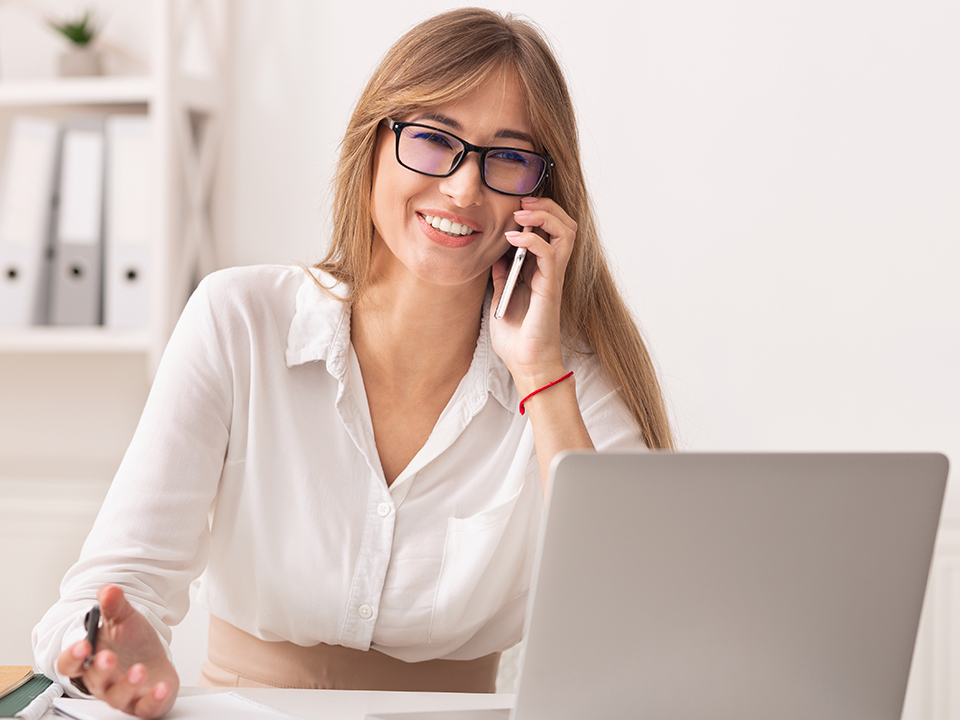 6. Create a bookable consultation
Consultations work similarly to Project Catalog listings only they appear directly on your profile.
They are largely designed for clients who may be interested in your services but want to learn more prior to booking.
While I always offer a quick, free 10-minute discovery call to new clients (via the Upwork Messenger's Zoom feature), some clients may feel more comfortable with something a bit more personal and in-depth before initiating a full offer.
In the days before bookable consultations, if a client wanted a lengthier introductory/consultation call, I would have to create a secondary mini contract to make sure I was properly compensated for my time – which was always a bit of a pain semantically.
Bookable consultations reduce the friction of such interactions.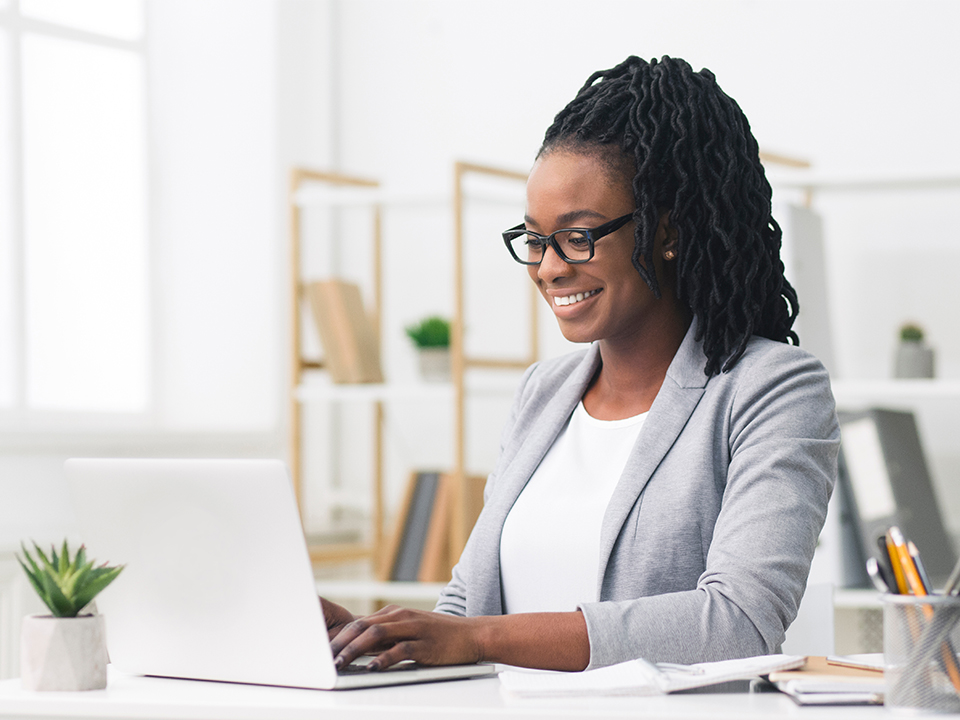 7. Secure client testimonials and reviews
In the early stages of your Upwork career, you should make obtaining client reviews and testimonials your top priority.
This one is easier said than done, as five-star reviews are only earned after completing your first job on Upwork and spending some time on the platform.
And there are things you can do to speed up the process like asking your clients for a review at the end of every contract.
But if you're completely new to Upwork there is a quick fix that will hold you over until you're able to obtain that first real review: asking your off-site clients to provide testimonials.
You can invite any non-Upwork client to write a testimonial for your profile.
While testimonials are never a replacement for good old-fashioned hard-earned reviews, they may help bridge the gap until you have a few real Upwork reviews under your belt.
Upwork Profile examples from 6 and 7-figure freelancers
And now for the moment, you've all been waiting for: Upwork profile examples from six-figure freelancers.
While you review these examples, please keep in mind that these are only meant to inspire you to write your own. Never copy another freelancer's work, or words, verbatim.
Also, remember that there is no one-size-fits-all approach. While there are several similarities in the following examples, you will also notice that there's a lot of variety.
Always experiment until you find a strategy that works best for you and your industry.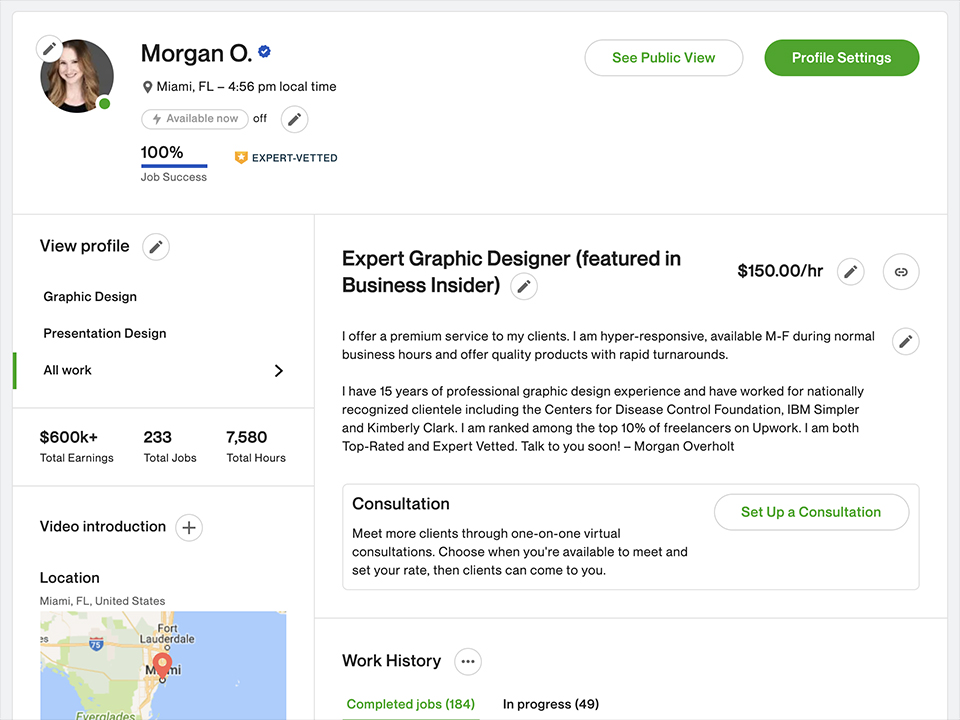 Morgan Overholt, Graphic Designer – $600,000+ Earned
I will start with my own profile for our first example. I am a graphic designer with a brief, client-focused bio, loads of 5-star reviews, a title that identifies me as an expert and a robust portfolio.
My bio reads:
"I offer a premium service to my clients – I am hyper-responsive, available M-F during normal business hours and offer quality products with rapid turnarounds.

I have 15 years of professional graphic design experience and have worked for nationally recognized clientele including the Centers for Disease Control Foundation, IBM Simpler and Kimberly Clark. Also, I am ranked among the top 10% of freelancers on Upwork and am both Top-Rated and Expert Vetted."
You can view my full profile here.
Read Also: Freelance graphic design rates: How much should you charge?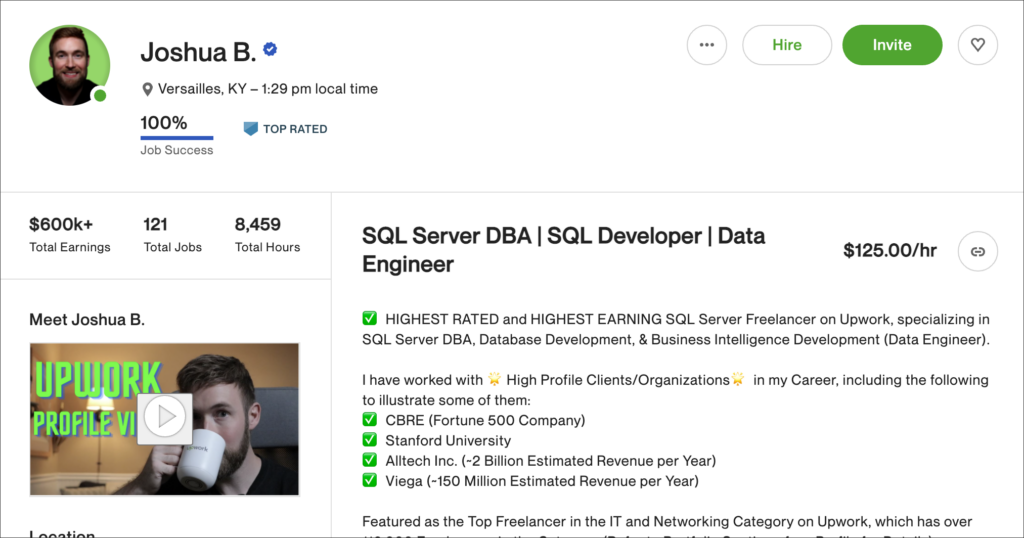 Josh Burns, SQL Developer & DBA – $600,000+ Earned
Next, we have Josh Burns. Josh isn't just a talented SQL developer and database administrator, he's an influencer, coach and YouTuber.
He also used to appear on the homepage of Upwork (before the 2021 redesign). He's literally Upwork famous.
Josh's profile is hard to resist. Just check out this first line of his bio:
"HIGHEST RATED and HIGHEST EARNING SQL Server Freelancer on Upwork, specializing in SQL Server DBA, Database Development, & Business Intelligence Development (Data Engineer)."
Josh also makes use of keywords throughout his profile and features a professionally edited video greeting for his prospective clients.
You can check out Josh's full profile here.
Danny Margulies, Writer – $200,000+ Earned
Next up we have Upwork-famous Danny. He's a blogger, influencer and freelance writer. His success on Upwork has been featured in a variety of publications.
Danny's Upwork profile is great because he isn't afraid to experiment. He frequently switches up his title and bio in an effort to attract quality clients from targeted niches.
His bio is also highly client-focused, the first few lines read:
"Hi, I'm Danny, and I'm a professional email copywriter with a proven track record for increasing open rates, click rates, and sales. My emails have helped generate 7-figures in verified sales for myself and my clients. "
Are you starting to see a trend here? Each of these top-rated six-figure freelancers have profiles that are virtually irresistible to prospective clients.
You can view Danny's full profile here.
Did these tips or examples provide any insight? Let me know in the comments. Also, don't forget to connect with me on social media using the links below.
PS: If you've found any of the above advice helpful, and you feel so inclined – buy me a coffee (leave a tip) on Kofi!