Tired of blogs that aren't providing all of the answers that you need when it comes to how to get started on Upwork?
As someone who has earned over $600,000 on the Upwork platform, I am regularly shocked by all of the incomplete and bad advice out there written by bloggers that don't actually know what they're talking about.
This is why, today, I wanted to write a fully comprehensive article on Upwork, for beginners. Written by someone who has been in your shoes, and understands the inner workings of Upwork's algorithm better than most.
Read Also: Can you make good money on Upwork? How I made $600,000 in 5 years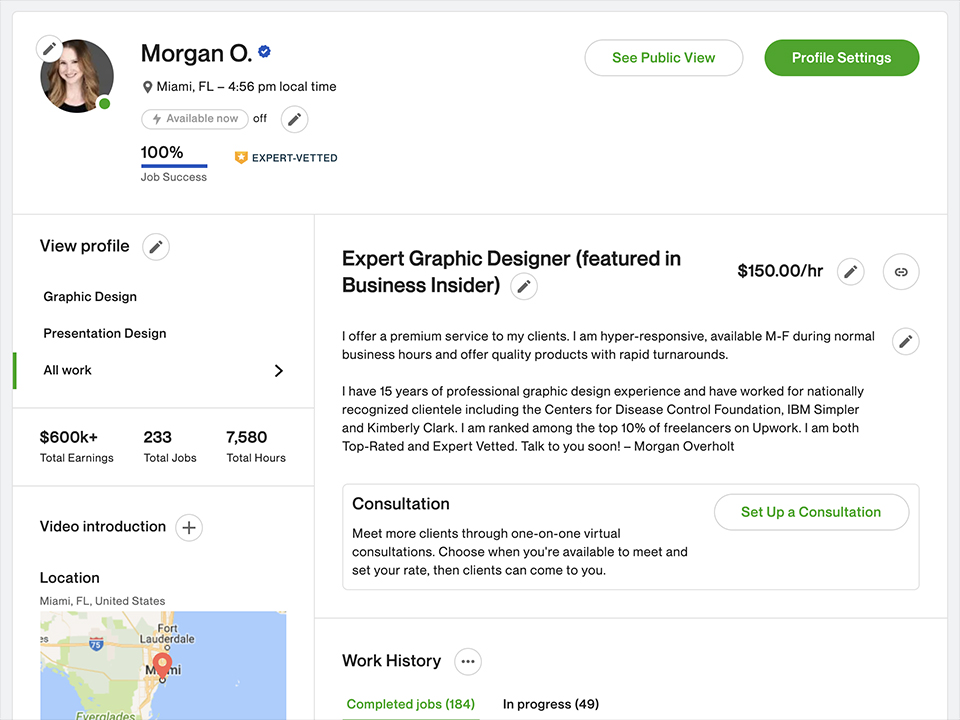 In this article, I will be offering advice on the following:
And, if you haven't already done so, I also recommend checking out my free e-book: A Jumpstart Guide to Upwork.
Can you work on Upwork with no experience?
Upwork, for the uninitiated, is the world's largest freelance marketplace. Its main competitors are Fiverr and Freelancer.com.
If you're not just new to Upwork but new to freelance altogether, you may be struggling to pick a niche.
Admittedly, having a specialized skill like content writing, design or tech as well as some sort of real-world experience will likely give you a better shot at long-term success on the platform. Regardless, there are a handful of in-demand jobs on the platform right now that require no experience and no special skills.
However, it is important to note that while not required, even the smallest amount of experience will put you ahead of the competition.
But the age-old dilemma remains…
How do you gain experience when you have no clients?
Well, do what I did, they fake it 'til ya make it.
In the early days of my freelance career, I used to do "pretend" jobs where I acted as my own client, and my own freelancer, to beef up my portfolio.
But if you go that route, please don't use real-world brand names in your portfolio examples. Pretending like you've worked for Coca-Cola when you haven't isn't just a misleading practice. It's also illegal to use other people's brand marks without their permission unless it is in an editorial context.
Make up your own pretend companies, and your own pretend work. Get some real-world "practice" on your own terms, and you'll be so much better off.
Now, without further ado, here are a few jobs that you can do on Upwork with little to no experience.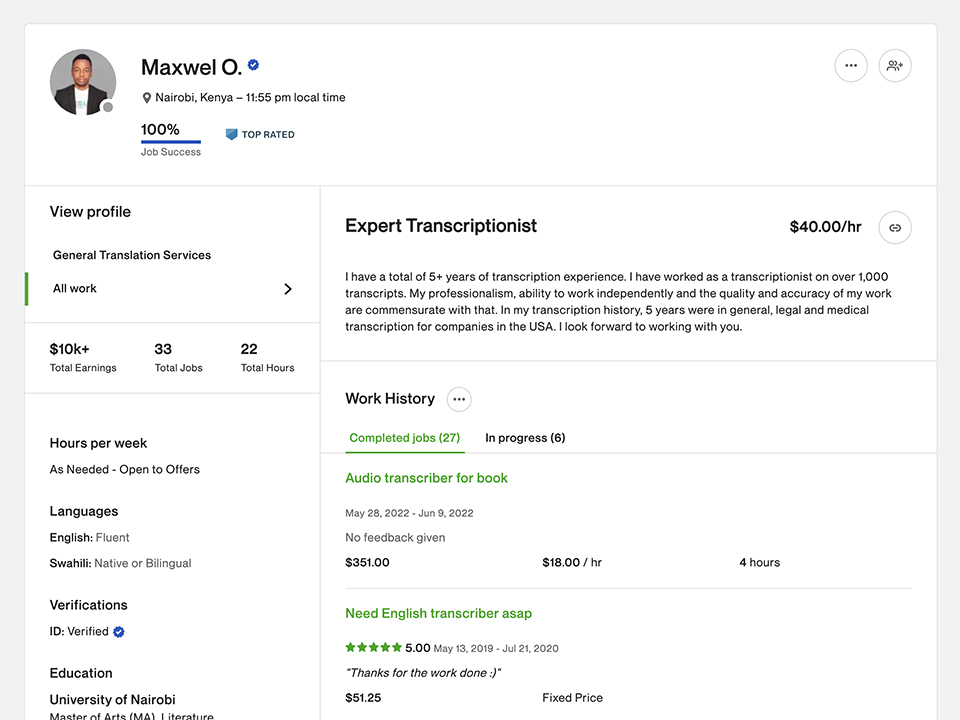 1. Data Entry & Transcription
Data Entry is exactly what it sounds like – entering data into a computer, a database, or a word processor. Oftentimes this process includes transcribing audio files or copying information from one form to another.
I've personally seen freelancers on Upwork charge anywhere between $5-$40 per hour for this kind of work.
While no formal training is required for Data Entry and Transcription, touting speed and accuracy will put you ahead of your competition.
If you're not already a fast typer, practice.
The average person types just 40 words per minute (WPM). Try to aim for closer to 60-70. If you manage to achieve 100 WPM you can consider yourself ranked amongst the top 1% of typists.
And be sure to mention impressive accolades on your profile such as (these are just a few examples):
Can type up to 70 words per minute
Fast and accurate
Can work with a multitude of word processors and systems
Bilingual – fluent in both English and Spanish
Next day turnarounds
2. Customer Service Representative
Customer Service Professionals wear many hats. Sometimes they answer calls, sometimes they manage chat and e-mail requests. Sometimes they even manage and monitor online communities like social media or forums.
I personally find it quite difficult to find talent who specialize in Customer Service on Upwork, and suspect it could be a great niche to get into – or at least a great skill to add to your resume.
I've personally seen Customer Service pros making between $5-$30 an hour on the platform.
A few key messages to portray on your Upwork profile for this niche should include:
Types of communication you're comfortable with (i.e. phone, chat, e-mail, social)
List of languages spoken fluently (the more the better)*
Your ability to adapt to new systems and processes
*Pro-Tip: Promoting the fact that you are fluent in multiple languages is a way to get a leg up on most U.S.-based freelancers. Not to stereotype, but the education system doesn't typically push learning a second language here in the States – at least not at a conversational level. In fact, bilinguals represent only about 23% of the U.S. population. And being bilingual is a skill in itself. Be sure to promote it heavily if you're fluent.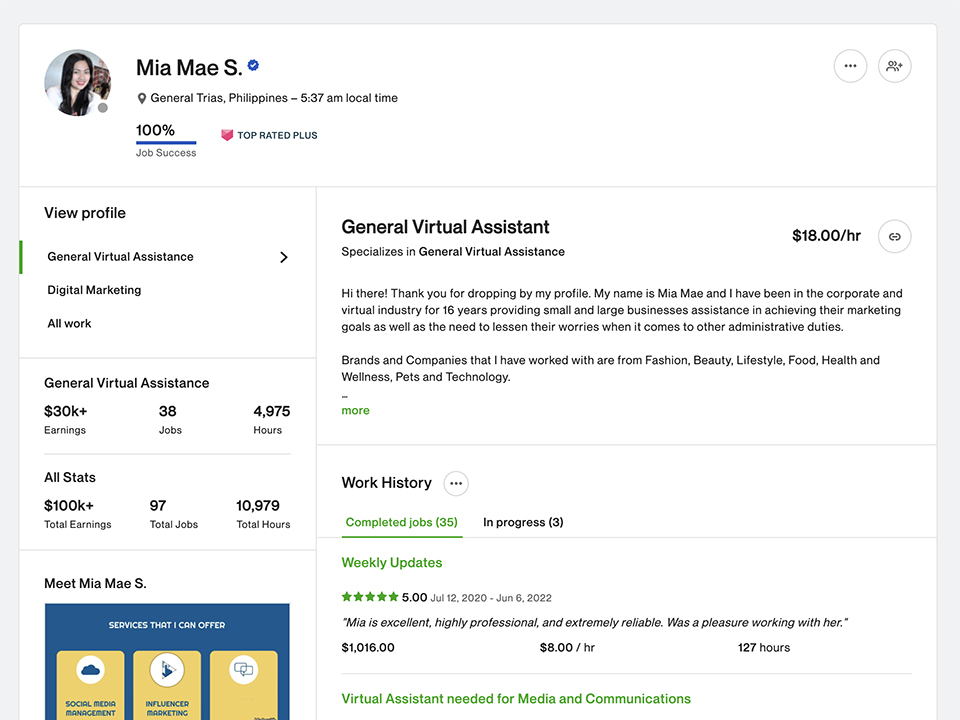 3. Virtual Assistant & Admin Support
This one is my favorite niche on the list.
It's great because it's an all-encompassing category and always in demand.
Virtual Assistants are basically remote support professionals.
They offer a variety of miscellaneous services including making appointments, receptionist-style duties, invoicing, lead generation, research, personal errands, paying bills, note taking and proofreading, just to name a few.
Their services also often overlap with the two previously mentioned niches: Customer Service and Transcription.
I've personally seen Virtual Assistants making between $6-$30 an hour on the platform.
I can also tell you what a difference hiring a Virtual Assistant can make in your business – I employed one several years ago. She started out at just an hour a week handling my time logging and invoicing.
Today she has a hand in nearly all of my businesses and performs tasks such as proofreading, research, community management, uploading content and cropping photos.
I personally think every business needs a Virtual Assistant. It's a game changer.
When seeking Virtual Assitant jobs, make sure you include the following on your profile:
Types of services you offer (proofreading, note taking, etc)
Platforms you've worked with (Microsoft Word, WordPress, etc)
Examples of how you've made a difference in the lives of your clients
What's the easiest job to get on Upwork?
Whether you're a new or experienced freelancer, it can be difficult to land your first job on the platform.
I get it, it took me almost 2-weeks to get a single response and I was applying for jobs nearly every day.
Luckily, I have a few tips and tricks that might help.
Read Also: How to find your first job on Upwork: Advice from a $600k freelancer
1. Look for jobs that you can confidently complete quickly
While I've seen a few lucky newcomers land large jobs right out of the gate, I personally found that smaller jobs povide an easier "in".
Just think about it from a client's perspective. Most would rather not take a huge financial risk on someone who is brand new to the platform and unvetted.
Also, most seasoned Upworkers – like myself – aren't wasting their time applying for small gigs anymore.
So you're mostly only going to be competing with other newbies.
Plus, the more quickly you complete that first job on the platform, the more quickly you can secure that first 5-star review. And landing future jobs is exponentially easier with at least one or two good reviews on your profile.
If you feel applying for small jobs is beneath you, consider it a marketing expense. I only slummed it on the first couple of jobs, and later went on to make over $600,000 on the platform. Swallow your pride if you must.
2. Look for new jobs that were recently posted
Again I offer this tip with a disclaimer: Apply for older jobs too. It's always smart to cast a wider net.
But in my personal experience, being the first in line often increases your chances of being hired.
Many clients begin reviewing proposals within minutes of creating the job post.
It's much easier to stand out in the crowd when there are fewer applicants.
This brings me to my next point.
3. Look for jobs on the weekends
Look, I get it. I hate working weekends too.
Read Also: Can I refuse to work weekends? 6 ways to get out of working weekends
And that's precisely why you should consider doing it – at least until you've secured that aforementioned first 5-star review. Because I'm not on the platform competing with you.
In fact, there will be very few Top-Rated high-earning freelancers online to compete with you on the weekend. Meaning the client will also likely end up with a smaller stack of proposals.
Look, if your profile is top-notch, your proposals are solid and you have a robust portfolio, the rest of really just a numbers game.
Make the numbers work in your favor.
Pro-Tip: If you are working the weekend, let the potential client know that you can "start today" or "finish this weekend". Few clients can resist a generous offer like that!
Read Also: Upwork proposal sample: 11 tips from a $600k freelancer
4. Look for red flags
Finally, while I've written about my personal red flags for bad clients in length before, I wanted to briefly touch on it again here.
While it's not a great idea to be too picky in the beginning, you also don't want that first 5-star review to turn into a 1-star because you had a bad experience with a mean or crazy client.
And the best way to avoid negative outcomes is with a bit of prevention.
For example, I typically shy away from job posts where the:
Job description is excessively long
Client sounds like a micro-manager
Words "rush job" are used.
Client complains previous freelancers
Client asks for free samples (this ain't Costco, it's also against Upwork's Terms of Service)
Read Also: Red flags for bad clients: 10 tell-tale signs from a six-figure freelancer
Why are you not getting jobs on Upwork?
Again, I've blogged about this extensively in a previous article which you can find here.
But typically, it's because you're committing one or more of these no-nos …
Your profile is lacking or unprofessional
Your proposals are lacking or unprofessional
You aren't reading the job posts
Your portfolio is lacking or unprofessional
You haven't given it enough time
Pro-Tip: Having a professional looking profile picture doesn't hurt either.
I personally find that new Upworkers commit at least one or more of those sins when they are just starting out on the platform. Follow my tips on how polish your profiles and write better proposals and don't give up. Success will not come overnight.
Can you make a living on Upwork?
Finally, we end on an exciting note.
Yes, you can make a living on Upwork. In fact, if you play your cards right, Upwork can make you rich.
I and several other Upworkers in my professional circle like Josh Burns ($700k earned) and Evan Fisher ($1.8M earned) are absolutely raking in cash from this platform and getting so many invites that we turn down more clients than we take on.
And while each of us has our own strategies and theories about how to find success on the platform – we also all have three basic things in common.
We all started at $0 earned, with zero feedback on our profiles and we didn't give up.
As I always say, real success requires takes a lot of time, trial and error.
Have patience, my Upwork padawans.
Because I am a living testament and can personally assure you – success is possible.
Are you new to Upwork and struggling to find jobs? Have you used a freelance platform like Upwork before? Are you considering a career in freelance but don't know how to get started? Let me know in the comments, and don't forget to connect with me on social media using the links below.
PS: If you've found any of the above advice helpful, and you feel so inclined – buy me a coffee (leave a tip) on Kofi!