Whether you're a client or a freelancer, the Upwork billing and time logging process can feel confusing at times.
But today, you're in luck. I've compiled a list of the internet's most Googled questions when it comes to logging manual time on the Upwork platform.
And in this article, I will provide answers to those questions.
You see, I am a bit of an Upwork guru.
Upwork, for the uninitiated, is the world's largest freelance marketplace.
And over the past five years, I've personally earned over $600,000 as graphic designer on Upwork. And, I've spent more than $10,000 as an Upwork client.
I've seen both sides of the platform, and know it intimately.
Read Also: Can you make good money on Upwork? How I made $600,000 in 5 years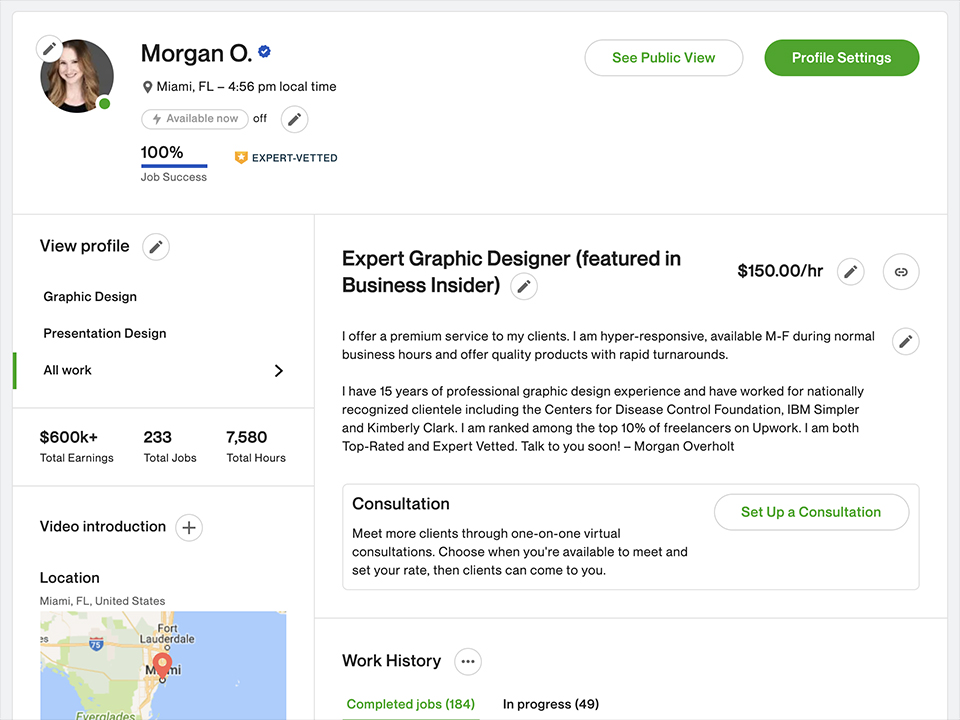 How do contracts work on Upwork?
One of the first things you need to understand when it comes to Upwork are the basics of how Upwork contracts work.
There are two primary contract types on Upwork: Fixed-rate and hourly.
Both default to whatever payment method the client currently has on file.
Fixed-rate projects on Upwork
Fixed-rate projects are based on client-defined milestones that need to be setup manually, funded manually, and approved manually.
I personally find that fixed price contracts work best for one-offs and predictable work.
Hourly projects on Upwork
Hourly projects are more well suited for ongoing work. Or projects where the scope may not be clearly defined the start.
Client preference is usually indicated in the job posting. And once the job offer is accepted, the contract type is locked in.
I personally tend to prefer hourly contracts as I find the act of manually setting up individual milestones to be a laborious task.
Hourly contracts, as the name indicates, bill the client at an hourly rate versus a project-based rate.
There are two ways for a freelancer to log time on an hourly contract.
The Upwork Time Tracker
Upwork's preferred method for time logging is via the Upwork Time Tracker – part of the Upwork Desktop app – which works similarly to a real life time clock.
The Time Tracker, when activated, takes periodic screenshots of the Upwork freelancers screen, as proof of work, so that the client can then review by logging into their Upwork dashboard and viewing the contract's time log.
The benefit of using this tracker, for the freelancer, is that all work logged using this method is protected by Upwork Payment Protection.
The benefit to the client is that they can see exactly what the freelancer is doing to ensure they are using their time wisely.
The Time Tracker is designed to give both client and freelancer peace of mind and provide an easy and accurate way to keep track of time.
However, there are three drawbacks to using the Time Tracker.
First, it largely depends on an internet connection to work properly.
Second, it also assumes that all work being performed is digital in nature or requires a desktop computer (and no, the Time Tracker is not a part of Upwork's mobile app, unfortunately).
And finally, a number of freelancers actually report that it is a hinderance, or even a distraction when it comes to creative work.
It's the equivalent of digital stage fright. After all, it's harder to perform when you know someone is watching.
And that, my friends is where manual time comes in.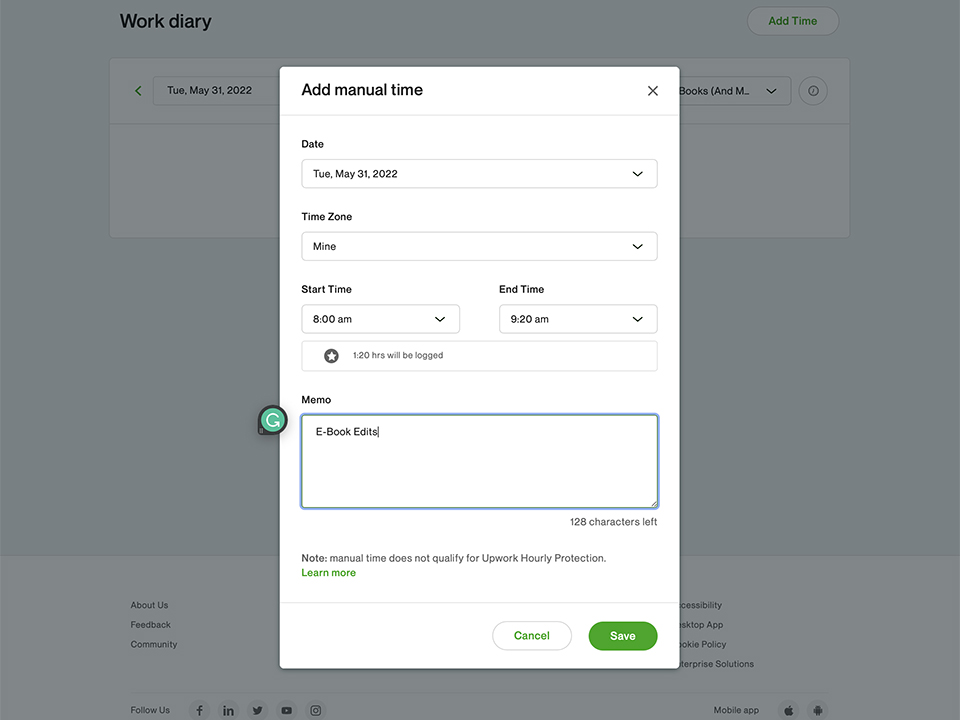 What is manual time on Upwork?
Manual time is exactly what it sounds like: Work hours that have been manually logged rather than time that has been logged using the Upwork Time Tracker app.
However, freelancers should note that time that is logged manually rather than with the app is not protected by Upwork Payment Protection. Which means, essentially, that a client can more easily dispute the charge.
I often use the Time Tracker when working with a new client where trust is not previously established to protect myself from potential scams.
Clients may choose whether or not to allow manual time logging on a per contract basis. And it goes through the same approval process as automatically tracked time.
Manual time is frequently used for the type of work that is done offline or work that cannot be captured by the Time Tracker such as research, sketching or even phone calls.
But there are other benefits to Manual Time, too.
And we will get into those benefits a bit later on.
How to add manual time on Upwork (for freelancers)
To log manual time, freelancers can use the following steps:
Login to your Upwork account
Navigate to My Jobs > Work Diary
Choose a contract name from the dropdown
Select the day the work was performed
Select a time period, add a description (and an activity label if applicable), and click Save
I should also note that this task is much easier to perform on a desktop computer. I find the Work Diary user interface to be clunky on my mobile device.
Manual time can be added to the current weekly billing cycle. And the default time zone is UTC.
You should also note that you are not allowed to log overlapping time. Meaning, you cannot say that you were simultaneously working on two different contracts at the same time on the same day.
Freelancers can also edit and delete manual time as needed within their current billing cycle.
Should you allow manual time on Upwork? (for clients)
In my opinion, if you trust the freelancer you've hired, then yes, you should consider allowing manual time.
After all, there are several benefits to allowing manual time.
1. It provides flexibility to the freelancer
First, it gives the freelancer more flexibility.
I can't tell you how often I sketch out an idea before executing it on the computer. Or find myself getting in a bit of extra work in an airport or in the car where internet connection is unreliable (only when I'm not driving, of course)! There are also times when Upwork is down or the Time Tracker is on the fritz (which happens more often than you'd think).
Allowing manual time ensures that the work doesn't come to a halt because of an internet related technical difficulty.
2. It provides flexibility to the client
Second, it gives the client more freedom and flexibility.
I have several clients who prefer manual time to fixed-rate projects because they hate the manual process of funding and approving milestones.
I have to admit that I too often fall into this camp. Why bother logging into your Upwork account multiple times per week to set up and approve milestones when you have a freelancer you know and trust who can just log hours as needed.
3. It promotes creativity and concentration
Third, as mentioned before, some freelancers find the Time Tracker app to be intrusive and distracting.
Just imagine how you would feel if you had your boss popping up at random intervals every 10 minutes or so to take a surprise peek at your screen. It can induce a bit of anxiety, and make it difficult for the freelancer, especially new freelancers, to do their best work.
Tip: Manual time is also a great work-around for retainer projects on Upwork!
I've even had clients so averse to logging into their own accounts that when it came time to increase my hourly rate on a given project, actually asked me just to "round up" with manual time and save them the trouble.
Read Also: How to increase your rate on Upwork: Step by step instructions [2022]
And if a dispute should arise – consider communicating directly with the freelancer as a first course of action before contacting customer service.
At the end of the day, it's all about professionalism, trust and communication. Don't forget that negative reviews go both ways.
What if you don't trust your freelancer?
And finally, if you find yourself asking – but what if I don't trust the freelancer?
My short answer Is – then you shouldn't be working with them.
Trust is key to achieving a successful outcome. And while some skepticism is healthy – after all trust is earned – strive not to let paranoia ruin an otherwise beautiful working relationship.
Do you use manual time on Upwork? Let me know in the comments, and don't forget to connect with me on social media using the links below.
PS: If you've found any of the above advice helpful, and you feel so inclined – buy me a coffee (leave a tip) on Kofi!