When I heard about Upwork for the first time in mid-2021, I approached the platform with cynicism.
I thought …
It's just a race to the bottom.
How can anyone new to the platform make good money?
There's no way I'll find success.
A few months later, I found myself unemployed and fresh off of a breakup. So, willing to try whatever I could to get my life together, I decided to give Upwork a serious try.
My first job was writing a 600-word article. I only made $6.
However, within six months, I achieved the Top Rated Plus badge. In just over a year, I accumulated well over $80k in total earnings.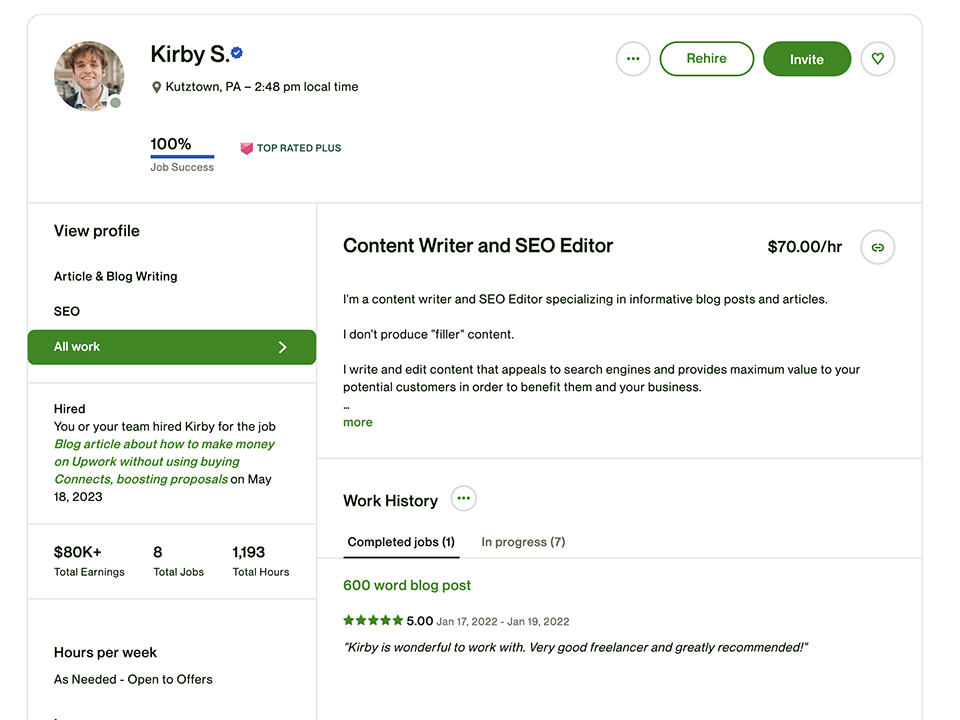 Read Also: Become Top Rated on Upwork in 90 Days: Advice From a $600k Freelancer
And the best part? I didn't buy a single Upwork Connect or boost a single proposal! I simply learned some key strategies for maximizing the power of the limited, yet free, Connects Upwork gave me by default.
And, in this article, I'll share those strategies with you.
Topics covered, if you want to skip ahead, include:
What are Upwork Connects?
Upwork Connects are credits you use to apply for jobs on the freelancer platform.
Every job post costs a certain number of these credits.
For example, in the job post below, you'd need to spend six Connects to submit a proposal.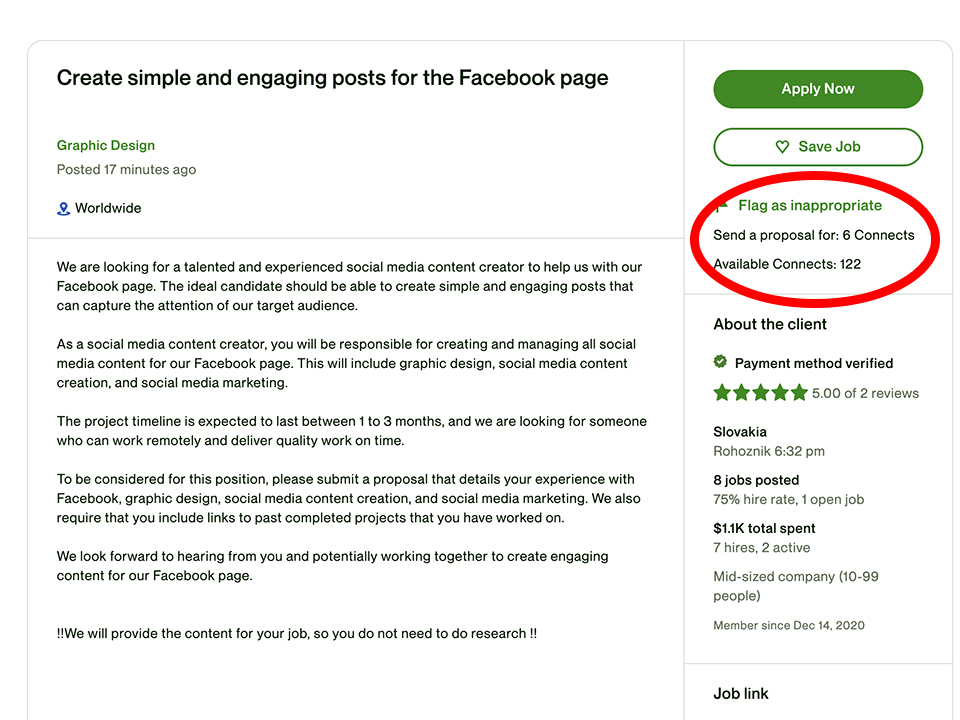 While this extra cost can be frustrating for some, it helps clients find high-quality talent on the platform.
Ultimately, it ensures freelancers on the platform only submit proposals to job listings relevant to their skill set. This helps narrow the playing field and prevents Upwork clients' inboxes from overflowing with unqualified freelancer proposals.
Essentially, it aids the client in finding the best match for the role.
A freelancer's Connects may also optionally be used to boost proposals.
What is Proposal Boosting on Upwork?
Proposal boosting on Upwork allows you to bid for the top position in the client's inbox on a given job post.
In these auctions, the freelancers who bid the highest number of Connects, theoretically, will have their proposals viewed before other applicants.
Clients will also see a blue lightning icon next to that boosted proposal.
Upwork claims boosts can help you visually stand out from the crowd and ideally, receive priority viewing if you're successful in nabbing one of the top slots.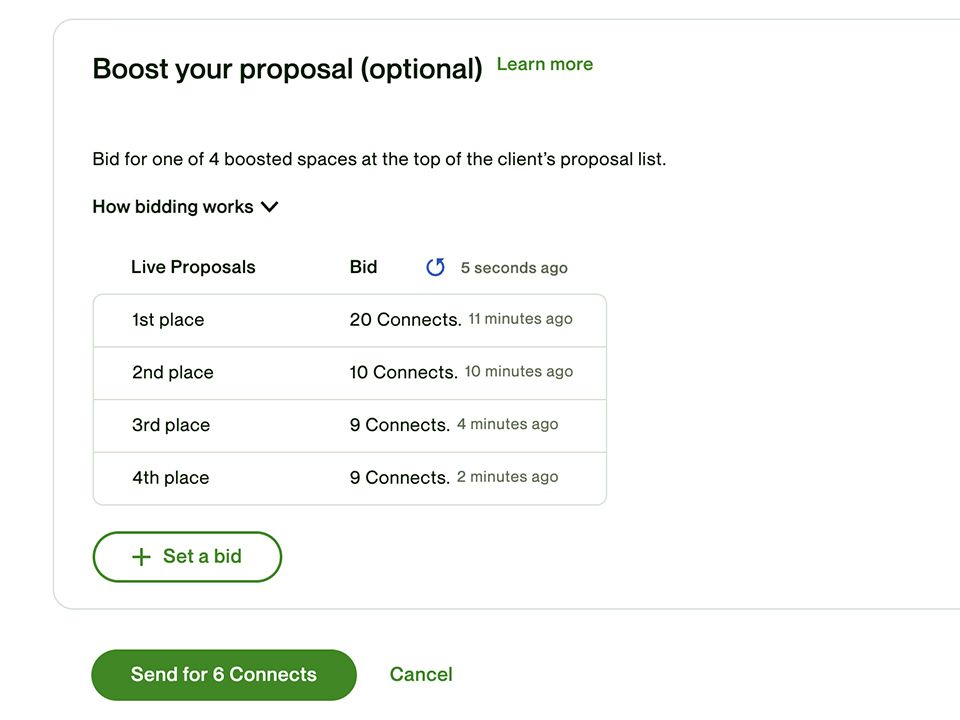 Essentially, boosted proposal auctions on Upwork are similar to Google Search Ads. In both scenarios, you pay to be listed at the top of the results.
However, just like running Google Ads isn't essential to every company's marketing efforts, boosts aren't necessary for success on Upwork.
Instead, you can drive success organically by creating high-quality content and relevant, curated Upwork proposals.
After all, the best way to secure a gig is to be the best freelancer for the job. And the best part about organic success is – it's sustainable!
5 tips for succeeding on Upwork without boosted Proposals (or buying extra Connects)
Upwork conducted an in-house beta test in which they ran boosted proposal placebo auctions. The platform found that boosting your proposal can increase the chance a client will hire you by 55%.
However, it is in Upwork's best interest that they praise the feature.
Keep in mind, the more freelancers that participate in proposal-boosting auctions, the more Connects they need in order to bid. And the more Connects they buy, the more Upwork makes money.
But the good news is that you don't have to boost your proposals, or even buy Connects, to win jobs, and I'm living proof!
Below, I discuss my top tips for finding success on Upwork without boosts or paying for extra Connects.
1. Earn free Upwork Connects
While you don't have to buy any Connects, you do need them in order to apply to gigs. Fortunately, you have a few options for getting free Upwork Connects.
For example, the platform gives you 40 free Connects when you register your account. You also receive an additional 10 free Connects each month.
But the key to gaining extra free Connects is winning interviews with established clients.
Ultimately, however, the number of free Connects you can earn is very limited. If you're boosting proposals, it won't take long to run out.
Read Also: 8 Methods: How To Get More Connects on Upwork
Which brings me to my next tip.
2. Be selective with your proposals
Since you can use up those free Connects quickly when applying to lots of jobs, you need to be selective about the clients you're contacting.
While being selective may mean you only submit to a small number of job posts, quality always trumps quantity on Upwork.
It may be tempting to apply to every job you're even a little qualified for, but I believe it's better to save your credits for gigs you know are a great match.
I use the following 3-pronged approach in my selection process:
1. Use a filtered search
The first step to finding relevant and high-quality listings is selecting the right keywords for Upwork's job search.
For example, as a writer and editor with SEO expertise, I typically use search terms like "SEO writer", "SEO editor" or "blog".
If you're really specialized in a particular industry – like healthcare for example – you might even consider searching terms like "physician" or "nurse".
A great way to speed up your job search is by using Upwork's filtering features. You can filter gigs in several ways, including:
Number of Connects to apply
Job type (hourly rate or fixed price)
Compensation amount
Number of client hires
Client location
Hours per week
Experience level
For example, an established freelancer may only want to see jobs paying more than $70 per hour that require Expert-Level skillsets.
Meanwhile, a newer freelancer may just want to search for jobs requiring less than two Connects to apply or for clients with a large number of hires. This allows you to maximize your Connects while only seeing clients with a consistent hiring history.
2. Ignore older job listings and job descriptions that lack detail
Now that you've filtered down your results to more relevant job listings, you can narrow your search even further by ignoring older listings and jobs with limited details.
For example, I advise skipping over listings that include only a sentence or two about the job.
After all, there's not enough information for you to craft a highly-personalized proposal. And if you can't create a detailed proposal, there's a good chance you'll be wasting valuable Connects by applying.
The only exception would be if the listing mentions something highly relevant to your expertise.
For example, imagine you're a writer with soccer coaching experience and the listing mentions that experience as a prerequisite. You can probably win this job quite easily because there's a very small pool of candidates with this specialized expertise.
Additionally, you can typically ignore listings that have been up for more than a few days. Once the job has been up for a while, most clients have already finished shortlisting potential freelancers.
So, it's a good idea to check up on new listings every day or two to make sure you don't miss anything that may be a perfect fit.
3. Check The Job Description's Prerequisites
You now know how to filter out irrelevant gigs and how to spot high-quality job posts.
However, there's one more thing to consider before you start sending proposals: Make sure to read the job description carefully to ensure you fit the prerequisites.
For example, though I have lots of SEO experience, I typically only apply to jobs related to blog SEO. If a listing requires the candidate to perform both blog and local SEO duties, I keep scrolling.
There are two reasons for this.
First, blogging SEO is the type of work that excites me the most.
Second, most of my experience is in the blogging SEO realm.
So, I think it's better to leave local SEO jobs to those who specialize in it (and can do a better job than I can).
Remember, you only want to apply to gigs that you have a high likelihood of winning.
Applying to gigs where you only meet some of the hiring criteria can easily deplete your number of Connects.
3. Tailor Your Proposals
Once you find a gig that's a close match for your skill set and expertise – you're ready to write a cover letter!
Ultimately, this is the most important step to securing interviews and winning clients. So, it's important that you spend a lot of time on it.
You should avoid simply using a copy-paste template. In fact, it's not unusual for me to spend an hour or more crafting a single proposal for a job I really want.
You should try to accomplish two things with each proposal you send.
First, you should demonstrate your expertise and how your skill set can help the client. Explain why you stand out from other candidates for the position. For example, if you're a writer, you may consider developing an outline for the piece and including it in your cover letter (that's how I won this blog-writing gig!).
Second, demonstrate a personal connection to the job. For example, I was recently hired by a music brand seeking an SEO consultant. In the job listing, they explained that their focus was a particular genre of music that I happened to like. Though I had no consulting experience at the time, my passion for the position helped secure the gig. In my cover letter, I mentioned that I was excited about the project because I liked the music.
Remember – if you can demonstrate both skills and passion in your cover letter, you have a great chance of securing the job – even without a paid boost.
Of course, I also demonstrated my wealth of SEO knowledge … which leads us our next tip …
4. Develop an awesome portfolio
Developing an awesome portfolio is the most important tip on this list – even if you have no prior freelance experience!
If you can show prospective clients examples of your work, they'll know what to expect.
If clients have no idea what to expect, you can boost every one of your proposals on Upwork and still not get an interview.
When I first started on the platform, my portfolio consisted of a few articles I wrote for a content marketing company. But I later added additional articles from my own blog where I explain how SEO works.
You can even link to an external blog or portfolio site in your proposals, as I often do. Just make sure the external site doesn't feature a way to contact you off-platform as that's against Upwork's Terms of Service.
By being able to demonstrate my abilities alongside my knowledge, I am easily able to win clients.
In fact, I secured my first major client by including my own self-commissioned blog article as a work sample in my proposal.
Additionally, there's an important lesson here: Even if you haven't produced measurable results for clients yet, you can still demonstrate your knowledge and expertise by creating portfolio pieces for yourself.
5. Let the clients come to you
Your ultimate goal on Upwork is to end your reliance on applying for jobs.
You can accomplish this feat by:
Building up your profile credentials (with reviews, Top-Rated badges and a strong Job Success Score)
Securing a few long-term ongoing gigs.
Once you build up your profile a bit, clients will start contacting you via Job Invites. And you don't need any Connects to reply to Invites.
In fact, one of the best gigs I've won on Upwork was working with a company that reached out to me to edit their blog posts.
Within two days, I edited my first article and got paid $200. Better yet, my pay increased to $250 per article just a few months into the gig.
To date, it has been one of my best-paying and most straightforward gigs. And I didn't even need to spend any Connects to apply.
Focus on your reviews, your portfolio, your work history and your credentials and before you know it … clients will be itching to work with you!
What to do if you run out of Connects on Upwork?
If you run out of Connects on Upwork and you've exhausted the free methods, you have two options: Pay or wait.
While Connects are only $0.15 each, if you're not finding success on the platform, you may want to reassess your situation.
For example, if you spend all your Connects and can't secure a single gig, you may consider applying to lower-paying gigs to build your profile by obtaining some quick and easy reviews.
If that doesn't work, you should probably spend more time developing your portfolio.
Even if the samples aren't from paid gigs, showing your work and explaining your process is critical to securing jobs.
Should you boost Proposals On Upwork?
So, should you buy Connects so you can boost your proposals?
While it certainly can't hurt your chances, the truth is that it isn't really necessary.
While Upwork's internal study (mentioned above) found that it can help, freelancers like myself prove that you can be successful without bidding in auctions.
The best way to find more work on the freelancing platform is by developing a great portfolio, being selective in your clients, writing personalized proposals, and consistently delivering quality work.
Are you new to Upwork? Do you buy Connects? What do you think about the boosted proposals feature? Let me know in the comments below.