The elusive Job Success Score (JSS).
Few understand exactly how it works, or how it is calculated. But we all understand its importance.
Whether you're new to Upwork and trying to figure out exactly what this Job Success Score thing is all about, or you're currently trying to figure out how to improve on your current score, I've got ya covered.
I am a six-figure freelancer who has earned over $600,000 on the Upwork platform alone in just five years. And for the majority of that time – I've also figured out how to maintain a 100% Job Success Score.
In this article we are going to cover the following topics:
Now, without further ado, let's dive in.
Read Also: Can you make good money on Upwork? How I earned $600,000 in 5 years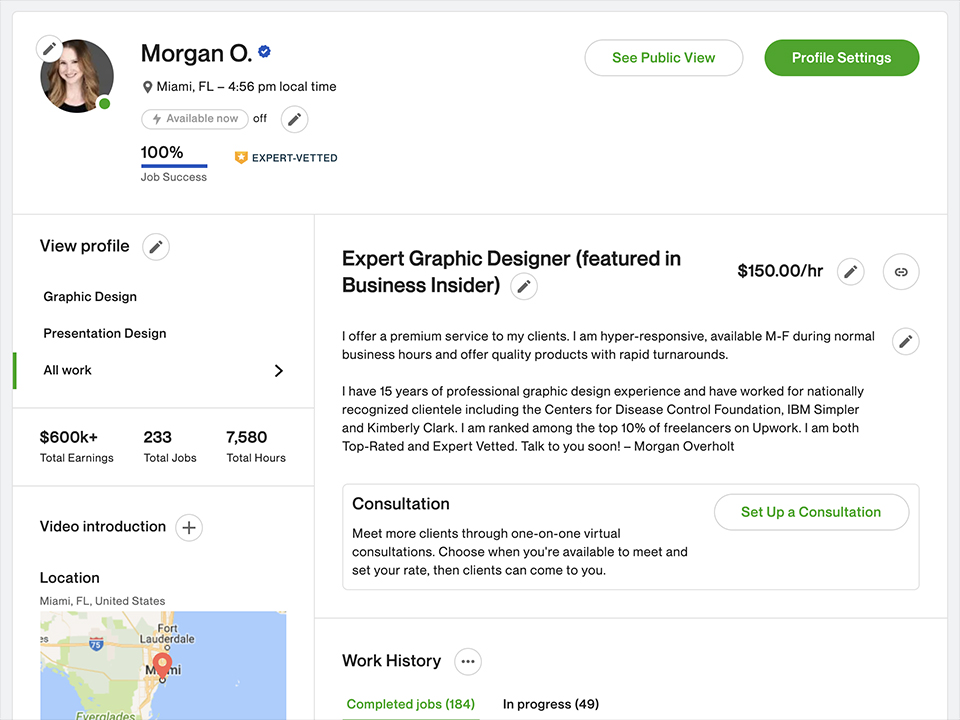 What is the Job Success Score on Upwork?
The Upwork Job Success Score is exactly what it sounds like, it's Upwork's way of scoring your success rate on the platform.
According to Upwork, it's a reflection of your overall contract history and is largely based on client feedback over time.
Consider it a measurement of client satisfaction.
How to get a Job Success Score on Upwork
According to Upwork, in order to obtain a Job Success Score, you will need to complete:
Projects with two (or more) different clients
Four (or more) different contracts within 24 months
How is the Upwork Job Success Score calculated?
Upwork doesn't reveal the exact algorithms behind how the Job Success Score is calculated. However, they do share a few important key factors in their help article on the topic.
1. The JSS equation
First, we have the following equation.
(successful contract outcomes - negative contract outcomes) / total outcomes
Upwork says that this equation, in a nutshell, offers a high-level view of how the Job Success Score is calculated internally.
2. An explanation of averages
Next, we have this explanation of how the Job Success Score is recalculated over time.
According to the help article referenced above, Upwork takes a snapshot of your work history and feedback every 3, 6, 12 and 24 months on the platform. They then use that data to calculate a new score, which refreshes every two weeks.
That's right, every two weeks, Upwork is basically calculating four mini Job Success Scores, applying a weight to each, and using those four metrics to calculate your overall score.
Those four different Job Success Scores include:
Average JSS over the past 24 months
Average JSS over the last 12 months
Average JSS over the last 6 months
A "trending JSS"
The trending JSS is calculated by adding your average score for the last 3 and 6 months and dividing it in half.
And while all of that might sound a bit confusing on the surface I think there are a few key takeaways to be derived from this largely obtuse information.
Key takeaways about the JSS
Positive feedback is crucial to achieving and maintaining a high JSS score.
A large amount of positive feedback can make up for one or two negative outcomes over time.
Your work history over the course of the last 3-6 months carries a bit more weight than your 12 or 24-month history.
It might take up to two years for bad feedback to fully clear the system and no longer adversely impact your JSS.
And while it's not explicitly stated on the Upwork website, this six-figure freelancer feels sure that successful vs negative outcomes are largely based on both private, and public feedback from your clients.
I feel confident in that statement because I know, that when I was a newbie on Upwork, I received nothing but positive 5-star reviews on my profile, but my JSS score would mysteriously dip every so often. I am nearly certain, that private feedback was to blame.
What is a good Job Success Score on Upwork?
Typically, Job Success Scores of 90 and above are considered excellent. Scores of less than 75 can hurt your ability to find jobs on the Upwork marketplace.
I always tell freelancers to look at it this way:
| Job Success Score | Chances of Finding Work |
| --- | --- |
| 90-100 | Excellent |
| 76-89 | Good |
| 75 & below | Fair-Poor |
And try not to panic if your Job Success Score dips below 90, or even 75. With enough time and hard work, there's almost always a way to bounce back – I speak from experience.
I remember a time, during my first year on the platform, that my JSS dipped into the mid-80s.
I panicked and thought my Upwork career had come to an end. But I was able to make a comeback. And for the last several years, I've maintained a perfect score of 100%.
This brings us to our next topic …
How to increase the Job Success Score on Upwork
Things that can improve and increase your Job Success Score include:
Long-term relationships with clients and long-term contracts
Large jobs with higher earnings
Positive client feedback
And on a personal note, I noticed that my Job Success Score fluctuated wildly during my first few months on the platform but seemed to settle after about a year.
So again, do not panic if you're relatively new to the Upwork platform and you see your score dip a bit from time to time. Just focus on winning jobs, practicing good communication with your clients, successfully completing jobs, and asking your clients for good reviews and you'll almost certainly improve your score with time.
Read Also: How to get 5-star reviews on Upwork: A simple trick from a $600k freelancer
Are you struggling to improve your Job Success Score? Let me know in the comments below. Also, don't forget to connect with me on social media using the links below.
PS: If you've found any of the above advice helpful, and you feel so inclined – buy me a coffee (leave a tip) on Kofi!