Seek ye young padawan learner the ways of the Upwork Jedi.
Look no further, you've come to the right place.
I've earned over $600,000 on Upwork working part-time – part-time Upworker, full-time freelancer and blogger – in just five years on the platform.
And if you're a regular reader of this blog, you know that I love telling other Upwork hopefuls all about how I was able to accomplish this incredible feat.
In fact, if you're curious, I invite you to poke around and explore some of my popular articles including:
But today, in this comprehensive guide, we are going to be talking about something that's relatively new to the Upwork platform – Upwork Connects.
Specifically, I'm going to talk about how to get them, and how to use them effectively and most importantly, how to win contracts without them.
Read Also: Can you make good money on Upwork? How I made $600,000 in 5 years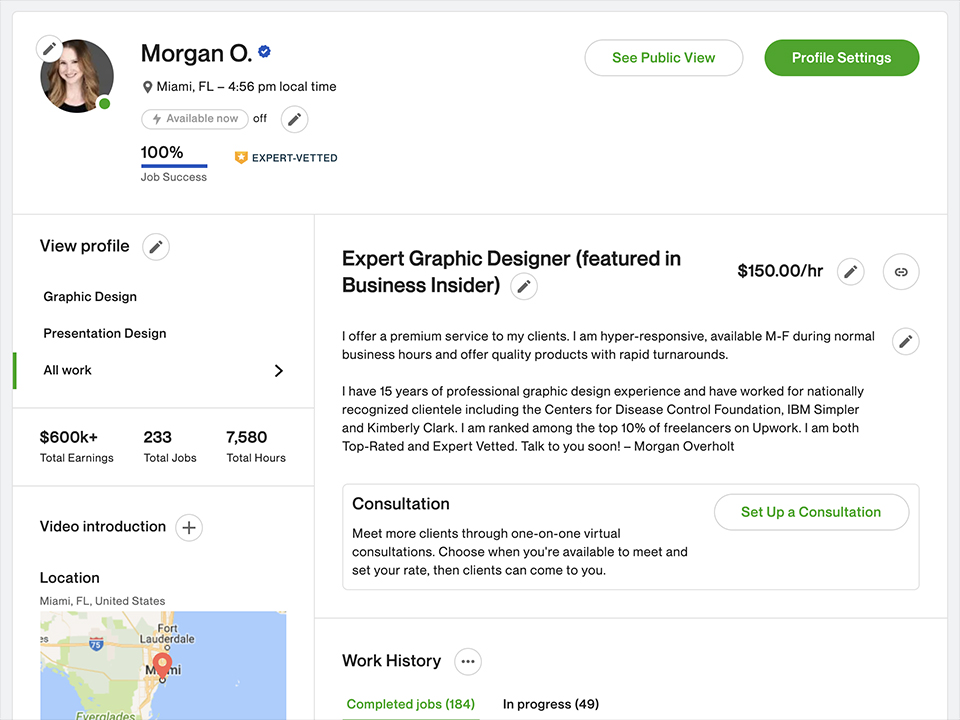 What does Connects mean on Upwork?
Upwork Connects, a relatively new program originally introduced to the Upwork ecosystem in 2019, are essentially a digital token, or virtual currency.
Freelancers "cash in" Connects to bid on gigs found on the Jobs Feed.
Depending on the size, each job requires the freelancer to "pay" between 2-16 Connects.
Smaller jobs require fewer Connects than larger jobs and vice versa.
2 Methods: How to purchase Upwork Connects
There are two ways to purchase Upwork Connects.
1. By the bundle
To purchase a bundle of Upwork Connects, freelancers can simply login to their account and go to Settings>Membership & Connects > Buy Connects.
The bundles will be charged directly to whatever primary billing method you have on file with Upwork. Upwork accepts most major credit cards and debit cards as well as PayPal.
There is no discount available for bulk pricing – more on this later.
2. Subscribe to Freelancer Plus
Alternatively, Freelancers may also choose to upgrade to the Freelancer Plus membership plan for $14.99 per month. Freelancer Plus membership perks include:
80 Connects per month
The ability to view competitor bids for any job
Extended reports and functionality
The ability to keep your earnings confidential
A custom profile URL
A profile that will never be hidden due to inactivity
How much does 1 Connect cost on Upwork?
A single Connect costs $0.15 when purchased in a bundle.
Again, Connects are sold in a minimum quantity of 10 (for $1.50 USD), and there is no bulk discount in effect. Connects are going to cost you at least $0.15 each no matter how you slice it.
In fact, there's really no financial benefit to buying Connects in large bundles.
And remember, small jobs, depending on budget and duration can cost as little as 2 Connects to apply. Larger jobs with longer durations and bigger budgets can cost up to 16 Connects to apply.
How is Upwork making determinations about job size you ask?
Great question. Like the Job Success Score, they don't reveal their exact calculation methods.
However, I have a good reason to suspect it largely depends on the client's own description of the project.
Below, is an actual screenshot from the client side of Upwork, where the platform prompts the client to guesstimate a size. And guess what? Their options are small, medium and large.
By default, the Upwork system recommends "medium". Taking into account that most people are probably rushing through this screen when posting a job, I'm going to make an educated guess that this means the bulk of jobs you'll find on the Jobs Feed are "medium" in size, and likely require between 6-8 Connects to apply.
6 Methods: How to get free Connects on Upwork
There are six ways to get free Connects on Upwork.
1. Registering for a new account and passing the Readiness Test
Freelancers receive their first 40 Connects for free upon creating a freelancer account on the platform.
This gives new freelancers a one-time starter set of 40 Connects to spend while bidding for jobs. This will allow them to apply for roughly 3-20 jobs before having to spend a single penny.
2. Winning and responding to interviews
Freelancers may also earn an additional Connects bonus by winning and responding to interviews. The number of Connects in that bonus will vary based on a variety of undisclosed factors.
Upwork keeps weird secrets.
It is important to note here, that you don't even have to win those jobs to get the free Connects. You just have to respond to the interview requests.
3. Earn the Rising Talent Badge
Freelancers receive an additional 30 Connects when they earn the Rising Talent badge.
Read Also: Upwork Rising Talent Badge: How to Get It, What Happens if You Lose It
4. Collect free Connects every month
Freelancers with a Freelancer Basic account (the free plan everyone is on by default unless they upgrade) will also receive an additional 10 Connects each month. Freelancers with Freelancer Plus accounts ($14.99 per month) receive 80 Connects each month.
Unused Connects roll over into the next month.
5. Complete an Upwork Skill Certification
Upwork also offers a one-time free Connect bonus for completing an Upwork Skill Certification.
But there's a catch … these certifications are currently offered by invitation only.
6. Redeem a Connects reward
Upwork also occasionally offers free Connects as part of a limited promotion like an event or a survey which can be redeemed by going to Settings > Membership & Connects > Buy More Connects and entering the code in the promo code box.
How many bids can I make on Upwork for free?
A brand new freelancer who has just registered for an account on the Upwork platform will be given a total of 40 Connects to start. This means they will be able to bid on roughly 3-20 jobs, depending on the size of the job, for free.
Do I get Connects back if I withdraw a proposal?
No, freelancers do not get their Connects back if they withdraw a job proposal. They will only receive a Connects refund if the client cancels the job without making any hires.
Do Upwork Connects expire?
Unused Collects rollover from month to month. Connects expire 1 year from the date of receipt. There is no limit to the number of Connects you can keep in your account at one time.
How do I get unlimited Connects on Upwork?
It is not possible to get unlimited Connects on Upwork. However, it is possible to no longer need them over time.
For instance, I haven't used a single Connect in probably over a year.
You see, Upwork Connects are only required for bidding on jobs via the Upwork Jobs Feed.
And top earners, like myself, don't need the Job Feed to find jobs.
Today 100% of my work on Upwork comes from the Project Catalog or Upwork Invites – neither of which require Connects.
How many Upwork proposals should I send a day?
Here's a little bonus tip for all the new talent out there.
There's no hard and fast rule about how many Upwork proposals you should be sending in a single day.
However, I can tell you from first-hand experience, that when you're just starting out on the platform, you'll probably want to consider sending anywhere from 2-3 proposals each day.
You will also want to target two types of jobs:
Small jobs that you can complete quickly/easily
Big jobs with long-term contracts
Small jobs are easier to win and will help you "level up" your Upwork profile a bit faster.
Upwork veterans all agree that it's exponentially easier to win jobs on Upwork after you have a couple of 5-star reviews on your profile
But Large jobs with long-term contracts are the true key to finding success as a freelancer – both on and off the Upwork platform.
Professional freelancers know that long-term jobs typically provide more long-term stability, better pay, more predictability and more word-of-mouth referrals.
Plus – they make the Upwork algorithm happy. And a happy Upwork algorithm usually means an easier path to earning the Top Rated Upwork Talent Badge, and a 100% Job Success Score.
Want to know how to convert those potential clients into paying clients? Check out my article on Upwork proposal writing tips.
Are you new to the Upwork freelancer platform? How many Connects did you have to purchase before winning your first job on the platform? Let me know in the comments below. I would love to hear from you.
PS: Don't forget to connect with me on social media.
PS: If you've found any of the above advice helpful, and you feel so inclined – buy me a coffee (leave a tip) on Kofi!