Selecting the right headshot for your Upwork profile can make or break your success on the platform.
When I joined the freelance marketplace in 2017, I knew that my profile photo would be the first thing prospective clients would see. And as a then-aspiring full-time freelancer, I knew I had to make a great first impression.
Fast forward six years and I've now made over $600,000 – approaching $700,000 – on the platform and am able to fetch an hourly rate of up to $150 (in the graphic design niche).
Needless to say, while I can't contribute all of that success to my profile picture alone – quite a bit of hard work was involved as well – I am certain that it played at least played a major role.
Read Also: Upwork Profile Examples and Tips From Six-Figure Freelancers
In this article, I am going to show you the exact profile picture that I've been using for the last six years to attract high-end clientele and win 4-, 5- and even 6-figure contracts on the platform. I am also going to share my top tips and tricks – a checklist if you will – for shooting your own professional-looking headshot.
Editor's Note: In the past six years I've obviously aged a bit. I've also changed my hair as of late. And so, I realize it's nearly time to change my profile picture soon just to keep my profile current and up-to-date.
But first, let's answer a few frequently asked questions about Upwork profile pictures.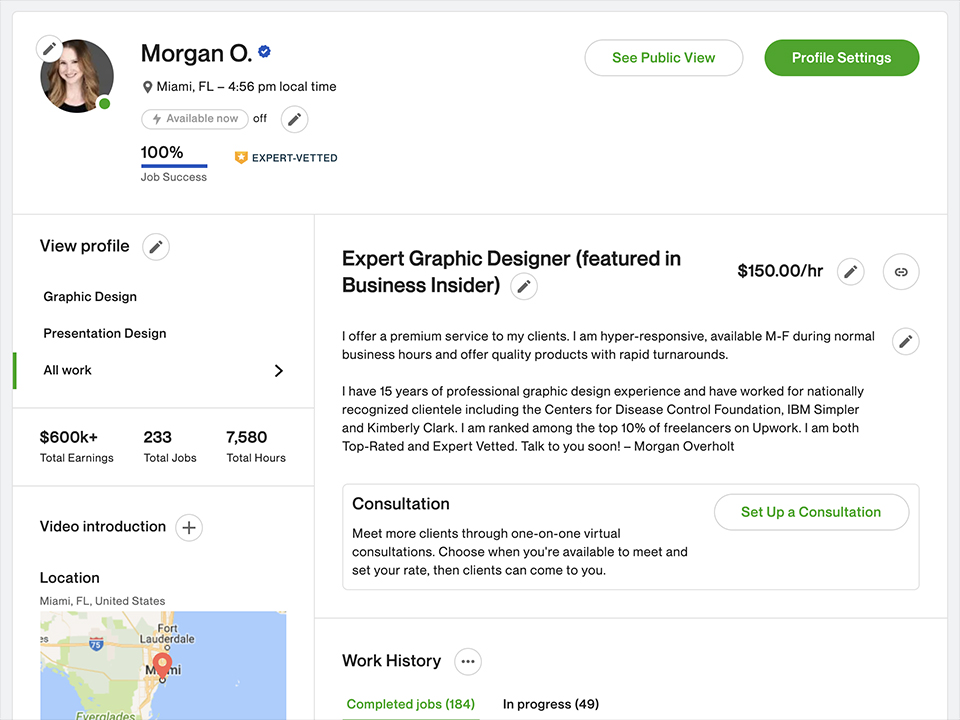 Do you need a profile picture on Upwork?
Yes, all Upwork freelancers are required to have a profile picture on the platform. However, Upwork clients are not.
Identity verification on the freelancer side of Upwork is a top priority for the company and keeping an up-to-date profile picture is an important factor in that process.
I wish Upwork would also require it on the client side of the platform too as I think it would help cut down on scams and fraud. But at the time of this writing, the requirement remains one-sided.
What is the size of an Upwork profile picture?
An Upwork profile picture should maintain a 1:1 ratio and be at least 250 x 250 pixels to 4000 x 4000 pixels in size.
Allowed formats are .jpg, .jpeg, .png and .gif with a max file size of 5 MB.
What profile picture should I use on Upwork?
Every good profile picture shares a few common attributes.
With this in mind, below are a few of my top dos and don'ts, as well as a few examples of each.
Editor's Note: Anyone with a smartphone has the ability to take their own professional-looking headshot. However, if you have a few dollars to spare, I highly recommend paying a professional photographer for a formal headshot session. I've done this multiple times over the years and have never regretted the splurge.
1. Select professional attire
First, you will want to select professional attire that makes sense for your area of expertise for your photoshoot.
Luckily, your profile picture will only feature a tightly cropped image of your face, neck and shoulders so you don't necessarily have to worry about a head-to-toe outfit. But you do want to make sure that your top half features a simple but professional look.
Ladies might want to consider a blouse or dress shirt and blazer. Gentlemen may want to consider a collared shirt – like a polo – or even suit and tie.
For my shoot, I selected a simple black dress shirt with peep-hole shoulders.
Steer clear of t-shirts, leisurewear or attire with any sort of distracting messaging. Women may also want to avoid off-the-shoulder and strapless tops as they may make you appear that you aren't wearing anything on a tightly cropped headshot.
2. Find good lighting
Next, you'll want to make sure your photograph is well-lit.
If you don't already own one, consider getting a small ring light with a phone holder in the center. Using the timer function on your smartphone, the right ring light will enable you to shoot your own professionally lit headshot from the comfort of your own home.
This ring light on Amazon even comes with a wireless remote shutter and currently retails for $29.99 (at the time of this writing) and can even double as a video-conferencing Zoom light for job interviews later on.
Alternatively, if a ring light is not in your budget, try facing a window for natural, yet diffused sunlight.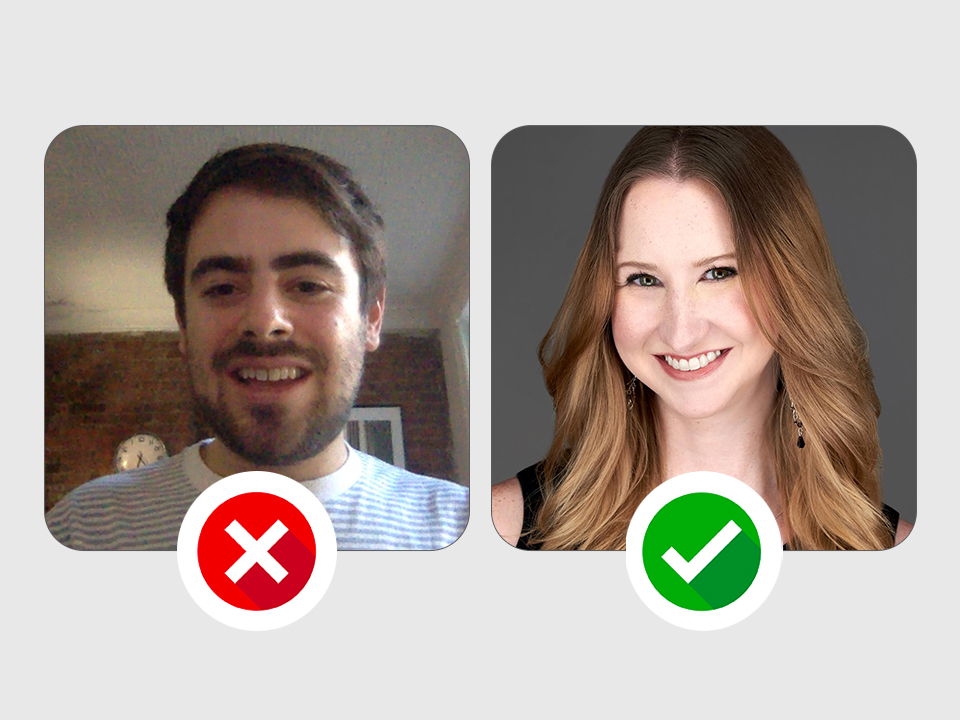 3. Choose a clean background
Also make sure to select a clean, preferably solid-colored background.
It doesn't matter if the background is light or dark – just make sure it contrasts well with your face and clothing.
You may want to select Portrait Mode on your smartphone if shooting your own to create a lens-blurred background to keep the focus on your face.
4. Look at the camera
This sounds like a logical step, but you'd be surprised by how many people tend to forget to actually look at the camera.
5. Smile
Additionally, be sure to offer the camera a natural smile.
According to Psychology Today, smiles can have a number of benefits including making you appear younger and thinner as well as making you seem more courteous, likable and competent to onlookers (like potential clients).
6. Keep a tight crop on your face and shoulders
Next, be sure to keep a tight crop on your face.
A cropped headshot should begin at the crown of your head and end just below the top of your shoulders.
7. Avoid filters & heavy editing
As tempting as it may be in a world where instagrammable filters have become the norm – a professional headshot is not the time or place for them.
Minor adjustments – like removing a pimple or a blemish or adjusting exposure and contrast – are perfectly acceptable as long as the finished product doesn't look obviously edited.
8. Hire a professional
Finally, if it's within your budget to do so, consider hiring a professional photographer.
In most cities, you can book a professional headshot session for under $100. I believe it's an investment you won't regret. A truly professional-looking headshot will put you head and shoulders above the competition (pun entirely intended).
Not sure how to how to hire a professional photographer? Just look for one in your area on Upwork!
Who knows, you might end up with not only a set of professional headshots but also some invaluable experience with the client side of the platform.
Where are you in your Upwork journey? Let me know in the comments and don't forget to connect with me on social media using the links below.
Also, be sure to check out some of my other popular Upwork-related blog posts including:
PS: If you've found any of the above advice helpful, and you feel so inclined – buy me a coffee (leave a tip) on Kofi!
*Many thanks to Shutterstock photographers Martin Vecera, BigLike Images, DavideAngelini, Makhh, Tirvi & Cabeca de Marmore for the example headshots used throughout this article. All photos were licensed for editorial use on Feb. 2023.