Upwork, for the uninitiated, is the world's largest online freelance marketplace.
Freelancers join the platform to find gig work.
Business owners and clients join the platform to find professional freelancers for hire.
And in this new era of remote work, Upwork has become more popular than ever.
If you're reading this, there's a good chance you are already, at least somewhat, familiar with the Upwork platform. But if you're like me, you also sometimes find the Upwork hiring process to be somewhat confusing.
This conundrum is likely what brought you to this article today.
And if that's the case – congratulations, it's your lucky day! I am here to help.
For a bit of background on me, I am both an Upwork client who has spent over $10,000 hiring freelancers on the platform, and a freelancer who has earned over $600,000 working for clients.
Pro-Tip: If this is your first time using the platform, you might also want to check out my recent Upwork review here.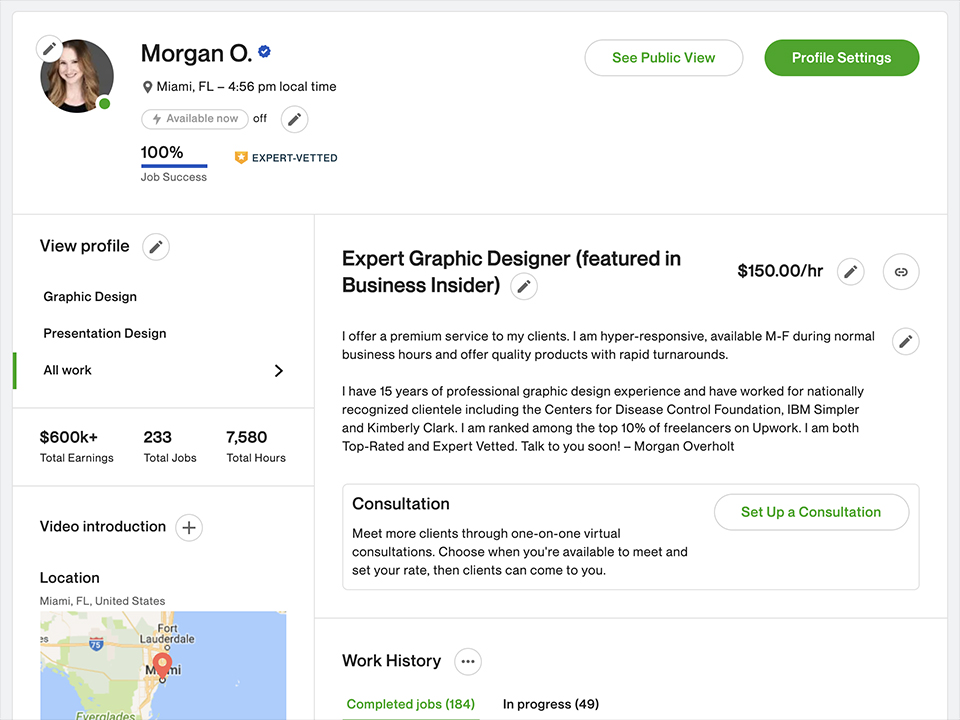 How to hire someone on Upwork
1. Create an Upwork account
First, if you haven't already done so, you will need to create an Upwork client account.
If you're brand new to Upwork, you can register for a client account here.
If you are already a freelancer on Upwork, you can simply add a client profile to your existing account by going to Settings > Contact Info > Create New Client Account.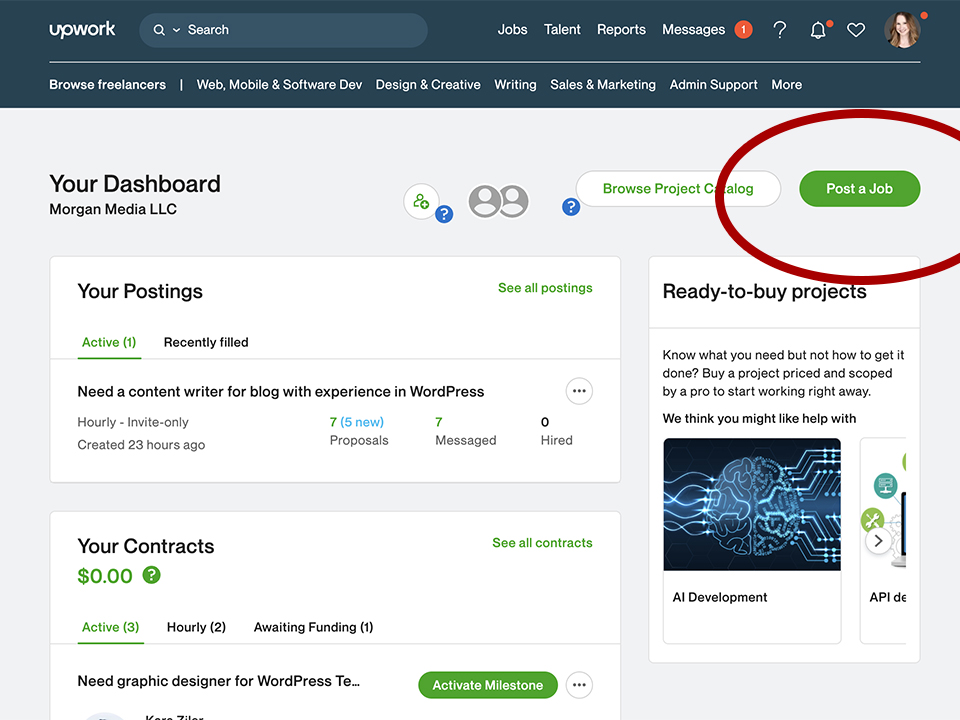 2. Create a job post
Regardless of whether or not you know who you want to hire, all non-Enterprise clients, on all non-Project Catalog jobs will have to create a job post in order to hire a freelancer.
To post a job, simply login to your Upwork Dashboard and click on the green button that reads "Post a Job".
3. Choose between short-term and long term
After clicking on Post a Job, Upwork will take you through a series of screens. The first screen will ask you whether or not the job will require short-term work (less than 30 hours per week) or longer-term work (more than 30 hours per week).
Those who have used Upwork to hire previously will be given the option to reuse a previous job post.
4. Write a title for your job post and select a job category
Next, you will be asked to write a title for your job post.
I would strongly suggest using keywords in your title related to the job like "UX", "graphic design" or "blog writing" to attract independent professionals in those fields.
Here are a few sample titles for a bit of inspiration:
UX designer to bring website mockup and prototype to life
WordPress developer needed for a website redesign
Graphic designer needed for company logo
Pro-Tip: Do not mention your name, your company name, or any other personal details anywhere in the job post. Listing personal information that could be used to identify you in this phase of the job posting process is against Upwork's Terms of Service. Upwork doesn't want freelancers reaching out to prospective clients outside of the platform.
5. Add a list of skills
Next, you will be asked to add a list of applicable skills related to the job.
Not sure what to list? No problem, Upwork will make a few AI-based recommendations.
6. Estimate the scope of your work
After selecting a list of skills, you will be asked to roughly estimate the scope of the work.
Don't stress yourself out too much with this step. This isn't Who Wants to be a Millionaire. These are not your final answers.
It is believed that Upwork mostly uses this information to determine how many Connects to require from the potential freelancers for bidding. Typically speaking, the larger the job, the more it will "cost" the freelancer to bid on the job. The smaller the job, the less it will "cost" the freelancer.
Your options on this screen include:
Large: Longer-term with complex initiatives
Medium: Well-defined projects
Small: Quick and straightforward tasks
You will also be asked to roughly estimate how many months will be required to complete the project.
Finally, you will be asked to select the freelance level of expertise.
Your options will include:
Entry: Looking for someone relatively new to this field
Intermediate: Looking for substantial experience in this field
Expert: Looking for comprehensive and deep expertise in this field
On a personal note, expert freelancers like myself sometimes shy away from job posts looking for beginners. If you want the job done right, you'll want to select either Intermediate or Expert here.
7. Select a location
Next, you will be asked to select whether or not you prefer the talent to be U.S. based. You will also be asked about time zone and country preferences if any.
Pro-tip: You can safely expect more proposals if you select a worldwide talent pool. You'll also have an easier time finding the right freelancer for the job if the work requires specific subject matter expertise.
8. Indicate a budget for the project
This, in my opinion, is the trickiest part. Especially when you have no idea what the project should cost.
Far too often, I see clients indicate a preference for a lower hourly rate, which frequently scares off the experts with higher hourly rates, but would be able to complete the job in a fraction of the time.
As an example, I once hired two freelance artists to create a simple illustration.
The first artist was a beginner who charged $10/hour. The second artist was an expert who charged $60/hour.
The first artist spent 11 hours on the project and charged me $110. The second artist completed the job in just 2 hours and charged me $120.
A low hourly rate doesn't always mean you'll pay substantially less if the freelancer is less experienced.
This is why I suggest just doing as I do – indicate a wide hourly rate range. Sometimes, I'll even list ranges anywhere from $20-$100 an hour. I then encourage freelancers to provide a rough total project cost estimate in their proposals (more on this in the next step).
Alternatively, you could also just enter a top-line, fixed-price project budget.
And remember, nothing is set in stone here. Freelancers of all shapes, sizes, and hourly rates will submit proposals for your job post.
The information collected on these screens just helps give potential freelancers a ballpark idea of what to expect.
9. Write the job post
Next, you will be taken to a screen where you are asked to write the body of your job post.
Every well-written job description should include a brief description of the job, a list of deliverables, project preferences and examples of similar work (if any) budget details and a deadline.
Unsure of what to write here? Feel free to steal my template:
I am looking for a [graphic design freelancer] who has experience with [logo creation] to create a [branding guide] for my business.

I prefer [a clean modern style], I have attached a few examples of [logos that I love] to this job post.

Deliverables will include [a vector logo, a one page stylesheet and a favicon].

My budget is [flexible, and I encourage you to include a rough project estimate or quote with your proposal].

My deadline is [October 1].
You can also add a few screening questions, advanced preferences and job post preferences. But I would largely suggest skipping these steps. Talented freelancers like myself find the recommended Upwork screening questions to be a bit cheesy and unhelpful. And indicating too many specific preferences may limit the talent pool.
At most, consider adding 1-2 custom-written screening questions, if applicable and relevant.
Finally, click on the green "Post Your Job Now" button to make your post live.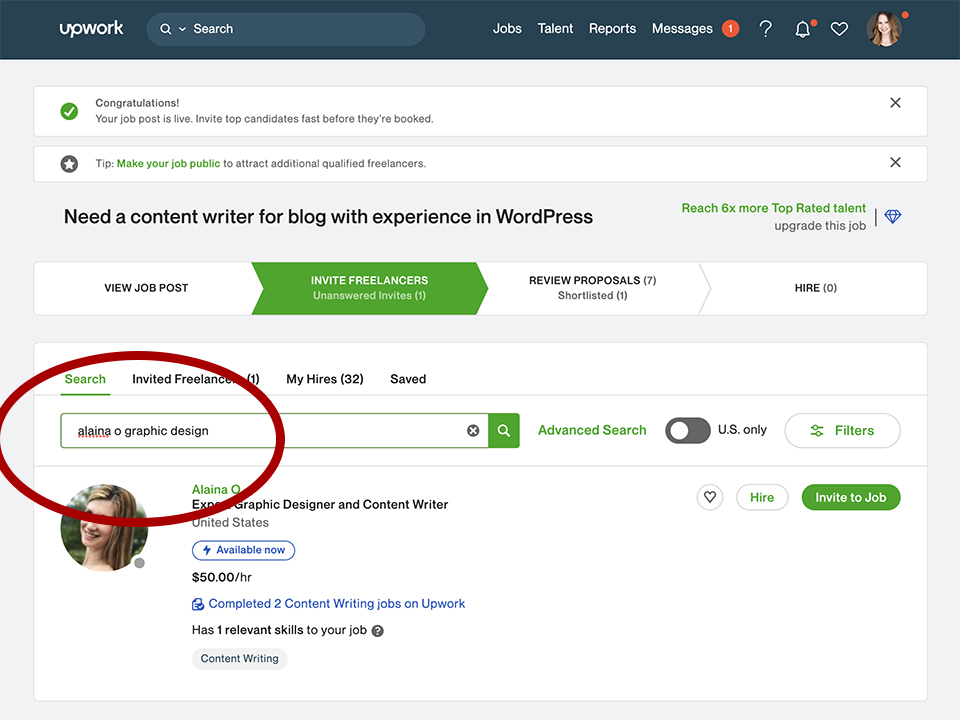 10. Search for a specific freelancer (optional)
Optionally, you can also invite specific freelancers to apply using the invite screen.
Already know who you want to hire? Great, use the following steps to hire that freelancer directly.
Locate the freelancer profile
Click on the hire button
Do you already have an existing relationship with an Upwork freelancer? Just ask them for a link to their Upwork profile. If you've successfully followed the above steps, you will see a hire button in the upper right-hand corner of the profile. If you don't have a link to that freelancer's profile, your best bet is to search for them using their first name, last initial and specialty.
For example, my go-to graphic designer freelancer is Alaina O'Neal. When I can't find the link to her profile, I simply type in "Alaina O, Graphic Design" and she pops right up.
It is important to note, that non-Upwork Enterprise clients will have to create a job post before hiring freelancers. And multiple freelancers can be hired for a single job post.
11. Review proposals and conduct interviews
Within minutes of finalizing your job post, you will begin to receive proposals and cover letters from prospective freelancers.
As you vet those proposals, be sure to take a moment to review their profiles and work history. Look for glowing feedback, positive reviews and a healthy Job Success Score. Also look for work samples, if relevant, for further proof that the prospective freelancer knows how to get the job done.
Shortlist top candidates, and archive those who are not a good fit for the job using the thumbs up and thumbs down icons.
Send messages and inquiries to those you are most interested in speaking with and be sure to ask plenty of questions upfront. You may even request a Zoom video interview through Upwork Messenger.
And be sure to download and install the Upwork Messenger app on your phone to be instantly notified when freelancers respond to invites.
When you are ready to hire, simply return to your proposals inbox and click on that freelancer's green "hire" button.
Read Also: How to avoid Upwork fees: Ways to reduce fees from a $600k freelancer
Pro-Tip: Don't be too quick to close the job after you've made a hire. You might need to make a second, or even third hire, on the rare chance the first freelancer fails to deliver.
Is this your first time hiring on the Upwork freelance platform? Found any talented contractors or quality talent lately? Let me know in the comments below and don't forget to connect with me on social media.
PS: If you've found any of the above advice helpful, and you feel so inclined – buy me a coffee (leave a tip) on Kofi!