As a Top-Rated and Expert Vetted freelancer on Upwork who has earned over $500,000 on the platform, you could say I've learned a fair share of tips and tricks over the years.
And if you'd like to read my full story on exactly how I went from $0-$500k in just over 4 years, I encourage you to check out my post on "Can you make good money on Upwork? How I made $500,000 in 4 years."
Read Also: Can you make good money on Upwork? How I made $500,000 in 4 years
But that's not what this article is about.
This article is about one of the biggest questions about the Upwork platform: Can you remove a bad review?
My two removed reviews
First, let's start by talking about the two times I've ever had to remove a bad review.
For context, over the course of my entire Upwork career, I've completed more than 200 jobs.
And out of over 200 jobs, I've only ever encountered this problem twice. And both times, were fairly early on in my Upwork journey.
You'll be happy to know, that if you're just starting out on Upwork, things get easier as you go.
The higher your rate, the more you've earned and the more prestigious your profile, the better quality clients you'll attract over time.
Scenario One: The toxic client
The first scenario involved a cheap client with a pension for scope creep and an inability to effectively communicate. After multiple days and too many hours spent on a $50 job, I informed the client I would be ending the contract.
The client became understandably angry and threatened to have me kicked off the platform.
In this scenario, I was able to remove the feedback on my profile altogether by issuing a full refund (more on that later).
Scenario Two: The disorganized client
The second scenario involved a client who left for a two-week cruise right after hiring me. He instructed me to work with his team in his absence. And here's the fun part – I discovered right after he left that the team didn't seem to know why I had been hired.
After two weeks of working with the team, the client returned from his cruise disappointed that the completed work wasn't a match for what he had in mind.
In this scenario, I was able to have the negative feedback removed from my profile by imploying the Top-Rated removal request perk (again, more on this later).
This action resulted in a "feedback has been removed" comment on my profile.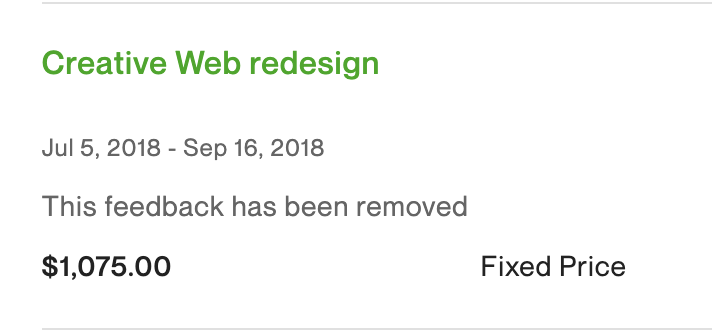 Below, I will break down a variety of options for removing, disputing and even preventing negative feedback from appearing on your profile including the methods I personally used for the two above scenarios.
Before we begin, I want to make two important disclaimers.
First, the best way to deal with bad reviews is to prevent them in the first place by doing your best to work things out with the client.
Removing negative feedback is neither an easy nor a guaranteed process. And in some cases, it can cost you financially.
Prevention is always the preferred method.
Second, in many cases, even removed feedback can still impact your Job Success Score (JSS).
But don't panic, a small dip in your JSS score isn't the end of the world. I personally recovered pretty quickly in both scenarios.
My JSS score bounced back within weeks and I'm currently at 100%.
1. Top-Rated freelancers can request a removal every 3 months
This is the easiest way to remove negative reviews from your profile.
If you are Top Rated, Top-Rated Plus or Expert Vetted and have completed at least 10 contracts, you can contact customer support for a removal request.
Agency removal requests should be submitted by the owner, business manager or agency administrator.
When you contact support, you can request to have it removed only from your Job Success Score, or from both your Job Success Score and your profile.
But I can't imagine a scenario in which you wouldn't request to have it removed from both.
The changes usually take effect the same day.
However, the feedback won't be removed entirely, it will just be replaced with the comment "this feedback has been removed".
Also, your feedback to the client will remain visible unless the client requests its removal. And if the client responded to your feedback, it too will remain visible.
Finally, you can only make a feedback removal request once every three months. So don't waste it as you only have a limited number of opportunities throughout the year.
This is ultimately the route I took in the previously mentioned scenario two. And in now five years on the platform, it was the only time I've ever requested a removal using this method.
2. You can dispute the feedback if it violates Upwork's Terms of Service
This only works in rare cases. But if the negative feedback violates Upwork's Terms of Service, you can request to have it removed by contacting customer support.
You must be able to prove that the feedback does in fact violate Upwork's terms – be prepared to provide documentation.
Success is not guaranteed using this method, and every removal request is handled on a case-by-case basis.
But if you believe your client is in violation, it may be worth a try.
Sample violations, according to Upwork website, include but are not limited to:
A user attempts to coerce another user by threatening to give negative feedback.
A user incites or encourages violence.
The client requests or demands free services.
The client expresses views unrelated to the work in the feedback system such as political, religious or social commentary.
3. Give your client a full refund
Public feedback will only be visible if you've received payment for the work.
If you end the contract before you've been paid, the client cannot leave a review.
If you give your client a full refund for the work, their feedback will be removed from your profile altogether.
Sure, there are a couple of downsides to this option.
First, you forfeit the pay.
Second, the effect on your JSS score will remain.
But ultimately, in many scenarios, it may be worth it just to get out of a bad situation and rid yourself of a toxic client.
This is the route I took in the previously mentioned scenario one.
Sure, I ended up losing a lot of time. But the client was only offering me $50 anyway. And I realized I was better off moving on to a serious client than throwing even more time at the situation for a low payout.
And here's the great news – right after dumping that client and refunding their money, my very next contract ended up being the biggest I've ever had (currently at almost $150,000 and counting).
I hate to think that I might have missed out on making $150k had I stayed in that bad situation, chasing $50, with a rude client who was monopolizing all of my time and energy.
Bonus Tip: The more experience you gain on Upwork, the less you'll encounter bad clients, and bad reviews
I want everyone who reads this to know that things get so much easier on the Upwork platform over time.
In the beginning, it's hard to find quality clients and secure big contracts.
Cheap clients, low budgets and scope creep are all par for the course for inexperienced Upworkers.
Even as a fairly experienced freelancer when I joined Upwork, I struggled at times. And it took a few months to really figure out how to make the system work for me.
With time, you'll learn to better identify client red flags before you even begin. And as you are able to raise your rates and gain traction with 5-star reviews, you'll naturally begin to attract more quality clientele.
Read Also: Client red flags: 8 types of clients to avoid on Upwork, in freelancing
Today, I mostly only work with an established base of Upwork clients who treat me well and always pay on time. I never apply for jobs, and most of the time I leave my profile set to "not available" because I stay so busy. I rarely have the capacity to take on new work.
And I haven't dealt with a "bad client" or a "bad review" in years.
And if I did, I know Upwork would have my back.
Have you had any experience with toxic clients and bad reviews on Upwork? How did you handle the situation? Let me know in the comments below.
And don't forget to connect with me on social media.
PS: If you've found any of the above advice helpful, and you feel so inclined – buy me a coffee (leave a tip) on Kofi!