Are you new to Upwork or having trouble landing that first job?
In this article, I will walk you through the exact strategies that I used in the early days of my own Upwork career to land my first few jobs on the platform.
Topics covered include:
How long it should take to win your first job
The real secret to Upwork success
The proposal I used to win my first job
The proposal I used to win my second job
Key takeaways
How long it took me to earn a full-time income
Before we begin, it is important to note the importance of setting up your Upwork profile. Perfect your profile before you begin applying for jobs.
Read Also: Upwork profile examples and tips from six-figure freelancers
I also want to note that while these are strategies that worked for me when I joined Upwork back in 2017, there is no "one size fits all" approach to Upwork, or to freelancing.
There is no "right way" or "wrong way" to find success on this platform. This article is about my personal journey with few key takeaways that you can hopefully apply to your own.
But first, let's address the elephant in the room by answering the big question:
How long does it take to get your first job on Upwork?
Landing that first job on Upwork, even for the most experienced freelancers, can prove to be quite a difficult task, especially with no reviews on your profile.
In fact, it took me almost two weeks to land my first contract on Upwork.
It is my hope that by reading my articles and following my advice you might be able to land your first job a bit quicker than I did.
But here's the good news, with persistence, it's absolutely possible.
If you haven't already done so, you might also want to subscribe to my newsletter. In return, I will send you my Upwork jumpstart kit complete with a 28-day Upwork challenge (free for email subscribers).
Subscribe to my newsletter:
The real secret to Upwork success: Your first 5-star review
When I joined the Upwork platform back in 2017, I was already an experienced freelancer in the "real world".
At the time, I was earning $75 per hour off-site.
But using an online marketplace like Upwork was a whole different ball of wax.
However, if I know one thing about freelancing, it's that reputation is everything.
Unfortunately, back in 2017, I was a newbie when it came to Upwork. And that tumbleweed rolling across the reviews section of my Upwork profile wasn't helping matters.
And so, I made it my singular mission to secure that first 5-star Upwork review, as quickly as possible, to begin building the stellar reputation I knew would be crucial to my success.
In effort to do so I needed to find a job that fit the following parameters:
A job that was a good fit for my skillset
A job that I could complete quickly
I didn't worry too much about making money on the first job.
While I applied for large and small jobs alike, I knew that a smaller job, at a lower hourly rate, would probably help me reach my 5-star review objective a bit more quickly.
I'm not saying you have to do what I did – lower your rate to win your first job – I'm just saying I think it made it easier to me to get that first "score" on the board.
I also knew that once I had a few 5-star reviews, winning larger contracts would be instantly easier going forward. I also knew I could ask for any hourly rate I wanted once I could afford to be picky.
At the time I tried to look at it as a marketing expense.
But I was also quite discerning about those tiny jobs. I was willing to give a small amount of time to the task, but didn't want to fall into a scope-creep trap or waste days or even weeks on a low-budget project.
And so, for almost two weeks straight, I applied for a minimum of 2-3 jobs everyday that fit those two parameters.
Below is a list of actual jobs that I applied for with my proposed terms and rates during my first few days on the platform:
Graphic Designer for company branding and ongoing work ($39/hour)
Senior Logo Designer ($120 flat rate)
Facebook ad image designs needed ($39/hour)
Looking for someone to design a mobile email template ($39/hour)
Clean and modern dermatology invitation templates ($39/hour)
Graphic designer for jewelry brand, long time job ($39/hour)
Looking for someone to help enhancing some graphics ($39/hour)
Need a website designed, will have a main page with 4 subpages ($350 flat rate)
Convert HTML site to WordPress ($300 flat rate)
We need artists to design graphics for wine/spirit bottles ($39/hour)
Redesign and format an assembly instructions sheet ($50 flat rate)
Looking for an all star designer to help with branded worksheets ($39/hour)
Need someone to redraw logo, make minor changes, convert to vector ($10 flat rate)
It was lucky number 13 that finally produced the first nibble – a $10 logo vector tweak.
I still cringe slightly when thinking back on this time. I also laugh at myself a bit for assuming a "small website" could be completed "quickly" back then. I'm glad I never heard back from those clients – ha!
The actual proposal I used to land my first job on Upwork
This is the actual proposal I used to land that job:
Hi! I am new to Upwork – but I am a 15 year veteran in the graphic design industry.

Because I am so new to this site – I am in need of a great review to add to my profile. And because of this need I have gone the extra miles for your project…

In fact, I have already completed the job – converted your image into a vector and made the requested changes to the running man. I will remove the watermark if you choose me for the job and send you the vector file immediately in exchange for a glowing review.

Please check out my profile for additional examples of my work

It was the first time I had taken the risk of completing the job before the client even had a chance to hire me. But the tweak only took about 10 minutes to complete and I was so desperate at the time, it was a risk I was willing to take.
Luckily, it paid off.
The very next day, Jacob, my first Upwork client paid me $10 and left a glowing review.
Editor's Note: I was not insinuating that I would complete the work without pay. Never work for free on Upwork. You don't have to complete the job ahead of time like I did. But you should think about how to clearly demonstrate and communicate your capability of completing the task at hand.
Three key takeaways, and winning the next job
The key takeaways from that initial experience for newbie Upworkers are as follows:
Clients want assurance you are capable of doing the job
Clients appreciate honesty
5-star reviews are crucially important
With a new found confidence and a shiny new review on my profile, I began applying those key takeaways to the next handful of proposals.
As suspected, landing the next few jobs were a piece of cake. In fact, I was able to secure my second job just two days later.
Below is the actual cover letter that I used to secure my second job.
Hi There!

I am new to Upwork – but not new to graphic design. In fact, I have over 15 years of professional experience. And making infographics is my forte!

I'd love it if you would consider me for this project! I do not have the 100 hour requirement that you've listed but I only just joined this website last week. In the real world, I've logged thousands of hours and charge rates of up to $75/hr so I can assure you this proposal is quite the bargain.
At the end of each engagement, I'd make a point to ask my client for a positive review while stressing the importance of those reviews and how they help me find work on the platform.
With each new 5-star review, jobs became easier to land.
A Bonus Tip: Apply for work on the weekends
While I don't have any data to back this theory up, in my personal experience I also find that Upwork jobs are easier to land on the weekends due to less competition and a high volume of job posts.
Plenty of small businesses use valuable weekend time to launch startups or work on side projects that they don't have time for during the week.
And to be honest, lots of established freelancers who can afford to be picky (like myself) have opted to no longer work on the weekends.
More clients and less competition might just be the leg up you need to score your first job.
How long does it take to start making money on Upwork?
While everyone's definition of "real money" or a "full time income" varies, when I originally joined Upwork I had a very specific personal goal in mind: to make $6,000 per month as a full-time freelancer.
I am happy to report that after three months of consistently applying for jobs and asking for reviews, I was earning $75 per hour and was making roughly $6,000 per month on the platform.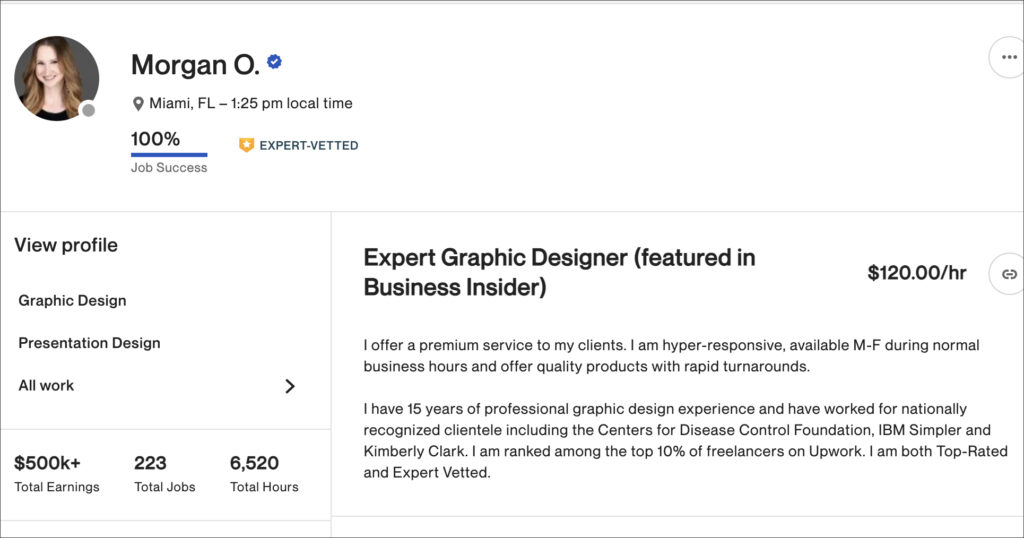 How much do you make today?
I wanted to include this brief blurb about how far I've come on Upwork in the last four years in hopes that it might provide a bit of inspiration.
Today, my solo freelance act has blossomed into a small full-time graphic design agency.
Upwork, currently makes up about 50% of my monthly revenue at an average of $10,000 to $16,000 per month. To date, I've earned $500,000 on the platform. My current hourly rate is $120.
Read Also: How I made $500,000 in 4 years on Upwork
I also recently reached out to Jacob, my first-ever Upwork client and thanked him for giving that newbie Upwork freelancer a shot back in 2017.
Never forget the people that helped make your dreams possible.
Did my "Upwork origin story" offer any insight? Let me know in the comments. Also, don't forget to connect with me on social media using the links below.