Upwork is a great place to find freelance jobs online and make money.
In fact, I've personally made over $600,000 as a freelance graphic designer on the platform.
However, despite being a living testimonial to the power of Upwork, would-be users continue to voice concerns to me about Upwork fees.
Upwork's fees seem to be one of the biggest hangups for would-be freelancers – and even some clients! And it's often the focal point of negative feedback and bad reviews surrounding the platform.
But as you can see from my profile, I haven't those pesky fees get in the way of the ability to earn a small fortune.
Today, I make roughly six figures a year and charge an hourly rate of $150+.
In this article, we will address the following topics:
Read Also: Can you make good money on Upwork? How I made $600,000 in 5 years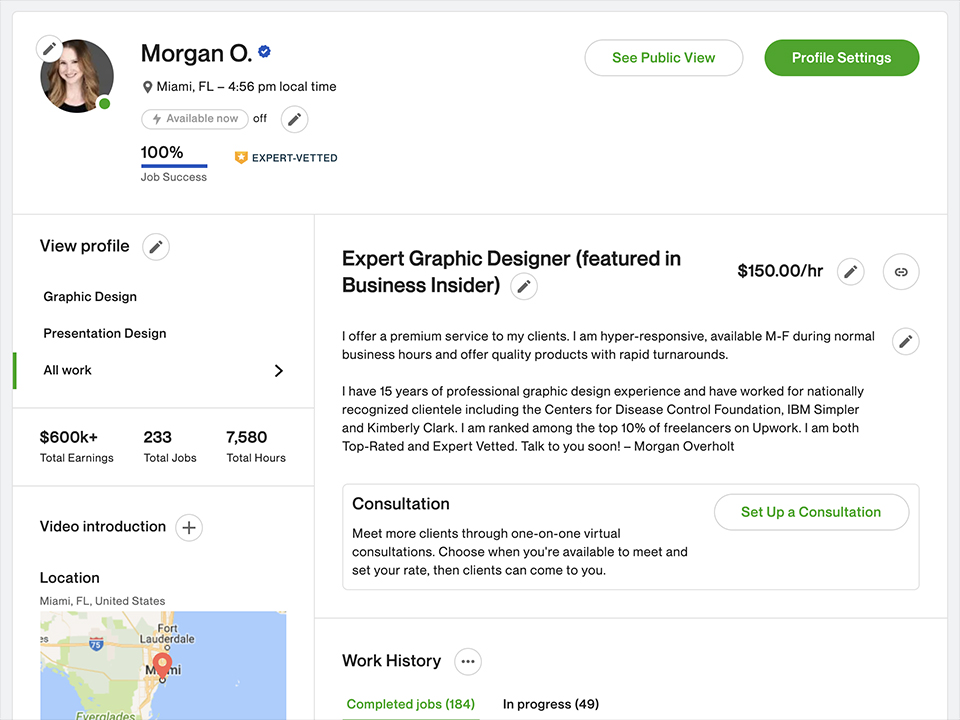 So in this blog post, we tackle the subject head-on.
First, I am going to discuss how Upwork fees work. Then, I will show how, in select cases, the fee can be avoided altogether.
And here's the best news – this is all on the "up and up"!
All of this advice is perfectly in line with Upwork's current Terms of Service.
But first, let's get some of the basics out of the way.
Do you pay for Upwork?
Upwork's base service is free.
However, there are three ways that Upwork makes money off of its freelancers:
Upwork Connects: Upwork asks their freelancers to use something called "Connects" (a form of digital currency) to bid on jobs and boost proposals. At the time of this writing, new freelancers are given 40 free Connects when they successfully register on the platform but additional Connects are $0.15 each.
Upwork Service Fees: Freelancers are also charged a flat 10% service fee on all on-platform earnings.
Premium Subscriptions: Freelancers may choose to upgrade to a premium subscription, for an additional charge.
The free way to use Upwork (Freelancer Basic)
Freelancer Basic accounts (Upwork's free base service) will receive an additional 10 Connects each month with the ability to roll over unused Connects at the end of each month.
Freelancers may also earn an additional Connects bonus by winning and responding to interviews.
Job bidding, depending on the size of the project, will require a freelancer to "pay" anywhere from 2-16 Connects to apply. Freelancers are also given the optional ability to boost proposals for priority viewing for additional Connects. Although, proposal boosting is not required.
Big projects require more Connects to apply. Small projects require less.
This means that new Upworkers, with a starter set of 40 Connects, will be able to bid on anywhere from 3-20 jobs during their first month on the platform for free.
The problem lies in the fact that landing your first job on Upwork can be quite difficult.
I personally applied for about a dozen jobs before getting a single reply. So it's quite likely that you will need to purchase a few extra Connects to land that first job.
Additional Connects can be purchased on an as-needed basis for $0.15 each (plus tax).
And here's the best part – you will become less dependent on Connects over time.
Connects are not required to reply to job invitations. Top-Rated freelancers generally receive so many invites and referrals that they never even bother to look at the Upwork Job Feed.
Plus, I tend to find that potential clients who send us invites or come from a referral are more eager to work with us (and make for better clients in general).
As an Expert-Vetted freelancer on the platform with a 100% Job Success Score (JSS) I never use Connects anymore and haven't had to buy Connects in years.
The paid way to use Upwork (Freelancer Plus)
In addition to paying $0.15 for additional Connects as needed, Freelancers may also opt to upgrade to a paid membership, known as Freelancer Plus.
With a Freelancer Plus account, Freelancers are given 80 Connects each month (versus 10 with the Freelancer Basic account).
Freelancer Plus accounts also come with a variety of other benefits:
View competitor bids for any job
Enjoy extended reports and functionality
Ability to keep your earnings confidential
Customize your profile URL
Your profile will never be hidden due to inactivity
Weekly coaching office hours
Access to the Freelancer Plus group and events
Skip the line for Upwork Skills Certifications
Enjoy a 0% service fee when you bring new clients to Upwork
My advice – The Freelancer Plus account isn't worth it
I actually don't recommend signing up for a Freelancer Plus account.
Quite frankly, it's just not a great value for your money.
And y'all, that's a strong statement coming from me, because I am a pretty big Upwork fan.
But here's my rationale (and I hope Upwork is listening).
Currently, the Freelancer Plus account is $14.99 per month. And the most valuable part of the subscription is the extra 70 Connects per month. (Remember, you get 10 free each month with Freelancer Basic, and 80 each month with Freelancer Plus).
Instead, you could just buy 70 Connects at $0.15 each without upgrading – roughly $10.50 plus tax – which is the best solution in my opinion.
And in my personal experience, I wasn't impressed by the other benefits offered in the upgraded account.
I've held a Freelancer Plus account in the past and never used any of the "premium" features.
I also think that the "extended reports and functionality, including grouping and sorting" should be free. I don't believe customers should ever have to pay for a better UX. But I digress.
So, in my humble opinion, the upgrade needs some improvement or should at least be discounted to $9.99 to be a better value for the money.
How many Upwork Connects do you really need?
For experienced freelancers, I think roughly 100 Connects should be more than enough to land your first couple of jobs. 100 Connects allows you to apply for roughly 7-50 gigs on the platform, again, depending on the size of the job.
For example, your first few days on Upwork might look something like this if you're setting a daily Connects budget of ~16 (which is enough to apply to 2-3 small to medium-sized jobs per day while boosting sparingly).
As you can see, by the end of the week, you'd likely have applied for roughly 12-18 jobs and hopefully, landed at least one.
| Day | Spend | Buy | Balance |
| --- | --- | --- | --- |
| 1 | ~16 | 0 | ~24 |
| 2 | ~16 | 0 | ~8 |
| 3 | ~16 | 60 ( $9) | ~52 |
| 4 | ~16 | 0 | ~36 |
| 5 | ~16 | 0 | ~20 |
| 6 | ~16 | 0 | ~4 |
I personally had to send out about 12-13 proposals over the course of several days (with lots of strategy tweaks along the way) before landing my first small job.
Read Also: I Made $80k on Upwork Without Boosted Proposals or Buying Connects
What fees does Upwork charge?
And then we have those dreaded Upwork fees.
Does Upwork charge a fee to freelancers?
Yes, Upwork charges a 10% flat fee to freelancers on all contracts regardless of contract type, longevity, earnings or account status.
Upwork used to charge a sliding scale fee based on your billings with each unique non-Enterprise client (5% to 10% to 20%). They switched to the flat 10% fee in May 2023.
Upwork freelancer fees
| Client Transaction Type | Client Fee |
| --- | --- |
| Freelancer service fee | 10% on all earnings |
| Connects (optional) | $0.15 each |
Does Upwork charge fees to clients?
Yes, clients will be charged an initiation fee of up to $4.95 for each new contract they create. And, when it's time to pay the freelancer they've hired, they will incur a small payment processing fee of 3-5%.
To be clear, "transactions" include; contracts initiated on the freelancer marketplace, fixed-rate and hourly projects, milestones, catalog projects, the Bring Your Own Client program, bonus payouts and expense payouts.
Optionally, clients may also choose to boost the job posting for greater visibility using a setting called "featured job" for $29.99 (at the time of this writing). However, in my experience, the cost isn't really worth it.
If you're a client on the platform, you may want to keep those fees in mind when setting up your preferred payment method and opt for ACH whenever possible.
Upwork client fees
| Client Transaction Type | Client Fee |
| --- | --- |
| 1x initiation fee (per contract) | up to $4.99 |
| ACH transaction (eligible U.S. clients) | 3% per transaction |
| PayPal transaction | 5% per transaction |
| Credit card transaction | 5% per transaction |
Other (optional) client fees
Do you build the fees into your rate?
There are two ways to look at the fees I've paid to Upwork over the years:
Wow, I've paid over $40,000 in fees – that's awful!
Wow, I've made $560,000 with 92% profit margin – that's amazing!
I've always treated my freelancing career as a business. And as all business owners know, businesses have expenses.
Honestly, I wish Upwork would start marketing their fee a bit differently. "Fee" is such an ugly word. "Profit margin" sounds so much better.
When people ask me if I "build my fees into my Upwork rate", I usually answer: "I build all of my expenses into my rate."
My monthly expenses generally include subcontractors, stock subscriptions, internet service, cloud storage, software subscriptions and more.
For new clients I obtain without the assistance of online platforms like Upwork, I have the added cost of executing contracts and managing my own invoicing (via Fiverr Workspace).
Those services aren't free either.
So yes, I build all of my expenses into my rates.
You shouldn't feel the need to explain this concept to your clients unless they press the subject (and good clients won't).
And I certainly don't volunteer this information to my clients. They don't need to know how I've determined my rates. They just need to know what that rate is.
McDonald's doesn't give me the breakdown on the cost of each slice of cheese they've used on my burger. Walmart cashiers don't explain how the cost of electricity was built into the price of detergent.
How can I avoid Upwork fees altogether?
There are three ways to avoid Upwork fees altogether.
1. Use the 'Bring your Own Client to Upwork' program
Rising Talent and Top-Rated freelancers can ask customer service for a personal "Bring Your Own Client" referral link.
Using this link, you can bring your own clients (or clients who were referred to you by your other Upwork clients) to the platform and wipe out the fee in its entirety.
After your client successfully signs up for a new account and invites you to the job, upon your acceptance, simply email BringYourClient@upwork.com with the contract number. Upwork customer service will handle the rest.
This move can be advantageous if you want to receive all the benefits that Upwork offers (like payment protection) without the added expense of annoying fees. Especially for new clients who you may not fully trust.
2. Lean heavily on off-site referrals
You can also use Upwork to jumpstart your blooming off-site freelance business.
I can't tell you how many times I've had an Upwork client refer me to an off-site client that referred me to three more off-site clients.
Even if you don't plan on utilizing Upwork for the majority of your contracts, if you remember to consistently ask Upwork clients for referrals, it can become the virtual equivalent of throwing gasoline on the freelance fire.
3. Take your clients off the platform (after two years)
Did you know that it is completely legal to take your clients off the platform after two years without violating the Upwork Terms of Service or having to pay the Conversion Fee?
Before Upwork moved away from the 20-10-5 sliding scale service fee in May 2023, I rarely considered de-platforming my older contracts on Upwork.
After all, I was only paying 5% on most of those contracts and I genuinely enjoyed the many benefits Upwork has to offer.
Plus, I genuinely enjoyed the benefits Upwork has to offer.
But since that Upwork has changed that sliding scale fee to a flat 10% fee, it no longer makes sense for me to keep my clients on the platform for more than two years.
But be warned – you will want to wait out the full two-year requirement. If you attempt to take a client off of the platform before the two-year mark, Upwork retains the right to issue a suspension.
And in many cases, this suspension becomes permanent.
Don't ever cheat the platform by biting the hand that feeds. A short-term gain (getting out of a small fee for a couple of years) isn't worth losing the long-term potential earnings on such a large and powerful tool.
Have you had any success using an online marketplace like Upwork to find jobs? What do you think about online marketplaces like Upwork charging a transaction fee? Has the fee structure prevented you from trying Upwork in the past? Let me know in the comments and don't forget to connect with me on social media using the links below.
PS: If you've found any of the above advice helpful, and you feel so inclined – buy me a coffee (leave a tip) on Kofi!