So you joined the Upwork platform.
Worked hard to find that first job.
Clocked some billable hours.
And you can see the money in your Upwork account.
However, there's a problem: It's stuck under the Pending Tab.
The Upwork billing cycle and payment process can be confusing for new freelancers.
I get it. I was once new to the platform too.
Read Also: Can you make good money on Upwork? How I made $600,000 in 5 years
And it can be frustrating when you need the money in your bank account … like, now.
In this article, I will be addressing some of the most frequently asked questions about the Upwork billing cycle, payment schedule and the standard security hold period.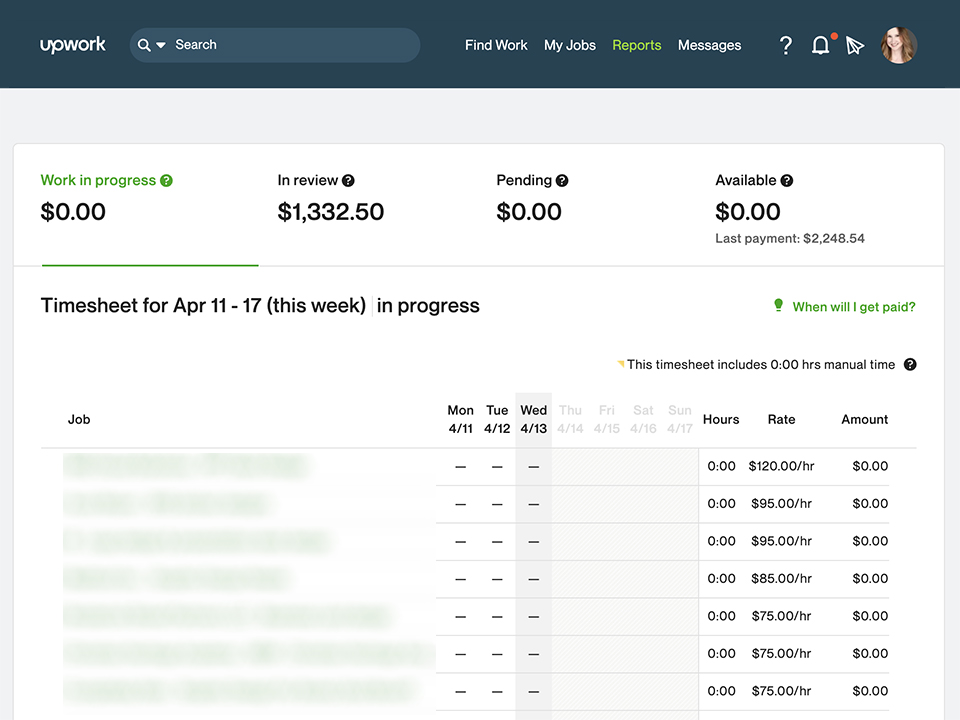 Why is my Upwork payment pending?
To view current pending payments, log in to your Upwork account and hover over Reports. Next, from the Reports drop-down and click on Overview.
The Overview page gives you a glimpse of your current week, pending payments and available balance.
If you see a pending payment in the system, it may be pending for a variety of reasons.
In the vast majority of cases, it's probably pending because of the standard 5-17 day payment schedule (more on that below).
However, in rare cases, payment can also be delayed because of a dispute.
Disputes and Upwork Payment Protection
Luckily, fixed-rate contracts and hours logged with the Upwork time tracker are covered by Upwork Payment Protection (Payment Protection does not apply to manual time).
With Payment Protection, you gain access to an Upwork mediation specialist, should a dispute arise.
The specialist works with both the freelancer and the client to reach a mutually agreed-upon resolution.
If a resolution cannot be reached, the contract enters arbitration.
Upwork engages American Arbitration Association, an independent party, to handle arbitrations for a fee.
How long does it take for Upwork to approve payment?
It can take between 5-17 days to receive payment on the Upwork platform.
There are many factors that go into determining where your payment will fall on that scale including contract type, Top-Rated status and promptness of milestone approval.
Hourly Upwork contracts
It takes between 10 and 17 days to receive payment on hourly Upwork contracts after time is logged.
This applies to time tracked using the Upwork Time Tracker and time that's billed manually in the Work Diary.
The typical process is as follows.
The first week
For non-Upwork Payroll hourly payments, the billing period begins each Monday at 00:00 midnight UTC and ends Sunday at 23:59 UTC. Upwork calls this the Billing Period.
The second week
The client is charged the following week on Monday and given until that Friday to review the work. The client is also allowed to file a dispute during this time frame if they spot a problem. Upwork calls this the Review Period.
The third week
Next, after the Review Period is up, the billing cycle enters its third week – otherwise known as the Security Period.
The Security Period lasts five days and gives Upwork one last chance to clear payments and resolve pending disputes.
Finally, your funds will be made available the next Wednesday.
An available balance greater than $100 will be automatically transferred into the freelancer's account if their payment details are set up correctly.
Refer to the infographic below for a visual representation of the process.
And if you need your money a bit sooner, I have some good news.
In the spring of 2020, Upwork announced that they would be removing the 5-day Security Period for Top-Rated freelancers and agencies working on hourly contracts.
To submit an early payment request, just log in to your Upwork profile, hover over Reports and select Overview from the dropdown menu.
Next, click on the Available tab and look for the Get Paid Now button.
Editor's Note: Billing cycles may vary with enterprise clients.
Fixed-Rate Milestone and Bonus Payments
Fixed-rate milestone and bonus payments are processed much more quickly than hourly contracts.
These payments are made available five days after the milestone approval – or five days after bonus payment submittal.
Upwork provides the following fee schedule to help freelancers better understand when manual payments are available for withdrawal.
| | |
| --- | --- |
| Processed Monday | Available Saturday |
| Processed Tuesday | Available Sunday |
| Processed Wednesday | Available Monday |
| Processed Thursday | Available Tuesday |
| Processed Friday | Available Wednesday |
| Processed Saturday | Available Thursday |
| Processed Sunday | Available Friday |
Clients do not need an additional week to review already-approved milestones. Therefore, the Review Period is essentially skipped.
The manual payment billing cycle looks something like this:
What happens if the client doesn't approve my milestone on Upwork?
Fixed-rate contracts, unlike hourly contracts, rely on manual approval from the client.
Even if the milestone deadline has passed, the payment will remain in escrow until the client logs into their account, reviews the submitted work, and releases the milestone.
This process sounds easy enough.
However, I can tell you from first-hand experience that some clients are better than others when it comes to approving work.
Over the course of the past several years, I've encountered several problems with client delays when it comes to milestones including situations when the client:
loses their Upwork login.
says they "don't know how" to release the payment
says they are "too busy" and they will "get around to it"
demands extra work before approval (also known as scope creep)
And these are just a few examples.
In fact, I've been burned by fixed-rate projects so many times in the past that I now almost exclusively work on hourly contracts.
However, if this is happening to you, there are certain actions you can take in an effort to prompt the client for payment:
Request formal milestone approval
You can request formal milestone approval by logging in to your Upwork account and navigating to My Jobs. Then click on My Jobs again from the dropdown menu.
Next, search for the contract in question and click on Request Milestone Approval.
Formally requesting approval will trigger an automatic 14-day approval period during which the client can approve, dispute or ignore the request.
Ideally, this will prompt the client to approve the milestone and release the payment..
If the client ignores the request, the payment will be automatically released to you after the 14-day approval period has expired.
Contact customer service
Finally, if the formal milestone request method doesn't work and the client is still withholding funds, contact Upwork customer service and tell them what's going on. Be sure to have documented proof that the client is in breach of your agreed-upon terms. They may suggest filing a formal dispute.
For more information on the topic of payments, be sure to check out Upwork's help article entitled "Manage How You Get Paid".
Are you currently waiting on a payment to process? Have you ever had to deal with a difficult Upwork client when it came time to pay? Let me know in the comments below and don't forget to connect with me on social media.
PS: If you've found any of the above advice helpful, and you feel so inclined – buy me a coffee (leave a tip) on Kofi!