I remember the first time I heard about Upwork.
I had just rage quit my full-time salaried job and was trying to figure out whether or not I could "make it" as a freelance graphic designer.
My brother-in-law told me to look into a site called "Upwork". He was also a freelancer at the time and said he had achieved some moderate success with the freelancing platform.
What is Upwork?
Upwork is an online freelance marketplace. Clients come to the platform to look for freelance talent to work on their projects. Freelancers come to the platform to find new clients and make some money.
Upwork's main competitors are Freelancer.com and Fiverr. However, at the time of this writing, Upwork remains the largest freelance marketplace on the internet.
Is Upwork legit?
I was admittedly dubious when I heard about Upwork for the first time.
After all, the internet is chock full of clashing reviews and opinions on the topic of whether or not Upwork is a viable source of income.
The naysayers all echo the same sentiments:
Upwork is a race to the bottom
You can't make money on the platform
There's too much competition on the site
Upwork fees make profitability impossible
Read Also: How to avoid Upwork fees: Ways to reduce fees from a $600k freelancer
But there are also many proponents of the platform who emphatically debunk those negative claims.
In fact, a quick Google search using the term "six figures on Upwork" pulls up a plethora of drool-worthy success stories.
Fortunately, curiosity got the best of me.
I decided to ignore the haters and try the platform out for myself.
Fast forward five years, and I've now earned over $600,000 as a part-time Upwork graphic design freelancer making $150 per hour.
Read Also: Can you make good money on Upwork? How I made $600,000 in 5 years
So much for that "race to the bottom".
So, yes, Upwork is legit.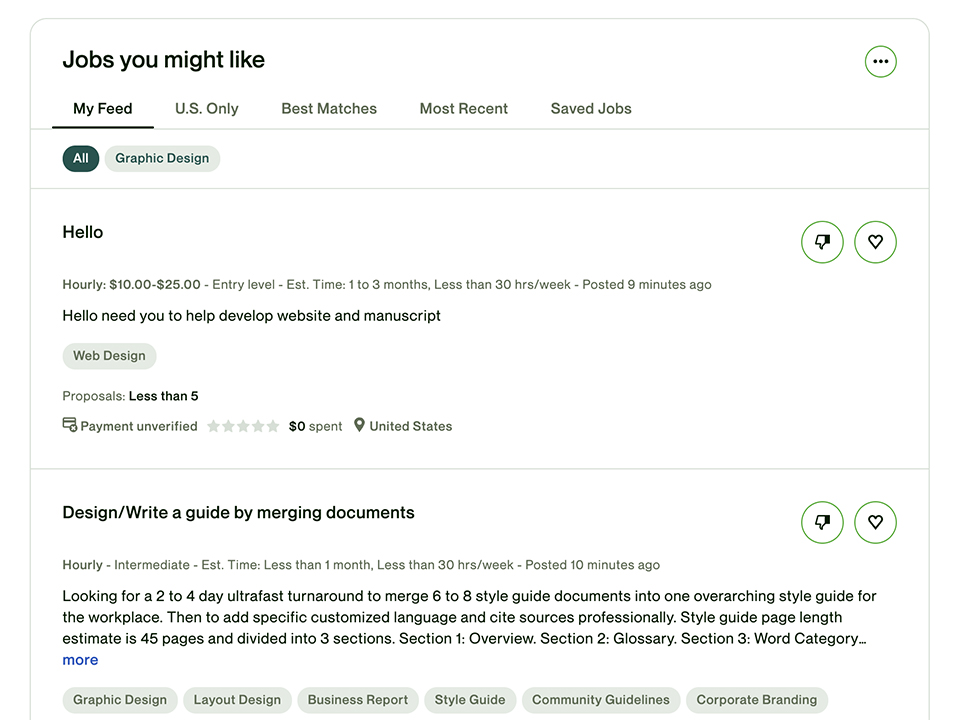 How do you find work on Upwork?
There are three main ways for Upwork freelancers to find jobs on the platform:
The Jobs Feed
The Project Catalog
Job Invites
The Jobs Feed looks similar to a social media feed. It features a list of client-posted gig-based jobs, catered to your specific skill sets. Freelancers use this feed to browse for jobs that sound appealing and send in proposals when they find something that sounds like a good fit.
Some jobs are fixed-rate, and some are hourly. And we will get into the differences between the two a bit later.
The Project Catalog is a relatively new addition to Upwork. With the Project Catalog, instead of browsing for client-posted jobs, freelancers create a set of specific service offerings and packages for potential clients to browse.
It's Upwork's way of competing with Fiverr whose core functionality relies on pre-packaged services.
Finally, we have Job Invites. Clients also have the option of directly inviting specific freelancers to apply for a job.
While the freelancer still has to apply for that job and submit a proposal (with a well-written cover letter) just as they would if they had found the post organically on the Jobs Feed, invites require no Upwork Connects (a digital token used for bidding on jobs) and usually, at least from my experience, result in a much better hire rate.
Read Also: Upwork Connects: Tips on pricing, bidding from a $600k Upworker [2022]
What kind of jobs can you find on Upwork?
The most in-demand jobs and skills, according to Upwork include:
Web design
WordPress design
Web programming
Javascript programming
CSS coding
HTML coding
PHP coding
Shopify design and development
API
Graphic design
Social media marketing
Lead generation
Facebook management
SEO
B2B marketing
Instagram management
Marketing strategy
Social media management
Email marketing
Marketing research
Customer service
Customer support
Email communication
Phone support
Email support
Communication etiquette
Chat support
Answering product questions
Data entry
Administrative support
I've also personally seen a great demand for:
Writing
Copywriting
Content writing
Translation services
HR services
Accounting
Illustration
Transcription
Virtual assistants
You can also use this tool to get a sneak peek of Upwork jobs to see if there's anything available in your niche before you sign up.
Read Also: Upwork jobs for beginners; tips from a $600k freelancer
How do milestones work on Upwork?
As I mentioned earlier, there are two primary types of projects that can be found on the Upwork Jobs Feed: Fixed Price Projects and Hourly Projects.
For Fixed Price Projects, the client and freelancer agree to a flat-rate project price before the work begins. And, depending on the size of the project, that flat rate may also be broken up into bite-sized deliverables known as milestones.
Milestones are determined by the freelancer and the client during the interview phase. However, milestones can be added, edited, and deleted if needed throughout the course of the project.
When a milestone (aka deliverable) is ready for review, the freelancer simply submits the work for approval. Once approved, any funds in escrow for that particular milestone will be released. In the rare case that a client fails to respond, the funds will be automatically released after 14 days.
Pro-Tip: Never begin work until the next milestone has been fully funded else you may risk forfeiting payment.
How does hourly pay work on Upwork?
Alternatively, you may also choose to work hourly.
With Hourly Projects, a freelancer is paid for their time. They may log that time using either the Upwork Time Tracker or the Manual Time Log Work Diary. However, only the Upwork Time Tracker logged time is covered by Upwork Payment Protection. Manual Time may be subject to client dispute.
On a personal note, I tend to prefer hourly projects on Upwork for two reasons:
As a graphic designer, most of my projects end up turning into longer-term contracts and I like the flexibility an hourly contract provides.
I think milestones can be confusing to both clients and freelancers alike. This confusion, on more than one occasion, has resulted in me failing to receive full payment when I didn't notice that the milestone hadn't been fully funded. I've also had to issue refunds for overpayment when the client accidentally released multiple milestones at once.
For me, hourly contracts just put everything on autopilot and tend to make my life a bit easier.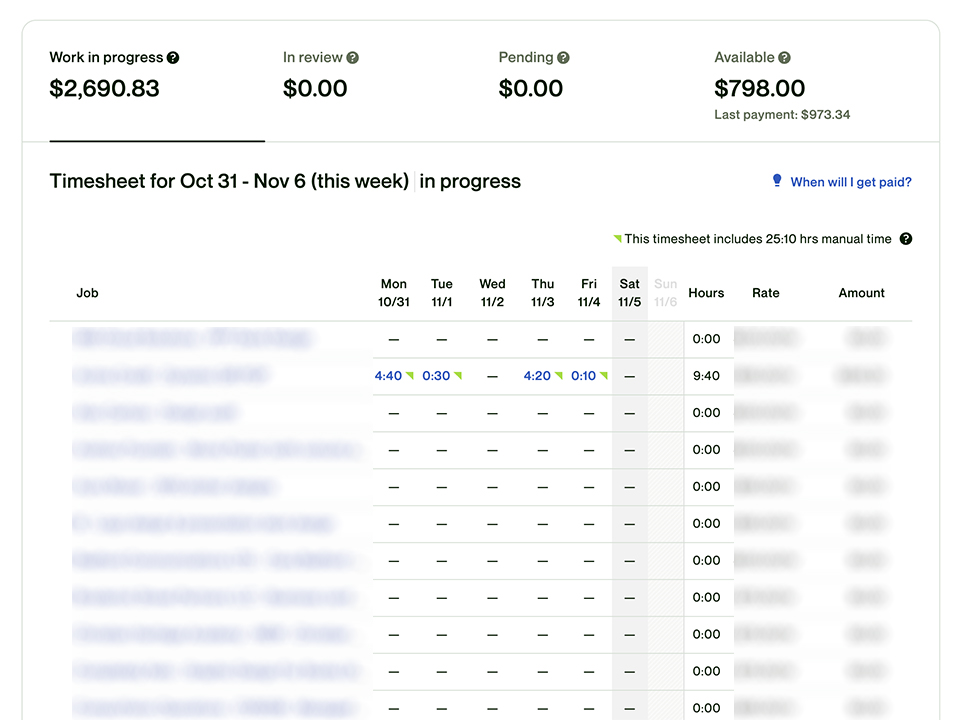 How does Upwork payment work?
Per Upwork's Terms of Service, all payments should be processed through the platform.
You should never accept direct payment from an Upwork client off-site. It's not only a breach of Upwork's Terms of Service, but it also makes you more susceptible to scams.
On Hourly Contracts, it can take up to 17 days to receive payment after hours are logged. Top Rated freelancers are eligible for payment in as little as 10 days after hours are logged.
Fixed-Rate Contracts (and bonus payments) are eligible for payment in as little as 5 days after milestone approval.
Upwork offers a number of options when it comes to withdrawing funds from your Upwork account including:
Direct Deposit (ACH) – Free
Direct Deposit (outside of the U.S.) – $0.99 per transfer
U.S. Dollar Wire Transfer – $30 per transfer
Instant Pay for U.S. Freelancers (Visa or Mastercard) – $2 per transfer
PayPal
Payoneer (outside of the U.S.)
M-Pesa (Kenya only)
Pro-Tip: When signing up for the platform, make sure that the name on your Upwork account matches your government-issued ID as well as the name on your bank account. If these names do not match, it may create problems when trying to receive your funds. This is not the time to be using nicknames.
For more information on Upwork payments and how they work, be sure to check out my full-length article on Upwork payments here.
Read Also: Why is my Upwork payment pending? How long does it take to approve?
Do you have any questions about the Upwork platform? Let me know in the comments below and don't forget to connect with me on social media.
PS: If you've found any of the above advice helpful, and you feel so inclined – buy me a coffee (leave a tip) on Kofi!