Let's cut to the chase – Upwork has made a lot of money for me over the years.
As a freelancer, I've earned over $600,000 working for clients.
As a client, I've spent over $10,000 hiring freelancers – an investment that has since paid me back in droves.
And yet, I'm still asked on a regular basis – is Upwork legit?
It is this question that inspired me to write this comprehensive Upwork review as someone who is intimately familiar with both sides of the freelance platform.
Read Also: Can you make good money on Upwork? How I made $600,000 in 5 years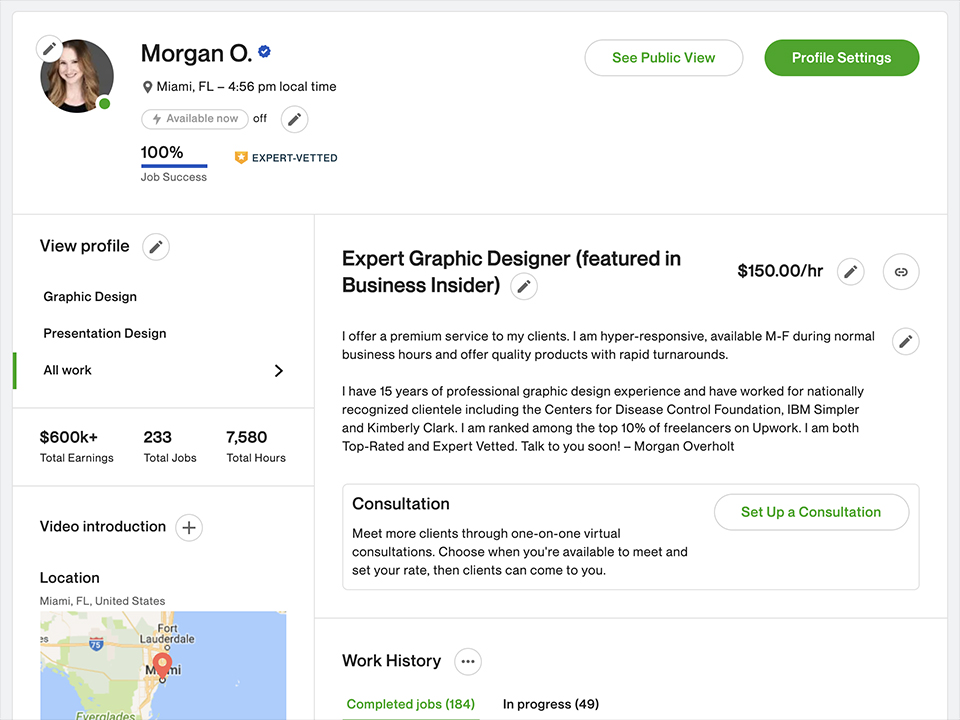 What is Upwork?
For the uninitiated, Upwork is the world's largest online freelance marketplace. Talented freelancers join the platform to connect with clients. Entrepreneurs and businesses of all sizes join the platform to connect with talented freelancers.
Its main competitors are Fiverr and Freelancer.com.
Is Upwork.com safe and legit?
Yes, Upwork is legit, and, for the most part, it's relatively safe.
I've personally had a lot of success making money on this platform as a freelancer. I've also had a lot of success finding talent to hire.
Upwork's roots trace back to the 2013 merger of freelance companies Elance and oDesk. In 2015, the new eLance-oDesk venture rebranded and assumed a new name – Upwork.
Today, it's even a publicly traded company. Its stock symbol is UPWK.
And while the site isn't fully immune from the occasional scam – like a fake job post – the user-driven Upwork reporting system does a decent job of keeping the platform moderately clean and safe.
In my experience, I see way more fake accounts and trolls on social media on a regular basis than I ever see on Upwork. And on Upwork, it's usually pretty easy to spot a scam from a mile away (like asking for money/payment off the platform).
Plus, if you run into any issues, Upwork's real-live human customer support is always available.
How do I avoid scams on Upwork?
Scams, unfortunately, are part of everyday life.
Just consider how many times each week you receive a spammy message in your DMs. And who among us hasn't received a scam call about our car's "extended warranty"?
And sadly, Upwork is not immune.
However, fortunately, on Upwork, these scams are easy to report and fairly obvious if you know what you're looking for. Below are a few of the most common Upwork scams with some tips on how to avoid them.
Editor's Note: Upwork freelancers have to go through a much more stringent vetting process than clients. The vast majority of scams on this platform target freelancers, rather than the other way around.
1. Check scams
This one normally impacts freelancers more than clients.
It usually involves the "client" asking the freelancer to deposit a fake check into their personal bank account for "expenses". The scammer will then request reimbursement from the freelancer via Paypal, Venmo or CashApp. Before the freelancer even realizes what's happened, the fake check bounces and the freelancer is out for whatever payment they were bamboozled into sending to the scammer.
To add insult to injury, this scam could even get the freelancer kicked off the platform as allowing off-site financial transactions is against Upwork's Terms of Service.
This one can be easily avoided just by refusing to accept payment off-site and only working when the client's payment method has been verified.
Fixed-price projects should only take place when milestones are fully funded in escrow. Hourly contracts, to quality for Upwork Payment Protection, should always make use of the Upwork time tracker.
2. Sensitive information scams
This one is obvious, and again disproportionately seems to impact freelancers rather than clients.
It involves the exchange of detailed private information such as passwords, social security numbers, mailing addresses and banking details.
It is rare that a client or freelancer would ever require this sort of private information for a freelance task. Always think twice before sharing these hyper-sensitive details about yourself to a stranger on the internet – or anywhere else for that matter.
3. Free work scams
Again, if you are adhering to Upwork's Terms of Service, this won't be a problem.
Still, Upwork freelancers fall victim to this one regularly.
It involves the potential client asking for a "free sample" or "free work" before the "real" project begins.
The freelancer then creates a free sample, and the would-be client takes that sample and runs without ever needing to pay a dime.
This is one of the many reasons why Upwork specifically forbids free work to take place on the platform.
This ain't Sam's Club, there are no free samples. Clients need to quit asking. Freelancers need to quit relenting.
4. Plagiarism
This one mainly impacts clients.
The scam involves a client paying a freelancer for custom, copyright-free work. Only to find out, the hard way, that the work produced was stolen or plagiarized.
While I've never personally encountered this one on Upwork, I have seen it happen in real life.
I once knew a graphic design artist who stole an illustration from Google Images and claimed it as his own.
The image ended up getting used on his company's packaging and sold on a nationally televised shopping channel.
Spoiler alert – the original artist was watching.
A lawsuit was threatened, a 5-figure settlement was reached (on the company's dime), and the graphic artist was fired. The entire ordeal ended up costing everyone involved a lot of time and a lot of money.
After getting caught, the artist who stole the image said he knew it was wrong at the time, but was "busy" that day and felt like the odds of getting caught were minimal.
Again, this one can be easily avoided (in most cases) by hiring a reputable freelancer with a strong history and plenty of glowing feedback on their profile.
As a final note, if you believe you've been a victim of any of these scams, be sure to contact customer service right away and let them know what's going on.
Is Upwork free?
Yes, freelancers and clients alike can create an Upwork account for free.
However, depending on how you use the platform, there may be fees involved. Here's what you should know.
Read Also: How to avoid Upwork fees: Ways to reduce fees from a $600k freelancer
Is Upwork free for clients?
Clients can create an account, post jobs, and review applicant proposals for free.
However, there are fees involved if an actual paid transaction occurs.
For instance, clients will be charged an initiation fee of up to $4.95 for each new contract they create. And, when it's time to pay the freelancer they've hired, they will incur a small transaction fee of 3-5%.
Optionally, clients may also choose to boost the job posting for greater visibility using a setting called "featured job" for $29.99 (at the time of this writing). However, in my experience, the cost isn't really worth it.
I always receive plenty of bids and proposals to choose from regardless of whether or not I've upgraded my post.
Additional information on client service fees can be found in the table below.
| Client Transaction Type | Client Fee |
| --- | --- |
| ACH (eligible U.S. clients) | 3% per transaction |
| PayPal | 5% per transaction |
| Credit Card | 5% per transaction |
Is Upwork free for freelancers?
Freelancers can create an account, and browse jobs on Upwork for free.
However, they will need something called Upwork Connects if they want to apply for jobs.
Upwork Connects are essentially virtual tokens. Each job, depending on its size, will require the freelancer to "pay" between 2-16 Connects.
Freelancers receive their first 40 Connects for free upon creating a freelancer account on the platform.
This gives new freelancers a starter set of 40 Connects to spend while bidding for jobs.
Editor's Note: Freelancers used to receive an additional free 40 Connects for passing the Upwork Readiness Test. However, that test has since been removed from the platform.
Freelancers may also earn additional Connects by winning and responding to interviews.
But if they run out of Connects, they may need to purchase more for $0.15 each (plus tax).
Additionally, freelancers will incur a flat fee of 10% on all platform earnings.
Editor's Note: In May 2023 Upwork removed the old sliding scale fee structure (20% to 10% to 5%) and moved to a 10% flat fee on all contracts.
Can you actually make money on Upwork?
Motivated freelance professionals can make a lot of money on Upwork if they know what they are doing.
For instance, I've made $600,000 in just five years. My hourly rate – for all new clients – is currently $150.
My friend Josh Burns has earned over $800,000 on the platform. Another friend, Evan Fisher, currently holds the title of "highest earning Upwork freelancer in the world" with over $1.8M in total earnings.
The real secret to success is in the three "P's: Profile, proposal and portfolio.
The highest-earning freelancers know how to leverage each of these three to attract high-paying potential clients and win jobs.
How long does it take to start making money on Upwork?
The answer to this question depends on a variety of factors. There is no one-size-fits-all approach.
However, I can report that other top earners in my own virtual Upwork friend group tend to report, roughly, the following time frames:
1-3 weeks for their first gig
3-8 months for a steady income stream
But it's also important to keep in mind, that these successful freelancers, myself included, also have a few things in common.
For instance, each of us …
Honed our professional skills like Jedi masters in our respective fields
Experienced a lot of rejection
Endured our fair share of "crazy clients"
Applied for dozens of jobs to get a single "yes"
Constantly tweaked our client acquisition strategies
Incrementally raised our rates over time
To this day, I've never spoken to a single top earner on Upwork that said they won the first job they applied for or thought that any part of the process was "easy".
It seems that scrappiness and persistence are the true keys to long-term success on Upwork.
Is Upwork better than Fiverr?
No, Upwork is not better than Fiverr. Nor is Fiverr better than Upwork. Comparing these two companies, to me, is a bit like comparing apples to oranges.
In fact, I use both Upwork and Fiverr on a fairly regular basis.
Fiverr, an Upwork alternative, is primarily gig-based. It's a place for clients to browse pre-packaged jobs from a freelance catalog of talent.
Upwork also has a project catalog, but its main business is driven by freelancers bidding on client-posted jobs.
As a client, I tend to hire Fiverr when I need a specific one-time gig or service to be performed. I hire on Upwork when I am looking for long-term help. I also tend to use Upwork if the help I am seeking requires custom assistance that I can't otherwise find in a project catalog.
As a freelancer, I've found far more success on Upwork – but I also know freelancers who have found more success on Fiverr. Honestly, I firmly believe that freelancers should try both platforms to see which is a better fit for them.
Is Upwork worth it?
In conclusion, despite the occasional scam and the service fees, I really like Upwork.
As a freelancer, it's helped me earn the kind of money I would have never dreamed of in my last salaried job.
As a client and entrepreneur, it's helped me scale my multiple businesses by allowing me to keep my team a lean, mean, fighting machine.
Plus, many of my Upwork clients have referred me to "real world" off-site clients, which reduced my dependence on the platform over time.
So yes, in my opinion, Upwork is absolutely worth it.
Are you a freelancer or a contractor currently looking for new work? Are you a client who is considering leveraging the power of Upwork to scale your team? What do you think about Upwork? I would love to hear your Upwork reviews in the comments below!
PS: If you've found any of the above advice helpful, and you feel so inclined – buy me a coffee (leave a tip) on Kofi!
PS: Don't forget to connect with me on social media.